Atmos RAW
How to Use
The Atmos Raw is made of three pieces that screw together, with only one power button and no temperature flexibility, like most other vaporizers. After loading your botanicals in the heating chamber, you screw everything together. Then you hold down the power button to heat up the element at the bottom of the heating chamber, and take draws through the mouthpiece. The button should be held for two seconds before your draw and released after about five seconds.
Temperature Settings
The Atmos Raw has only one temperature setting, which it heats up to really quickly. This is very common for the simpler portable vaporizers, and wouldn't be a problem in itself. However, that temperature setting is actually way too hot. We tried to understand how long to hold the bottom and tried 100 different way of making the Atmos work, but unfortunately we had to conclude that the unit is not really a vaporizer. It will absolutely incinerate you dried botanical regardless of how you manage your drawing or powering technique.
Vapor Quality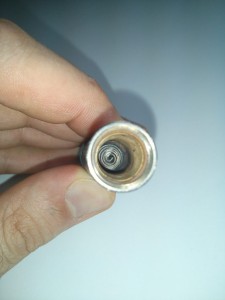 The problem with the Atmos Raw is that it isn't actually a vaporizer in the true sense. The botanicals are placed right on top of the heating element, and using the vaporizer according to Atmos' instructions produces smoke, not vapor. The inside of the chamber is lined with ceramic, but the metal heating element sends most of the heat directly onto the botanicals. This means it's going to burn them and just produce smoke. So on the Vapor Quality front this unit would score a 1 out of 10.
Manufacturing Quality
The problems this device has with heating are partly due to really bad design. Placing the heating element right at the bottom of the botanical chamber leads directly to burning. Vaporizers shouldn't need extra parts to be ordered just to vaporize properly.
The vaporizer as it comes includes some really small loose parts that might be lost, and extras aren't included. The screen and metal mesh in the mouthpiece chamber can easily fall out, and losing one of those means that fragments of botanicals will be drawn in along with the vapor, or smoke. Also, the ceramic lining of the heating chamber tends to chip easily even without rough using. This failure to pay attention to details shows that the manufacturing quality isn't very high. However, Atmos lets customers register for a lifetime warranty.
Portability
If you don't mind the smoke, this is a pretty portable unit. It has amazing battery life, and can give over sixty draws on one charge. It's very light and easy to carry around because it's so small. On the other hand, there's very little room in the heating chamber, and the combustion is going to use up your botanicals fast, so you'll need to bring a large supply with you. Also, I find the hot element right next to the botanicals kind of worrying. I don't want a fire to start in this thing while I'm using it, but generally this category is the best aspect of this electronic pipe.
Discreetness
The Atmos Raw is a little longer than a large pen and about as wide. Compared to most portables, it's discreet. Compared to other pen style vapes, however, this is on the bulky side. An issue for discreetness is that when the power is on a light turns on at the bottom end of the vaporizer. The Atmos Raw fits easily into a pocket and isn't very noticeable when not in use, but when in use it'll draw attention. Most importantly, because it produces smoke, not vapor; it has much more visibility and the odor will be 10 times stronger than the odor you get from vapor. Traditional vaporizers will produce hardly any odor at all. And keep in mind that any device that burns botanical will very quickly starts smelling like it on a constant basis. So you will have to carry it around in some sort of air tight case.
Overall Experience
The Atmos Raw has all the good points of a pen style vaporizer, except that it isn't a vaporizer. The combustion will be an unpleasant surprise for anyone who vaporizes to avoid health risks posed by smoking or just wants to save on herbs. There are also lots of tiny little things wrong with the manufacturing, which doesn't say anything good about the long term potential failure rates.
If you want an electric pipe, the Atmos Raw might be an okay choice, but we're here to review vaporizers, and as a vaporizer it definitely fails.
Thank you for reading today's Atmos Raw Vaporizer Review blog post. Feel free to leave your questions and comments in the section below.
TorontoV Team