Ho Ho Hello, connoisseurs! It's Christmas time and you know what that means! Time to pick out a Christmas Tree from the lot, get it home, and set it up with your friends and family. It's a magical time and there is always a vaporizer to compliment any special moment.
Xmas Tree Shipping & Vaporizing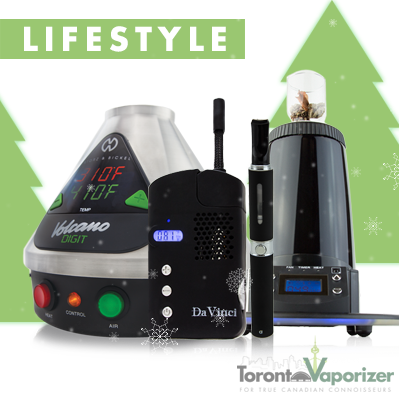 Picking up the Tree
It is nice to take your time when picking out a tree to make sure you get the perfect one. Walking around the lot and enjoying the pine scent makes for a fun chilly evening, but you can enjoy it even more with a portable vaporizer!

Something quick and discreet like the
DaVinci
would work perfectly. It looks just like a walkie-talkie, and heats up fast to enable a quick session. Vaporizing always leaves less odor than smoking, so you don't have to worry about bothering anyone in the tree lot with any scents. If anything, vaporized botanical just smells like burned popcorn.
The G-Pen is a trusted vaporizer for oils and concentrates, and is great for a fast discreet session. One or two draws is usually enough, as vapor draws from oils or concentrates are typically thicker.

Setting it Up
Once you have your tree home, place it in its stand and cut off the plastic mesh holding the branches tight. Let the tree stretch its arms for a day or so, and remember to water it a lot for this first day. It's excited to be home with you and drinks a lot more in this first day

After you've let it set for a day, call up your friends and family and share the magic of putting the ornaments on together. You will remember old ornaments and memories as you hang them up one-by-one. Even if you have an artificial tree it's a wonderful time! A few stationary vaporizers would be great to have on the coffee table while you all bustle around the tree, making it look great.
The
Volcano
would be the ultimate vaporizer to have around while decking the halls and putting the star on your tree. It's a high-quality vaporizer made in Germany, and fills up balloons with vapor in a matter of seconds. Balloons are the easiest way to share vapor with a group of people, avoiding the need to sit next to the vaporizer and draw through a whip. The quality of the vapor that the Volcano produces is top-notch, and everyone will be sure to enjoy the tree-decorating exerience that much more.
The
Extreme Q
would be another great balloon-style vaporizer to have on hand. It fills up balloons just like the Volcano, but also has the option of using a whip-system. This would be just fine if it is just you and a few other people vaporizing, but for large groups the balloon is the best option. The Extreme Q has a remote control too, so you can adjust temperature or turn the unit on from across the room. A convenient feature when the floor is littered with boxes of ornaments and tinsel!
Christmas is a great time of year, and spending time with friends and loved ones makes it that much more special. A vaporizer is always a great compliment to an already fun time, and the Holidays are no exception. So gather 'round the tree and start heating your Volcano, Christmas time is here.

We hope you enjoyed reading today's Christmas Tree Shopping and Vaporizing blog post. If you are looking for some great gifts check out our post: Christmas Vaporizer Gift Ideas. We would love to hear from you! Feel free to leave a message in the section below, you can do so anonymously. Have an awesome and safe holiday season! Don't forget to follow us on Facebook, Twitter or Google+ for contests, sales alerts and other fun stuff!
Thanks for reading and as always, keep vapin'!