Proper cleaning and maintenance is required if you want your vaporizer to last a long time. Perhaps after trying some neat
Aromed Tips & Tricks
it is time for a cleaning session. Today we are going to be looking at how to clean the
AroMed
, a precision engineered vaporizer from Germany. This unit uses a water filtration system and has a lot of glass components, so you want to be very careful.
How to Clean the AroMed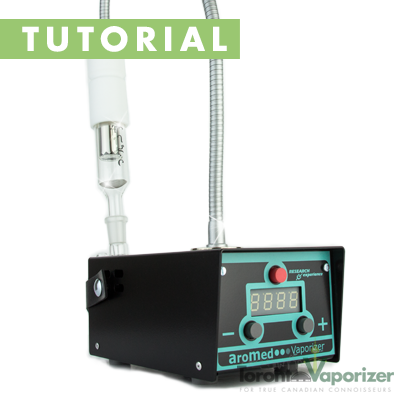 1. Supplies
1. Isopropyl Alcohol
3. Large bowl/container (optional)
4. Replacement screens (optional)
5. Small scrub brush (optional)
2. Cleaning
1. Disassemble your AroMed filtration system. This means that you take apart the water filter bottle, the botanical chamber, tubing and glass mouthpiece.
2. Take your water filter bottle and fill it with rubbing alcohol. In a container, soak the botanical chamber and mouthpiece in the rubbing alcohol. Soak the medical tubing in the Organic Cleaning Solution.
3. Remove and empty the components from the isopropyl alcohol and the organic cleaner.
4. Rinse the components with clean water, let dry.
5. If the soaking didn't clean everything, you can try to use your scrub brush to remove residue on the components
6. Reassemble your filtration system and start vaping!
3. Other Considerations
You want to be very careful when you are cleaning the glass components of the AroMed. This is due to the fragility of glass. The last thing that you want to do is break your filtration system when you are trying to clean it. You don't need to clean the halogen light bulb since it never comes in direct contact with you, your filtration liquid and botanical. You also don't need to clean the box portion of the unit.  It is best to just leave it alone to prevent damage from cleaning.

Thank you for reading today's Cleaning the AroMed Vaporizer post! The AroMed produces the smoothest vapor on the market right now. Proper cleaning and maintenance is key in ensuring that your vaporizer lasts a long time and gives you great vapour. For a full review of this unit, take a look at our
AroMed Vaporizer Review
blog post. If you want to pick up an AroMed, replacement parts and cleaning products, check out
Torontovaporizer.ca
. If you have any questions or comments, leave them in our comment section underneath this post. Don't forget to follow us on 
Facebook
, 
Twitter
 or 
Google+
 for contests, sales alerts and other fun stuff!
See you soon, as always, keep vapin'!