The Cloud 2.0 vaporizer is a simple vape pen that looks remarkably similar to other wax pens like the MicroG. In our experience, these cheap pen-style vapes are all fairly similar in both aesthetics and functionality, but we're still going to test this thing out and give you a rundown of how it performs, just in case you're weighing your options. If you aren't familiar with this type of vaporizer, they're pretty good at delivering vapor from concentrates, while incredibly bad at using dry herbs, even if they come with a special herb atomizer like this one. Don't let the marketing fool you, most pen style vapes cannot vaporizer dried material and instead just burn it and this one is no exception.
Review: Cloud 2.0 Vaporizer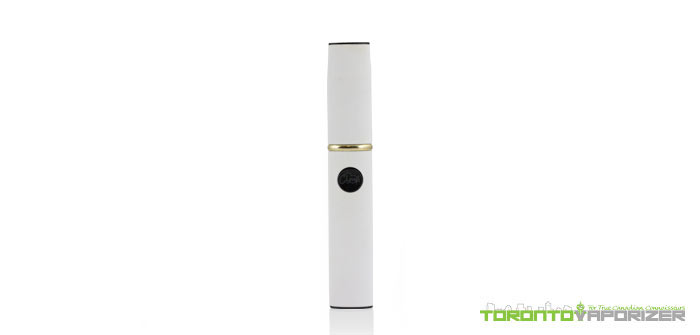 How it Works
This is a very straightforward device to use. All you have to do is place the appropriate atomizer on top, load your material inside of it ( ground dry herb or wax ), and then replace the mouthpiece. Turning it on takes a few rapid clicks of the 1 button the unit has, and then engaging the heating coil is just a matter of pressing and holding that same button again. At that point you just take a draw and enjoy your vapor ( or smoke – oops spoiler alert! )
Vapor Quality
The vapor quality for concentrates is good. It isn't anything special, but as far as pen vapes go it isn't bad either. You can get decent visible vapor with ease, so you should have absolutely no problem enjoying your waxes with ease. Although we notice with this pen vape, and most others, that wax residue can build up under and beside the coil causing a strange vapor 'after taste' from heating the residue over and over without depleting it. If you try to use this with dried herbs in the special coil-based atomizer, you are going to have a bad time. It will burn your herbs, there is no way around it. The lack of temperature control, the small space and the coil based heating element means that your herbs will quickly overheat and combust from direct heat application. This can be a problem for a number of reasons, even if you aren't worried about the ramifications of ingesting smoke. The most important may be the smell this can create, meaning discretion can be a problem.
Temperature Flexibility
As with almost all pen vapes, the temperature flexibility is terrible. You only get one option, and this can't be changed as it is pre-determined and undeclared by the manufacturer. We can assume it is around 190-200 degrees Celsius as this is standard for pen vapes. The single power output works well for concentrates, but does not work at all for dried material. If you want temperature flexibility, you'd need to consider a vape especially for dry herbs with at least a couple pre-set options or with precise temperature control so you can tailor your vapor quality to your preference.
Manufacturer Quality
You get what you pay for, as the saying goes. Don't expect some indestructible vape that will last forever, although rarely do pen vapes have the reputation of lasting very long anyways. The components are on the cheap side of things, with a plastic shell and metal interior. To be clear, we aren't saying that the unit is bad, just that it is average at best. Despite this, the appearance is above average and the vape actually looks pretty sleek.
Ease of Use
As we've said before, you really can't get any easier than 1-button vapes, even if they have their fair share of downsides. All you have to do is load the atomizer and press a button to get started, and the Cloud 2.0 vaporizer even comes with a nice scoop tool to apply waxes to the coil easily. There aren't even any temperature settings to remember or set. If you want to vape concentrates, you can't get easier than this style of vaporizer.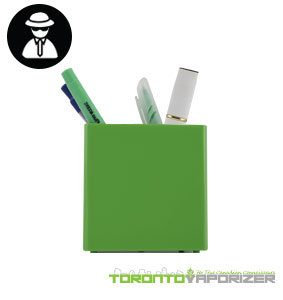 Discreetness
This thing is tiny, and therefore also very discreet. Even when you're holding it you should be able to keep it tucked in your palm and out of sight. However if you are really looking for discretion we'd recommend choosing a color like black or grey, not one of the bright colours offered like 'Slime Green'. The one thing to remember is that if you try to use it with herbs, the herbs will combust, and combustion means smoke – visibly and obviously odorous!
Overall Experience
This vaporizer is comparable to other pen-style vapes with similar intended functionality. If you are looking for a quick and cheap way to vaporize concentrates, then this pen can be a good choice if you get a good deal on it. However, if you want a more versatile unit, you should consider the V2Pro Series 3. This is a premium vape pen that has much higher quality components and offers significantly more versatility allowing true vaporization of waxes, oils AND dry herbs! Even if you aren't looking for the added functionality at this time, you never know when you may want it.
Warning: Not Compatible with ZEUS Iceborn
This vaporizer is not compatible with the ZEUS Iceborn, a revolutionary new vapor cooling system designed to produce cooler draws and bigger clouds when connected to your vaporizer. The ZEUS Iceborn adds an additional 2 points to the vapor quality score of compatible units, so we highly recommend considering a whip-compatible vaporizer to take advantage of this stellar ZEUS accessory item. All compatible vaporizers will have a compatibility notice.
If you have questions about this vape or just want to let us know what you think, feel free to drop us a comment below! Also, don't forget to follow us on Facebook, Twitter or Instagram to keep up to date with all our contests, sales alerts and other fun stuff! Thanks for reading and as always, keep vapin'! 😉
5.7

User Ratings (0 Votes) 0