Looking for some munchies that won't ruin your diet or make you feel guilty after eating them? Our last post on Midnight Munchies listed the
TOP 5 fruits you should not overdo as munchies
, but sometimes you want something healthier, lighter and more natural after trying
your vaporizer
. Of course junk food is nice and easy, and super yummy, but you'd be surprised what healthy snacks you can quickly prepare that are not only healthy, but also very tasty. We asked 100 of our customers what their favourite healthy munchie snacks are to help put this list together. So, get these Top 5 Healthy Munchies down, so that the next time you're vaping, you're ready for a healthy munching feast!
Top 5 Healthy Munchie Snacks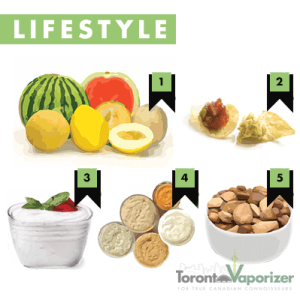 #1 Melons: Watermelon, White Honeydew & Cantaloupe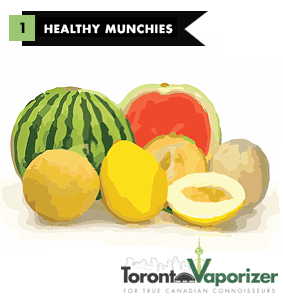 Melons were  ranked as the #1 healthiest and tastiest munchie snack! Fruits in general are very healthy for you and are packed with sweetness in every bite, which is sure to tickle your sweet-tooth. All fruits are rich in vitamins, fibre, minerals and essential nutrients that work to nourish, protect and heal your body. It is recommended that you eat roughly eight servings of fruits and veggies every day, and though it sounds easy, it's tough to get all that into our diet on a daily basis. So why not use your munchie session to catch up!
Melons in particular are great because they are incredibly hydrating, which is quite beneficial after a vaping session ;)! Watermelon for example is high in Vitamin C, A and Potassium, and is over 90% water, making it not only a filling, but also healthy munchie snack! There are those that shy away from purchasing melons because they think of the hassle of cutting and storing the fruit, but the solution to this is: slice your melon in half, grab yourself a huge soup spoon and dig in. It's the best way to eat a watermelon after vaping and the best part? There's no mess! No dishes to clean or dirty fingers!
#2 TexMex: Guacamole, Salsa & Multigrain Tortilla Chips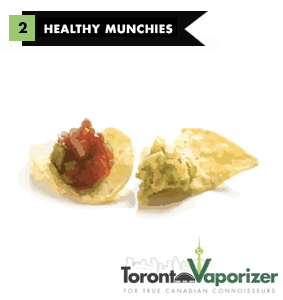 Guac is an avocado based thick sauce that originated in Mexico and has stolen the hearts of many. It is very versatile and can be used in a variety of dishes but the TexMex combo of guacamole, salsa and corn chips is a classic, healthy munchie that is sure to make your tastebuds smile. Now if you're in the mood and have some patience, you can easily make your own guacamole dip, but there are some great all natural, organic dips that you can buy from your local grocery store that will also do the trick. Don't forget to pick up salsa and of course, tortilla chips.
So, what's the damage of this snack? Well, lets start with guacamole. Avocados are full of healthy fats, magnesium and Vitamin E. Then you're looking at cilantro (full of antioxidants), lime and lemon juice (full of Potassium and antibacterial properties) and tasty spices. So overall, guacamole is actually very good for you! Now salsa. Well homemade salsa is best, but even store bought salsa is full of tomatoes, vegetables and chilli peppers, all of which is very low in calories and rich in vitamins and minerals. Last but not least, tortilla chips. Tortilla chips, if made from stone ground corn and with all natural ingredients like Flaxseeds and sea salt, are actually good for you! They can be a natural source of Omega-3 fats and fibre. Be sure to check the labels when you're picking these up though! Pick up a bag that is low in calories, sodium and saturated fat.
#3 Yogurt: Granola, Greek Yogurt & Berries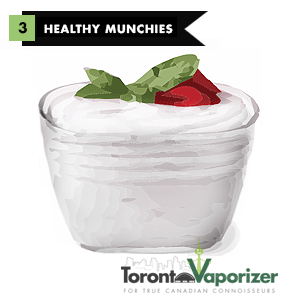 Yogurt is a great healthy snack and if you're craving cereal, it's a nice alternative to traditional milk and much more filling. 
All natural greek yogurt is best. Now when it comes to cereal, 
most traditional breakfast brands are packed with sugar, so if you're feeling cereal after vaping your best bet is granola. Be sure to read the labels because some granola mixes are even worse than Lucky Charms, but in general granola is low in calories and high in fibre. Pair this with greek yogurt instead of milk and top with fresh berries (which are loaded with antioxidants). 
To finish it off: drizzle your bowl with some all natural honey and your tummy will be smiling from ear to ear. 
The nutritional and medicinal benefits of honey are actually astounding like its powerful antioxidant and anti-bacterial properties. Not to mention it can help treat wounds, cure allergies and moisturize skin and hair. Needless to say honey should be part of your daily diet, so if you've missed out on it here's your chance to bring it back into your life!  Lastly, Greek yogurt especially has loads of protein, so it's made to keep you going and going.
#4 Dips: Naan, Veggies & Hummus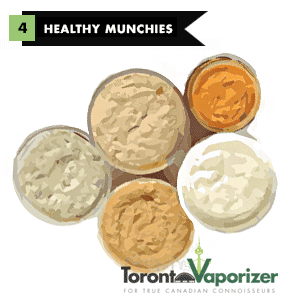 All dips are awesome. Be it spinach or ranch dip, the wide array of dip flavours available now-a-days are bound to please, but some of these dips are filled with artificial flavours and colours, and super fatty. Again, making your own dip is best, but if you're going to buy a tub from the store, we recommend picking hummus. Very little can go wrong with hummus and if you pick an organic dip, you'll be sure to get the best quality chickpea based dip. Hummus can also make eating vegetables quite enjoyable. Not to mention it's fantastic for your body, full of fibre, iron and protein.
Now veggies and hummus wouldn't be complete without a few slices of Naan. Be warned: not all types of naan are good for you! The nutritional content depends entirely on the type of flour used and how it is cooked. The best naan is of course made from whole-wheat flour. While many perceive bread products to be very bad for you, in moderation they are a great source of fibre and protein! Your body needs a certain amount of good carbohydrates and from the right sources, so don't skip out on these entirely. Everything in moderation is key.
#5 Nuts: Pistachios, Cashews & Peanuts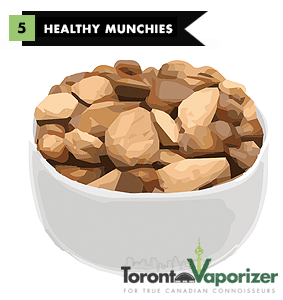 Nuts are the easiest snack food ever. They're tasty, convenient and super healthy. Nuts like Pistachios and peanuts help to reduce the risk of heart disease, at least if there isn't too much salt added. They're great to snack on by themselves, but you can also mix them into salads or smoothies. Now with nuts come the nut butters, which are again great spreads. But watch out for the highly processed and sugar packed spreads! You want to find the all natural, organic peanut, almond and coconut butters.
At least with these healthy munchie snacks, you won't feel bad if you over indulge! So, the next time you've got the munchies after a vape session, don't automatically reach for chips and chocolate! Give these healthy options a try and we promise you won't miss the sweets and salties.  These Top 5 Healthy Munchies will hit the spot and make you feel better about your munchie session when you wake up the next morning, guaranteed! Of course if you're more in the mood for the sweets and salties, indulge in the very best. Follow the link to find out the snacks that made the Top 5 Midnight Munchies list.
Before you go, if you liked or learned something, please share this post by using one of the sharing buttons below! And if you have any questions or comments, feel free to leave them in the comment section below :).
Take care for now and as always, keep on vapin'!
T. Vape