iFocus is a relatively new vaporizer manufacturer, responsible for bringing us the loveable Focusvape. Today we have one of their latest units The Adventurer, which sets itself apart from the rest of the pack by introducing built-in water filtration in a portable unit. Let's dive in deeper and see if this unit sinks or swims.
Review: iFocus Adventurer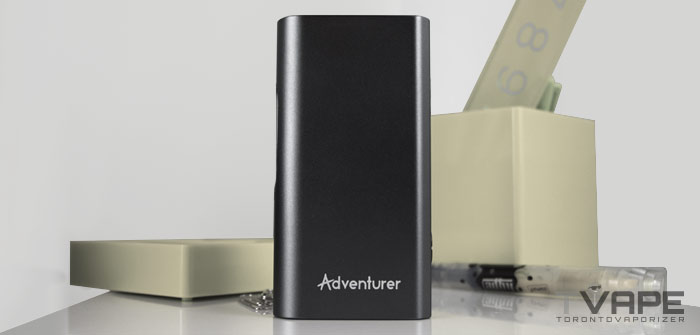 How It Works
The iFocus Adventurer takes a little bit of setup before use because of the water filter. The fist thing you will want to do is remove the silicone cap at the top of the device and the magnet door at the bottom of the device.
Next push the water filter up to remove it from the unit. Pull off the button off the filter and fill it with a small amount of water, you do not need a ton of water just enough to cover the air intake holes. Too much water will result in some wet sloppy draw.
Once you have filled the water filter place it back in the unit and press it back down into place. Once the water filter is installed you can choose to use either the flat "stealth" mouthpiece or the included pyrex mouthpiece very much shaped like the mouthpiece of the FocusVape.
Now that your Adventurer is assembled you are ready to start your session. Load your herbs into the bottom of the unit and place the magnetic lid securely. Now just press the power button 3 times and set your temperature and you're ready to vape!

Temperature Flexibility
The iFocus Adventurer provides users with precise temperature control through the LED display. The Adventurer can be set anywhere between 80C and 240C offering a wide range for users allowing you to find your own sweet spot.
We were happy to see iFocus push the temperature this high as most units cap out at about 220. This means that users who enjoy warmer vapor and denser clouds will be more satisfied and because of the water filter there is less irritation at high temperatures. For those who prefer flavor, you will not be disappointed as the water filter helps cool your vapor why preserving its natural aromas.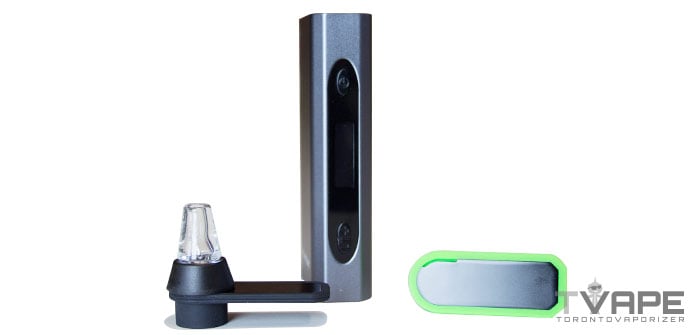 Vapor Quality
The vapor quality from the Adventurer is decent but definitely not the best. The added water filtration cools your vapor which allows users to use higher temperatures without experiencing as much irritation from hot vapor.
However vapor in general from the Adventurer was thin. The best results we were able to achieve was with the oven fully packed but we felt the amount of herbs required to fill the chamber was a bit of a waste. If you only half pack the chamber vapor quality really suffers and your herbs have a tendency to move around and not cook evenly.
This is a similar issue than that experienced with the Pax 2 and comes from the bottom oven design. There is no heat where the bottom door is to cook your herbs. If smooth hits is your main concern, than the Adventurer will definitely satisfy that need, however if you are looking for the best vapor quality you may want to look elsewhere and consider a unit like the Utillian 720.
Manufacturing Quality
The device on the outside has a standard boxy look that is fairly common for vaporizers. The device feels solid in your hand and features a unique setup to achieve water filtration.
I found it a bit weird that you don't actually use the water filter as the mouthpiece, instead capping one of the 2 included silicone tops to form a seal. In practice it does work but as I previously mentioned if you overfill the water filter it will end up in your mouth and also in the unit.
Water in an electronic device is a bit like playing with fire. While it is a nifty little wow feature, we are concerned about how this will affect the unit long term if any water does ever leak and work itself towards the electrical components. In our initial testing it did not prove to be an issue but time will be the true test for this device. Besides that one hitch the device appears to be solidly constructed and decently designed.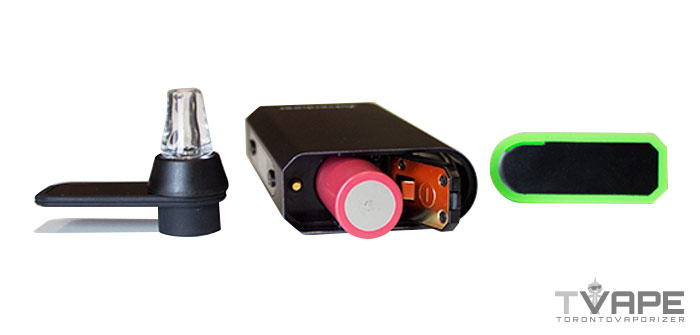 Battery Life
The Adventurer features a removable 18650 which is always a welcome feature in any vaporizer. This means you can carry extra batteries and swap it on the go. From our tests the included 18650 lasted roughly 4 – 6 sessions with moderate use.
This is a pretty standard for most vaporizers nowadays and while it does not wow us with its battery life, it is adequate for a portable, especially since you can swap batteries on the fly. As we mentioned previously though, the removable battery does mean that any water that makes its way to the top of the unit could potentially find its way through the plastic door.
So while we applaud them for the removable battery, we feel it may have been safer to seal the battery off to prevent any water damage.
Portability
This device is a little taller and wider than a Smite but smaller the Boundless CFX. It is kind of in the middle ground in terms of size, it can fit into a pocket easily, however you will definitely feel that you are carrying something.
The water filter is designed to be spill free and from our tests this seems to be true. We experienced no water leakage from tipping the device in various directions.
While this slightly puts our mind at ease when it comes to the water leaking, but it's still a very real concern anytime you have water so close to the internals. The removable battery improves the devices portability allowing you to carry multiple batteries for long trips.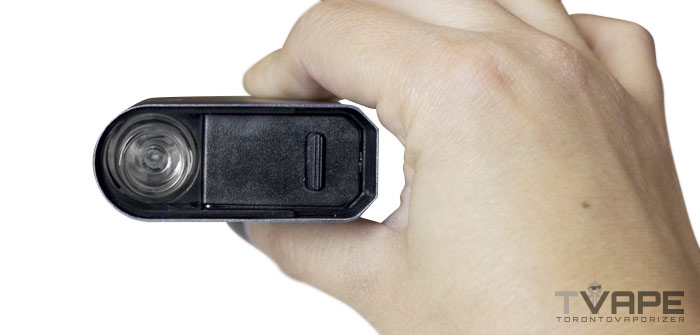 Ease of Use
The Adventurer features precise temperature control which means operating the device is simple and straight forward. Just turn the unit on, set the temperature, wait for it to heat up and enjoy your vapor.
The temperature control ensures that users will be able to set the device to their preferred hit setting for a fully customizable session. The water filter and cap system leave a bit to be desired when it comes to ease of use.
It can be a pain to remember to top up your water filter before your session and if you just leave the water in there over multiple sessions your vapors flavor will begin to diminish. While its not a huge deal breaker, it is just one more step you have to take before you can vaporize.

Discreetness
Discreetness is not really the Adventurers forte. It is a bit on the large side, the LED screen is bright and if you have the water filter filled there is an audible bubbling while you draw.
While some may mistake for just another e-cigarrette it will still draw the attention of on-lookers while you are out. If you are looking for a unit of similar shape but a more discreet size check out the Zeus Smite Plus.
Overall Experience
The iFocus Adventurer is a truly unique unit and the first to offer built-in water filtration. Because this unit features a water filter users will be able to take draws at higher temperatures without experiencing the same level of irritation as with other units.
While this is a really cool feature we fear that it may also be this devices achille's heel as water and electronical devices do not usually mix well. While it was not an issue for us during testing we are tentative that this design will last long term. Besides this concern the device is well-built and provides very smooth vapor. The heating chamber is a little on the large side and suffers from uneven cooks because of the oven setup.
Overall the iFocus Adventurer is a good unit, but with a few tweaks it has the potential to be a much better unit. If hot vapor is your main concern we would success looking for an accessory such as the ZEUS Iceborn to help with that issue rather than a unit with a built in water filter. The Iceborn pairs nicely with the Zeus Smite Plus to offer a fantastic and smooth vapor experience.
Warning: Not Compatible with ZEUS Iceborn
This vaporizer is not compatible with the ZEUS Iceborn, a revolutionary new vapor cooling system designed to produce cooler draws and bigger clouds when connected to your vaporizer. The ZEUS Iceborn adds an additional 2 points to the vapor quality score of compatible units, so we highly recommend considering a whip-compatible vaporizer to take advantage of this stellar ZEUS accessory item. All compatible vaporizers will have a compatibility notice.
We hope you enjoyed reading our iFocus Adventurer Review! We would love to hear from you! Feel free to leave a comment in the section below, you can do so anonymously
Don't forget to follow us on 
Facebook
, 
Twitter
 or 
Instagram
 for contests, sales alerts and other fun stuff! Thanks for reading and as always, keep vapin'!