Kandypens have made quite the name for themselves in the past couple years, their products have been featured in music videos of various Hip-Hop artists like Kid Ink & Fetty Wap. Their original flagship unit the Kandypens Galaxy is still considered a great wax pen but the company is looking to evolve and today we are here to look at one of their newest units the Kandypens Gravity. This unit features the same pen-shape design but now includes 2 different atomizers. If this is your first time purchasing a wax pen, be sure to check out our Wax Pen Buyers Guide which is full of helpful tips of what to look for when purchasing your first pen.
Review: Kandypens Gravity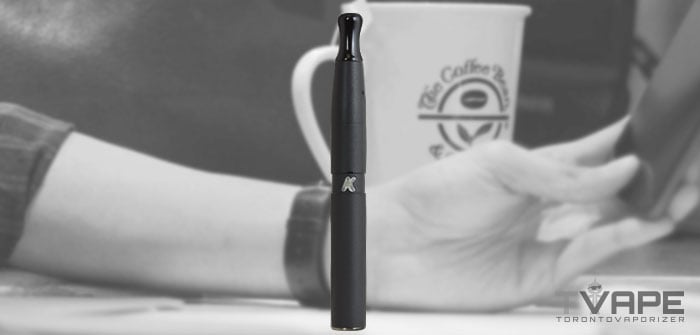 How it Works
Not much has changed in terms of functionality when it comes to the Kandypens. 5 clicks turns the unit on and 3 clicks toggles between the 4 set temperature indicated by the glowing 'K'.
Choose your desired atomizer, screw it onto the battey and load it with your favorite concentrate using the included wax adapter. Finally screw the mouthpiece on and you are ready to start using your Gravity. Just press and hold the power button while inhaling.
Temperature Flexibility
The Kandypens Gravity comes with 4 pre-set temperatures which can be changed by pressing the power button on the battery 3 times. Super low is pink, low is red, medium is green and high is blue. We found the color choices a bit confusing seeing as red is usually reserved for the highest temperature and not the lowest on every other device.
Most wax pens only give you 3 temperature settings, in fact the original Galaxy only had 3 temperature settings, so we do like that Kandypens has given you a bit more flexibility. However we found the lowest setting a bit underwhelming with both atomizers and would people start at the 'red' setting first.
Vapor Quality
The different temperature settings allow you to fine tune your vapor. The super low setting provides tons of flavor but very minimal visible vapor. This may be great for people who want REALLY discrete sessions, but most users will want a bit more cloud production. For this we recommend bumping the unit up to the top 2 temperatures.
At the high end this unit produces some impressive vapor, but it is not much different from the Kandypens Galaxy, at least with the dual quartz atomizer.
The real difference is with the ceramic pad atomizer, this atomizer is geared towards flavor and efficiency. We actually first saw this type of atomizer with the Zeus Thunder 2, at a much more affordable price.
Heat is more evenly dispersed than the coiled atomizer which means less waste with your concentrates but it also means the temperature of the atomizer does not get as hot. Therefore you will not be able to achieve the same vapor production with this atomizer as the exposed coils. Each have their trade off and it will take some playing around to find the one you prefer.
Manufacturing Quality
To be honest we are not quite sure how we feel about the manufacturing quality of the Kandypens. From an aesthetic stand point they look and feel great, they have done a very good job at making the unit feel quality. However the parts of the Kandypens Gravity and all Kandypens units in fact are the same rebranded Chinese wax parts we have seen ever since the G-Pen.
For the price that Kandypens charges for their units you could get a unit with better sourced and better manufactured parts like Source Orb 4 premium kit. SourceVapes is known for their dedication to quality and actually feature private lab tests done on their units to test purity of materials used.
Kandypens puts most of their money into marketing and a flashy design, but at its core they are pretty run of the mill wax devices with parts sourced from cheap Chinese manufacturers.
Battery Life
The Kandypens Gravity uses the same 650mah ego-style battery that has been seen in almost all their devices. Battery life with these types of batteries is average, if you are a moderate user you won't have to charge it for a couple days.
If you are a heavy user or are passing it around at a party chances are you will have to charge it daily.
Portability
The Kandypens Gravity is as portable as almost every other pen-shaped unit available. It will easily slip in a pocket to be discretely carried around.
Kandypens also provides you with a decent case for more protected transportation or if you want to bring all the parts and the charger with you.
Ease of Use
Like most wax pens, the Gravity is extremely easy to use, 5 clicks to turn it on, 3 clicks to change temperature and press and hold to enjoy your vapor. One thing we wish Kandypens would address is there dish design, in our opinion their dishes are too deep which causes issues with loading, especially with the coiled unit.
The deep dish makes it hard to perfectly place your concentrate on the coils and more often than not it ends up on the side wall. The plate atomizer is much easier to load because you don't have to position it perfectly, you just need to make sure the wax is on the bottom of the plate.
Overall Experience
The Kandypens Gravity is a decent wax pen, it does what it does and does it well. But at the end of the day this is a very vanilla wax pen that does not offer anything new when compared to the plethora of other units that do the same but better.
If you really think a plate atomizer wax pen is something for you, check out the Zeus Thunder 2 which is at a much more affordable price.
Or if you think the quartz coils is your preffered atomizer you are better of just getting the Kandypens Galaxy, if it ain't broke don't fix it right? But if you are looking for the true wax pen experience be sure to check out the Source Orb 4 signature kit.
If you have questions about our review or just want to let us know what you think, feel free to drop us a comment below! Also, don't forget to follow us on Facebook, Twitter or Instagram to keep up to date with all our contests, sales alerts and other fun stuff! Thanks for reading and as always, keep vapin'!