Making the switch to vaping can be a daunting task, even switching from a simple pen vape to a box mod can be confusing. Vaping giants Kanger look to make this transition easier with the Kanger Kone, a very user friendly box mod vape that offers users excellent cloud production and only 1 button to operate. Think of this unit as a hybrid between a fully customizable box mod vape like the Kanger Subox and a pen style unit like the EGO one. If you are new to vaping be sure to check out our buyers guide to learn more about what to look for when purchasing your first vape.
Review: Kanger Kone Starter Kit Review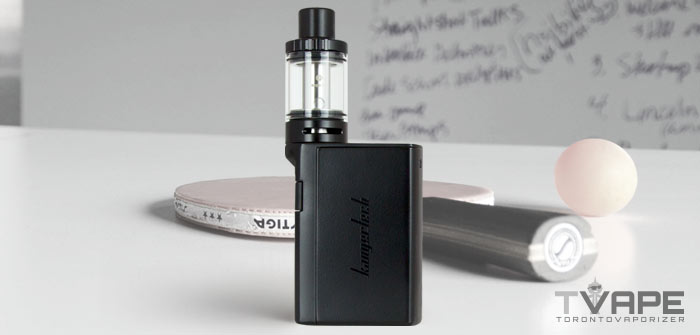 Manufacturing Quality
Kanger has been shaping the vape scene for some time. Each of their products are made with attention to detail and are built to perform well. While the Kone is a simpler device, Kanger has given it the same love and attention, offering a wonderfully simplistic box-mod that features a single button for simple operation.
The mod also features 4 led lights at the top of the unit that gauges your battery life allowing you to know when it is time to charge the mod. The Kone features an impressive 3000mAH built in battery offering great battery life and charges via micro USB.
The included Kanger Pangu tank offers users a top filling chamber system for easy top ups of your favorite e-liquid. It also features an easy swap coil system that will actually allow you to change your coils on the fly while liquid is still in the tank. This makes maintenance and upkeep of the Kone very simple and lowers the learning curve usually associated with vapes.

Flavor Quality
We have always loved the flavor that Kanger products produce and the Kone is no exception. Vapor from this unit is smooth and full of flavor.
One thing we did notice is that the flavors from the Pangu coils seems to be a little muted in comparison to the Kanger Top Box which uses different coils. While it's not a huge difference, if you switch between the 2 units with the same juice you will notice that the Kone will have you tasting slightly less.
Now this may actually be a good thing for some users, who prefer less intense flavor when they are vaping. But if you want a unit that will offer better overall flavor we definitely suggest checking out a unit like the Kanger Top Box.
Power Flexibility
The Kone offers 60 watts of power however the device does not allow you to control the power output. Instead the mod automatically calculates your voltage based on the ohms of the coil you are using.
This is great for beginners because it takes a lot of the thinking out of how to set up your mod and allows you to use it more like a pen vape. But because you have more power from the mod (up to 60W), the vapor production you will achieve from the Kone will outperform any pen vape on the market.
So if you are new to vaping and don't want to spend time learning about ohms and watts and just want to start blowing big clouds the Kone is a perfect starting point.
Ease of Use
The entire theme of this device is simplicity. It really is built with the beginner in mind. The one button setup and fixed wattage take away a lot of the headache of setting up your vape for first time use. You won't have to waste time figuring out what wattage works best with what coil, just load it and hit it.
The Pangu tank continues with the theme of simplicity offering a top tank filling system which allows you to fill your liquid by simply removing the top of the tank to access the filling chamber. The coil can also be easily changed this way and you can even swap the coil while juice is still filled in your tank.
This is great if you happen to burn a coil out half way through vaping the liquid. Normally it would be a bit of a balancing act to keep the juice in the unit and change the coil at the same time. But Kanger has now made it easier than ever with their Pangu tank which is great for anyone just starting.
Portability
The Kone may not be as slim as a pen vape but its still an extremely low profile unit. It can easily slip into a pocket to be taken out for the day. The 3.5ML tank offers a decent capacity which should satisfy most users for a full day of vaping.
The built-in 3000mah battery also ensures you won't need to charge your unit throughout the day and if you are a moderate vaper you may not have to charge it for days!
Overall Experience
If you are new to vaping or want to make the switch from pen vapes the Kanger Kone may be the perfect starting point for you. It offers you the power and vapor production of a mod vape while maintaining the simplicity and hassle free experience of a pen vape.
We did notice that flavors were a bit muted when compared to higher end units, however if you are switching from pen vapes or just starting you won't really notice and will have something to look forward to when you want to make the next big step. But for now the Kone is an excellent starter unit that will have you chasing clouds in no time!
We hope you enjoyed reading our Kanger Kone review! We would love to hear from you! Feel free to leave a comment in the section below, you can do so anonymously 😉 Don't forget to follow us on 
Facebook
, 
Twitter
 or 
Instagram
 for contests, sales alerts and other fun stuff! Thanks for reading and as always, keep vapin'! 😉