Kanger is known for their great mod vapes like the Kanger Top Box Mini what about those starting out who prefer something simpler and more portable? Well Kanger has just the thing for those connoisseurs with their Kanger Pangu Starter Kit. This pen-shaped unit is extremely easy to use and features a 2500mah battery for extended periods of vaping. This starter kit is geared towards new users who are looking for a more user friendly experience and a unit that will introduce them to the world of vaporizing.
Review: Kanger Pangu Starter Kit Review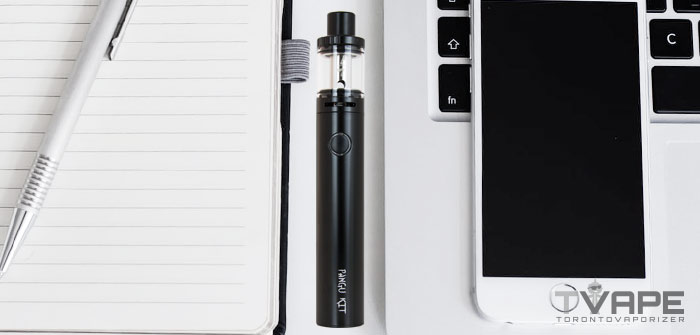 Manufacturing Quality
Like all Kanger products, the Pangu starter kit is made with the utmost care and attention to detail. The 2500mah battery drives the entire unit featuring a single button and micro-usb connector. The single button will illuminate white/purple when the power button is pressed 5 times to turn the device on and will also illuminate when the button is pressed. The color of the button will also indicate the charge level, when the button turns red you know it is time to charge the device.
The Pangu tank is also well constructed, featuring a top loading tank and an easy swap coil system. Loading the tank and swapping the coil can all be done through the top of your unit meaning there is no need to disconnect the atomizer from the battery when filling with e-juice or swapping coils. We really like this design as it keeps more annoying tasks like changing a coil very simple.

Flavor Quality
Flavor from the Pangu tank is decent but definitely not the best in the game. While we were able to enjoy the flavors from our juice for the most part, we did notice that the flavors were a bit muted when compared to a mod unit like the E-Leaf iStick Pico.
However if you are new to vaping you really won't notice this because you have nothing to compare it to. The only way we were able to truly notice is to try both units side by side and even then opinions were different around the office.
For those who actually prefer less flavor in their juice, you may actually like the flavor you get from the Pangu tank. This is one area where it can be a bit subjective and each person will have their own opinion depending on their likes and dislikes.
Power Flexibility
The Kanger Pangu kit automatically adjusts the wattage of the battery to suit the type of coil you are using. The device tends to run anywhere between 10 – 25 watts depending on the ohm of your coil.
The kit comes with a 1.0ohm NiCr coil which will produce thinner clouds and is intended for people who like mouth to lung inhales. It also comes with a .5ohm stainless steel coil which is better for cloud production and for people who prefer a direct lung inhale.
Your choice of coil really is the only way you can control your vapor output so try each one to find out which works best for you.
Ease of Use
This device really is geared towards new users and tries to make things simple for your first experience. The device only has 1 button to operate the whole device which makes it very easy to learn.
As we mentioned in the previous section there is no need to learn about wattages or voltage as that is all taken care of by the battery.  And with the design of the Pangu tank, filling your e-juice and changing your coil are a breeze. Both can be accessed  at the top of the device which means you do not need to juggle your tank, battery and coils when changing your liquid or coil.
This tank also has another cool feature which allows you to change the coil while there is still liquid in the tank. This is great if your coil burns out during a session. Normally you would have to empty your juice to access the burned coil, but with the Pangu you can simply open the top and swap the coil with the liquid still in it. This means no more oily fingers and liquid everywhere when you want to change your coil.
Portability
The Kanger Pangu is pen-shaped, though it is technically fatter than your normal pen (more the size of a marker). This makes it extremely portable and easy to take with you anywhere.
You can easily slip it in your pocket or purse to carry around with you for a day of vaping. The 2500mah battery will also ensure you won't run out of power while you are out.
Most moderate users should not need to charge the unit more than once a day. Charging the device is easy with the provided micro USB cable and ensures you can easily find a place to charge the device if you ever find yourself without power.
Overall Experience
If you are new to vaping and want a great starting point we highly suggest the Pangu as your first unit. The device is very easy to use right out of the box and has a lower learning curve then most vapes available.
Changing the e-liquid and coils, something you will be doing often, is extremely simple and takes away most of the hassle usually associated with maintenance. There is only 1 button which means no confusing settings or menus to navigate, just press the button and enjoy your vapor.
So if you are just starting out, this is a perfect introductory unit that will have you blowing clouds in no time!
We hope you enjoyed reading our Kanger Pangu review! We would love to hear from you! Feel free to leave a comment in the section below, you can do so anonymously 😉 Don't forget to follow us on 
Facebook
, 
Twitter
 or 
Instagram
 for contests, sales alerts and other fun stuff! Thanks for reading and as always, keep vapin'! 😉