Kanger is a big name in the vape world and today we will be looking at one of their original flagship units. The Kanger Subox Mini features a 4.5 ML tank and up to 50 watts of power and is great for beginners. Be sure to check out our Vape Buyers Guide for more useful information and beginner tips.
Review: Kanger Subox Mini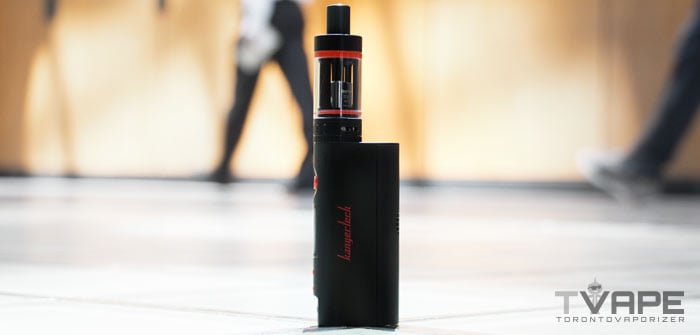 Manufacturing Quality
Kanger is known for producing sleek looking units and the Subox is no exception. The unit looks flashy, stylish and we wouldn't feel embarrassed pulling this unit out in public. In fact when we did pull it out at a party we got nothing but compliments on the style of the unit. The Subox feels solidly constructed and has a good weight in your hand. Parts seem to be nicely manufactured and all parts fit seamlessly together. The LED display is bright, easy to read and free from defects. We've got to say its hard not to like this unit when you pull it right out of the box. But looks are one thing, how does it perform?

Flavor Quality
We really enjoy the flavor and quality of vapor we receive from the Kanger Subox. Draws are smooth, abundant, and full of flavor. We could not detect any influence from coils or cotton, just the flavor of our juice. This unit only features a wattage mode so it will take a little trial and error to find the wattage that is right for each individual user, however once you do find your preferred wattage you are able to enjoy some great vapor.
Power Flexibility
The Kanger Subox gives you up to 50W of power and as we touched upon above this unit only allows you to adjust the wattage of the unit and does not feature temperature control. This means you will have to find the wattage that works for you with the coil you are using. If you are using the .5 ohm coil we recommend between 20 to 40 watts and if you are using the 1.2 ohm coil we recommend 10 – 20 watts. Not everyone is going to enjoy the same wattage, higher watts means warmer vapor and denser clouds. Some people might be looking to "chase clouds" but others just want to simply enjoy smooth vapor, this unit can accommodate both styles of vapers and is just a great all around unit.
Ease of Use
The Kanger Subox is very easy to use, just 5 clicks of the power button turn the unit on and off and you can adjust the wattage using the + or – buttons. The tank of the Subox (known as the Subtank Mini), is a bottom fill tank and requires you to remove the tank from the mod in order to fill it. This is not the most convenient for those who need to top of their juice on the go but is a style seen on a majority of e-liquid tanks. It's not a deal breaker though as once the tank is off the mod its easy to twist off the bottom of the tank to access the e-liquid filling chamber. Fill the juice to just below the top of the pole for the air pathway and screw the bottom of the chamber back on. We would have liked to have seen an easier filling method like the E-Leaf iStick 60W, which features a top fill tank.
Portability
The Kanger Subox when it originally came out was considered a "mini" mod. And while the unit is still smaller than a lot of mods available it is still a bit bulky, especially with the tank sticking up on the top. It fit easily into a pocket but you definitely noticed you had something in there. The bottom fill tank is another aspect that affects portability. As we touched upon previously to fill this unit you have to remove the tank in order to refill it. This makes refilling on the go a little bit more of a hassle. While it's not impossible it will require you to juggle the mod, the fill chamber, the bottom of the tank and your e-liquid in order to fill it if you can't place the parts down anywhere.
Overall Experience
If you are new to vaping or have started with a pen style unit but are looking to step up to the box-mod units the Kanger Subox Mini is a great starting point. It has a very easy learning curve and not many settings which makes it great for newbies.  It provides smooth flavorful vapor right out of the box without any influence from the materials, coils or cotton. The biggest drawback to the unit is the bottom-fill tank which requires you to take the tank off the mod in order to fill it. If you can overlook that small flaw it really is a great starter unit. If you are looking to pick one up be sure to head over to our store where we offer free shipping on orders over $100.
We hope you enjoyed reading our Kanger Nebox review! We would love to hear from you! Feel free to leave a comment in the section below, you can do so anonymously
Don't forget to follow us on 
Facebook
, 
Twitter
 or 
Instagram
 for contests, sales alerts and other fun stuff! Thanks for reading and as always, keep vapin'!