The people who brought you the Magic Flight Launch Box portable vaporizer are releasing a
power adapter
!  This accessory allows you to have options for how you use your vaporizer.  First, let's talk about the Magic Flight Launch Box, it's features and it's portability.  We will then tell you what you need to know about the power adapter. Let's get started!
MFLB Power Adapter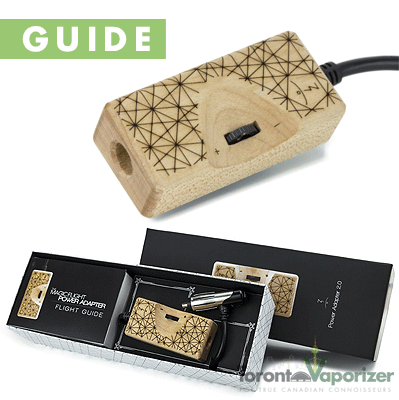 Magic Flight Launch Box
The Magic Flight Launch Box is a portable vaporizer that is quite popular. Handcrafted in California, it has earned a good reputation through its ability to be quick and quiet when vaporizing on the go. To use the MFLB, you load your fine ground botanical into the heating chamber. You then put in your included and charged batteries into the slot. You then hold down the battery to heat your botanical and generate vapor to draw. The vapor quality and style all depends on how you keep the battery pressed down. It is a great unit that a lot of people love. For a full review of this unit check out our 
Magic Flight Launch Box Vaporizer Review
.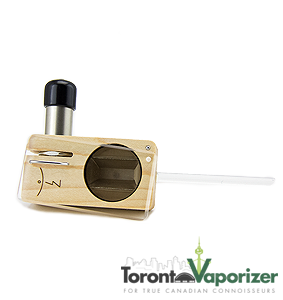 Portability
What is really great about the MFLB is the portability aspect.  On the go, you can use the MFLB to vape quickly and easily.  You don't have to worry about finding a wall outlet when you are out about. However, you have to make sure that you have your batteries with you on the go and you have to remember to charge them.  Temperature will depend on how you hold down the battery.  But what about when you want to vaporize at home? That is where the Magic Flight Power Adapter comes in.
Introducing the Power Adapter
What comes in the package for the Power Adapter: You get a wall plug, car charger, the control unit and the banana jack. The Power Adapter gives you even more control and flexibility in your MFLB vaporizing experience. You get the ability to use power from any compatible wall unit.  This lets you have an unending power supply for your MFLB.  While the batteries work fine, it is nice to leave them alone when using your MFLB at home. While we don't recommend or condone vaping while driving, you can use the car adapter once you are at your destination safe and sound or to save on battery life.  This is useful if you are still waiting for your batteries to charge. The power adapter really gives you more ways to vaporize with your MFLB!
A major reason we recommend the Power Adapter is that you have more control over your temperature. When you use batteries, it is a subtle art finding your ideal temperature.  With the Power Adapter, you can find what setting works for you and set it somewhat more permanently. It also works with any generation of the MFLB, so you don't have to worry about what model you have. This is a fantastic accessory that you need in your life with your Magic Flight Launch Box.  It also comes with a lifetime warranty.

Thankyou for reading today's  Magic Flight Power Adapter blog post! The Magic Flight Power Adapter allows you to vaporize in new and exciting ways with your Magic Flight Launch Box.  You can pick up the Magic Flight Launch Box, the Magic Flight Power Adapter, other accessories and cleaning supplies at TorontoVaporizer.ca.  If you have any questions or comments about the Power Adapter, please let us know down below in the comment section.  Don't forget to keep in touch on  
Facebook
, 
Twitter
 or 
Google+
. We post updates, contest and a bunch of other cool stuff regularly so keep your eyes open!
Thanks again for reading and, as always, keep vapin'!