The G-Pen Micro G Herbal was Grenco Science's stab at making a pen-style vape that could handle dry herbs and efficiently vaporize them, all in a teeny tiny package, about half the size of their original G-Pen Herbal. As most vape connoisseurs know, most manufacturers come up miserably short when attempting this feat. A pen to vaporize waxes and oils? No problem. Dry herbs, especially on a coil system? Forget about it. This is disappointing for many reasons, especially considering that otherwise this is a well-built unit with a good battery, and it's also incredibly easy to use. So for the full scoop on if the MicroG Herbal is worth your money, even for a "convenience smoking device", read on.
We are happy to report that Grenco has designed a new "G-Pen" that offers true vaporization, the G-Pen Elite. It's not as small as previous G-Pen's but a huge improvement over their G-Pro. We highly recommend checking it out here if you are looking for a true vaporizer.
Review: G-Pen Micro G Herbal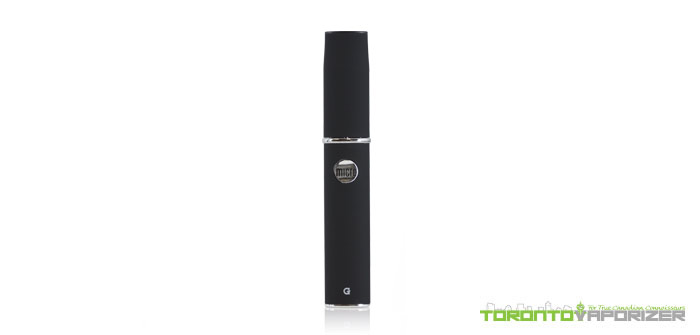 How it Works
Users who have tried and enjoyed other Micro G's will be happy to know that the MicroG Herbal works in exactly the same manner. The vape is a 1-button design, and that button controls the power and heating element. Just take off the cap, unscrew the tank's top, load your herb into the heating chamber, replace the tank top and cap then turn the unit on with 3 clicks of the button. Once the unit powers on, all you have to do is press and hold the button in order to heat your herbs. The LED circle around the button will glow blue when engaged. Unfortunately the good times stop here, because the heating coil gets too hot and burns the herbs you put in the chamber causing combustion and smoke.

Temperature Flexibility
The temperature flexibility of the Micro G Herbal is poor, which is part of the problem with this unit. In reality, it's temperature flexibility is actually non-existent. There is only 1 setting, and that setting is too hot for pure vaporization, meaning you'll be stuck with combusted herbs.
Vapor Quality
This section is only included as a standard of all of our reviews, because the truth is it doesn't apply to this unit. The MicroG Herbal combusts your herb, meaning what you are getting is smoke, not vapor. Don't expect smooth draws like you might from other vaporizers you own or use. If any part of true vaporization is important to you, whether that is smoothness or efficiency benefits, you'd be better off avoiding this unit as we have to classify this as an 'electronic smoking device'. The draws come out hot and irritating, especially if you exclusively use true vaporizers and are used to flavourful smooth clouds.
Manufacturing Quality
Despite being pretty negative so far, we have to say that this pen is at least pretty well made. There is certainly a lot to be desired when it comes to the design in the sense that it shouldn't be combusting your herbs, but the actual materials used in making this are decently high quality. It's an all-metal design is coated in a silky black silicone which feels nice to the touch and durable in the hand. There are 3 basic parts to the unit: the battery, the Micro G Ground Material Tank (where your herbs are placed on top of the heating coil ) and the cap, which covers the metal tank for easy and discreet drawing. Grenco indicates that each tank can last about six to eight weeks, which is actually pretty good considering it works on a very simple coil mechanism. However, the top of the tank has a screen which is not removable and we found to get gummed up with botanical dust and residue after only a few uses. The option to replace this screen or at least have it easily removable for cleaning would have been a great feature. Grenco is pretty generous with their package contents though and includes 2 extra ground material tanks with purchase, for an average of 18-24 weeks' worth of use before having to buy more, a nice keychain with G-Tool, a grinder card and some cleaning supplies. Considering this unit is under $100, we can see why it would be attractive to purchase.
Battery Life
The battery life of the MicroG is OK. Most pen vapes really exceed on this front but because the MicroG's battery is considerably smaller than the average pen, we experienced roughly 10-15 sessions before having to charge again. So if you're averaging, say 2-3 minutes a session ( and trust us you won't need more time because these tanks are pretty small ) you could be looking at around 30-45 mins of use. Considering a full charge from battery depletion takes about 2 hours as well. These aren't exceptional stats, but they are acceptable given the understandable size of this unit. For frequent users, you'll have to charge it every couple days. The MicroG is also charged via USB but comes with a wall adaptor for convenience, which is a nice touch.
Portability
Another mark in this vape pen's favor is that it is convenient to move around. It's small and fits nicely in the pocket of a pair of pants or a handbag. The unit is just about 4 inches in length, ¾ of an inch in width and is uber pocket-friendly. The Micro G Herbal's sleek silicone coating and durability means you don't have to worry about carrying it around for long periods, regardless of where you are carrying it or with what else in your pocket/ bag. The long battery life also means you don't have to worry about the unit dying on you mid-day, which is also nice. When it comes to portability, pen vaporizers in general are the 'cream of the crop', but Grenco took it one step further by cutting the MicroG down to half the size of most pen vapes making this lipstick-sized unit one of the most portable units out there.
Ease of Use
As we mentioned in the 'How It Works' section, the Micro G has only 1 button, so, you can't get any easier than that. Pull of the cap, twist open the tank, and using the provided G-Tool fill the tank. Press 3 times to turn it on, then press and hold to engage the heating element while taking a draw. When you are done, press three times to turn it off. Super simple. Now the difficulty of this unit comes in when you are trying to reload it. As mentioned, the tank is pretty small and you will really get only a few draws off it, so most connoisseurs will need to reload it immediately. Now because the tank is metal, this is a little more difficult as you will need to wait for it to cool down. Depending on how tightly you've packed your herbs in the tank, you may also need to use the G-Tool to assist in emptying out the tank, you just need to be careful not to poke the heating coil as it could damage it and shorten its life. If you're on the go trying to reload, it's certainly not as simple as flipping open the chamber, dumping out (or saving!) your your ABV ( "already been vaped" ) and loading up again real quick, so in this regard, the MicroG Herbal is a little more complicated for steady back-to-back sessions than a unit like the Utillian650. But for a single quick session, you can pre-load and be worry free for a few draws at least.
Discreetness
The Micro G's small size may make it seem discreet, but keep in mind that as this isn't a true vaporizer. There will be quite a bit more odor during your session and you will be exhaling smoke, not vapor, which is considerably more dense and noticeable. Visually speaking, this unit is very discreet, and you could technically store it in a pencil case or glove compartment with no qualms. However once the unit is in use, especially in an indoor, public setting (say the movies), the visible smoke and odor is a dead give-away. There are many small units out there that successfully vaporize and don't have this issue, so unfortunately, the MicroG Herbal ranks relatively low when it comes to discreetness, despite its small size.
Overall Experience
This Micro G Herbal would be an awesome vaporizer…if it really did vaporize. But, at the end of the day, that's really the only thing worth noting for true connoisseurs, like you, reading this. It's built nice, it looks cool, and it has a great battery life. It's super small, decently convenient and has a hell of a brand name behind it. But it fails to do its main job, so for that reason we wouldn't recommend this unit if you are looking for a portable dry herb vaporizer.
Keep in mind that these points only apply to the Herbal versions of the MicroG, as there is the the Micro G for concentrates which we reviewed here.
Warning: Not Compatible with ZEUS Iceborn
This vaporizer is not compatible with the ZEUS Iceborn, a revolutionary new vapor cooling system designed to produce cooler draws and bigger clouds when connected to your vaporizer. The ZEUS Iceborn adds an additional 2 points to the vapor quality score of compatible units, so we highly recommend considering a whip-compatible vaporizer to take advantage of this stellar ZEUS accessory item. All compatible vaporizers will have a compatibility notice.
However, if you had your hearts set on the Micro G and now are a little disappointed, there are manufacturers who have figured out the secrets of pen vape dry herb vaporization, and there are some good units out there for you to consider. Our recommendation is to take a look at the V2 Pro Series 3 with additionally purchased dry herb tank. Not only is this a true dry herb vaporizer, it's also very slick looking and is a 3-in-1, meaning that you can use it for herbs, liquids and concentrates (using different tanks for different substances). With all of these things considered, it's definitely the better value in our book and worth checking out.
If you have questions about this vape or just want to let us know what you think, feel free to drop us a comment below! Also, don't forget to follow us on Facebook, Twitter or Instagram to keep up to date with all our contests, sales alerts and other fun stuff! Thanks for reading and as always, keep vapin'! 😉