When a Pen style vaporizer claims to work with dry matter, we're automatically a bit skeptical. This is because most of these pens use a coil-tank, which cause combustion. So, when the Puffly F1 Vaporizer made it to the reviewing table with a traditional-style heating chamber, we were very hopeful it would be a game changer. So, if you're curious about if the F1 provides the "delicious satisfying vapor" it claims, read on:
Review: Puffly F1 Vaporizer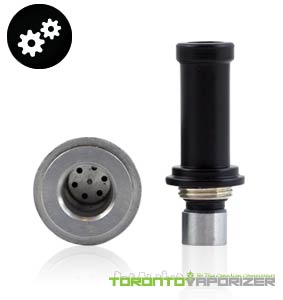 How It Works
The Puffly F1 Vaporizer can get you vaping in just 5 simple steps, and under 1 minute. 1) Press the power button 3 times in 2 seconds and the LED ring at the bottom of the unit will flash green, indicating the F1 is unlocked. 2) Pull off the magnetically attached cap to reveal the mouth piece. 3) Unscrew the mouthpiece from the unit to reveal the heating chamber. 4) Load the heating chamber, ensuring everything is contained inside the stainless steel chamber but not overflowing. 5) Press and hold the silver power button for about 3 seconds and the F1 will automatically begin to heat, indicated by the red LED ring. When the LED ring turns green, the F1 is fully heated and you are ready to vaporize!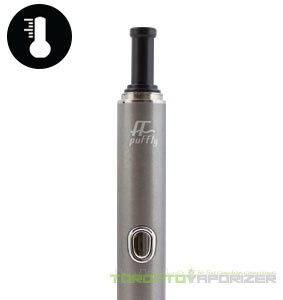 Temperature Flexibility
Like most other 1 button, pen style vaporizers, the Puffly offers only 1 temperature setting. It's claimed to be 220°C, although the vapor produced indicates a much lower temperature in reality, probably 200°C max. The 1 temperature is understandable given the low-tech nature of the F1 but it doesn't allow for a customizable vaporization experience.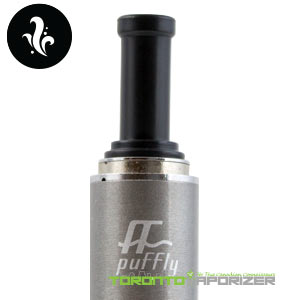 Vapor Quality
Because the Puffly F1 doesn't operate with a coil-based tank like most other dry-vape pens, we were very curious about what kind of vapor the F1 was going to produce. The Puffly F1 did crank out actual vapour, and did not combust, which we were very happy about! However, the vapour was warm, a bit irritating to the throat and even after several sessions, sustained a distinct plastic flavour and aroma. The first few draws of each session were alright but as the sessions went on, each draw was increasingly unpleasant and harsh.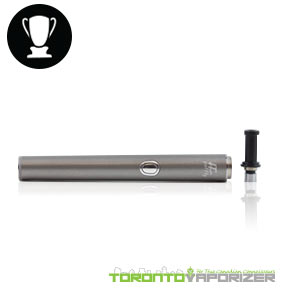 Manufacturing Quality
The exterior of the Puffly F1 is made of some sort of scratch resistant, light weight metal which looks and feels pretty nice. However, once you remove the cap to reveal the plastic mouthpiece, the F1's 'premium' illusion is shattered. The heating chamber is stainless steel, but surrounding the rest of the inside of the unit is definitely plastic, which certainly explains the artificial flavour and smell. The Puffly F1's poor insulation means that the exterior near the mouthpiece also becomes far too hot to comfortably touch. The F1's well-made exterior coupled with its poor quality interior leaves much to be desired, and confirms its mediocre manufacturing quality.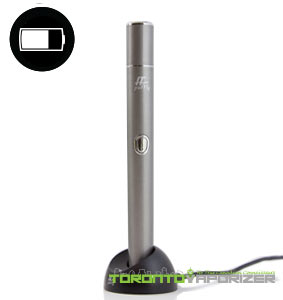 Battery Life
Most pen style vaporizers have small but powerful batteries that allow for at least a week of vaping off a single charge. Now although we didn't get that experience with the F1, it did almost live up to the manufacture's claims of 15 'refill' sessions off one charge. We got in just about 12 sessions off one charge, allowing us to deem the battery life decent on the F1, but nowhere close to the battery life of a premium pen style vaporizer like the ZEUS Thunder.
Ease of Use
The fact that the Puffly F1 only has 1 button, 1 pre-set temperature setting and no fancy features makes it a breeze to use. However, the Puffly has a 2 minute auto-shut off which is quite inconvenient when you have to reactivate the heating mid-session. Cleaning the F1 is a bit more finicky than we'd like too. A small rubber o- ring underneath the mouthpiece's threading keeps a chamber screen in place, but removal and reassembly of this chamber is fussy, unless you have tiny fingers and an exceptional grip. In addition, even a loosely packed heating chamber will not empty easily, so make sure you have a pokey tool handy post-session.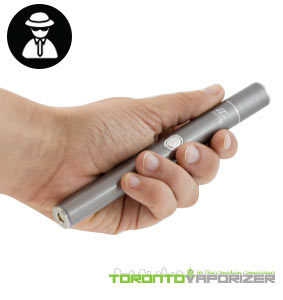 Discreetness
Pretty much all pen style vaporizers are discreet, and this is one category where the Puffly F1 really does live up to expectations. Its silver exterior makes it look like a high quality writing tool and its size and light weight (30 g) is perfect for under-cover on-the-go vaping. The only thing that could give away the F1's stealth appearance is the LED ring at the bottom of the unit, but this can easily be covered when in hand.
Overall Experience
Overall, the Puffly F1 Vaporizer was an average pen style vaporizer at best. It does provide true vaporization and is quite discreet; however these are two basic features we would expect from any portable unit. In addition, it's warm, unpleasant tasting vapor really just wasn't up to our expectations for what a premium unit should provide. However, if you're looking for another slender unit for dry matter, with out-of-this-world vapor quality, we recommend checking out the Arizer Air which is praised by even the toughest of vape critics like Gizmodo!
Compatible with ZEUS Iceborn
This vaporizer is compatible with the ZEUS Iceborn, a revolutionary new vapor cooling system engineered by Canadian vape manufacturer ZEUSArsenal. The Iceborn is designed to produce cooler draws and bigger clouds when connected to your vaporizer. The vapour produced is ultra smooth and crisp and because of ice cooling, instead of water filtration, there is no loss of efficiency. The ZEUS Iceborn adds an additional 2 points to the vapor quality score of this vaporizer and is a highly recommended vaporizer accessory.
If you have questions about this vape or just want to let us know what you think, feel free to drop us a comment below!  Also, don't forget to follow us on Facebook, Twitter or Instagram to keep up to date with all our contests, sales alerts and other fun stuff! Thanks for reading and as always, keep vapin'!