Released back in 2011, the Thermovape appeared to be a portable vape with a lot of potential. With its compact design and promise to offer a convection vaporizing experience, it certainly created some buzz in the vaporizing world because it was marketed as indestructible  However, much to our (and everyone else's) disappointment, the unit revealed some major performance and design flaws. Unfortunately this unit didn't make it into our line of quality portable vaporizers and you can read exactly why in our Thermovape Review.
Thermovape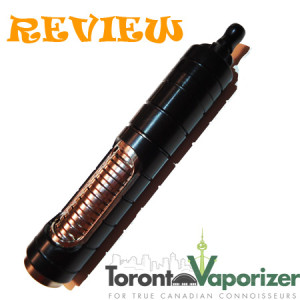 Popular Blog Posts:
If you are interested in a premium portable vapes around the same price point as the Thermovape, you might want to check out the
DaVinci Vaporizer Review
or
Arizer Solo Review
. You can also check out Walter's ranking of the top portable vaporizers.
How to Use
The Thermovape operates with a simple mechanism. The heating chamber can be found just below the mouthpiece. To get started with your vape session, simply unscrew the cap to expose the chamber, fill it with botanicals of your choice and screw the cap back on. Then slide the metal barrel up and hold it for five to ten seconds at a time and take slow draws from the mouthpiece.
Temperature Settings
There is limited temperature control with the Thermovape. Sliding and holding the metal barrel longer will slightly increase the temperature inside the heating chamber, but holding it too long will overheat the bottom part of unit. This design flaw forces the heat down rather than up, resulting in a consistently light vaporizing of your botanicals. Now, the inability to accurately control temperature is common among most basic, inexpensive portable vaporizers. However, the high price tag of this vape should have meant that the design flaw was corrected and a more advanced temperature control system was offered.
Vapor Quality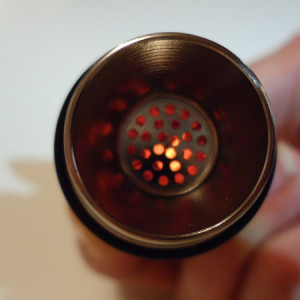 The Thermovape produces below average vapor quality at best, as a result of two key problems with the unit. First, there is an excessive amount of airflow in the heating chamber, which does not allow the air to get hot enough and further renders the vapor quite thin. Second, because the air is not hot enough and given that the entire heating chamber is made of highly conductive stainless steel, there is very little convection action going on (in fact this vaporizer is more accurately a conduction vaporizer) – so the exciting promise of a convection vaporizing experience is non-existent. If you would like to read more about the vaporizers with the best vapor quality , follow the link.
Manufacturing Quality
The manufacturing quality of this unit is decent, but there is yet another flaw. The Thermovape is made of stainless steel and plastic – so, there is very little insulation. The heating chamber is stainless steel and the barrel that encases the batteries is stainless steel, and this barrel is exposed. This means that once the unit is on it starts to get pretty hot. Now we have seen this design flaw in quite a few units, so if that were all, it wouldn't be a huge problem. However, because the heating chamber sits directly above the barrel that encases the batteries, the heat from the core is channelled downward. This means your batteries will start to lose their charge very, very quickly. Perhaps Thermo Essence Technologies noticed this and that's why they included an extra set of batteries in the package – but you'll probably need another couple of sets to make sure your Thermovape doesn't die out mid-session. Other than that (and we'd say this is a pretty huge flaw) the unit is quite compact and appears to be easy to clean.
Portability
The Thermovape is quite small in size and can easily fit into a coat pocket or purse, though it's a bit heavy once the batteries are loaded. It is cylindrical in shape and looks a lot like a flashlight. When you're out and about you can expect this vape to offer you ten long draws on a full set of charged batteries. This was extremely disappointing and tremendously impacts the Thermovape's portability. To overcome this, it would be best to carry around additional battery sets – but then you might as well have an entire battery stash in your trunk if you're planning a trip because this vape just won't last.
Discreetness
The Thermovape is relatively discreet given its shape and size. It also heats up quick and like other vaporizers, does not draw much attention with regards to odor. If you would like to read more about the   smell of vaporizers, follow the link. This is probably the only category that the Thermovape seemed to fair well in.
Overall Experience
There was a lot of anticipation with the release of this unit back in 2011, but unfortunately the Thermovape didn't live up to the hype. With a few design flaws and weak scores in almost every category, we would not recommend this unit. Thermo Essence Technologies recently announced that they will be discontinuing the Thermovape (for reasons unknown), but are eagerly pushing the launch of their new vaporizer: the Cera. Maybe the Cera will pleasantly surprise us.
Compatible with ZEUS Iceborn
This vaporizer is compatible with the ZEUS Iceborn, a revolutionary new vapor cooling system engineered by Canadian vape manufacturer ZEUSArsenal. The Iceborn is designed to produce cooler draws and bigger clouds when connected to your vaporizer. The vapour produced is ultra smooth and crisp and because of ice cooling, instead of water filtration, there is no loss of efficiency. The ZEUS Iceborn adds an additional 2 points to the vapor quality score of this vaporizer and is a highly recommended vaporizer accessory.
Thank you for reading our Thermovape Review and feel free to leave your questions or comments in the section below.