Hello fellow connoisseurs! We are back with a commonly requested ranking post: "pocket vaporizers". A lot of people confuse "portable vaporizers" with "pocket vaporizers" so let us quickly explain. Now, although its true all pocket vaporizers are uber portable, we are literally talking about which 5 vapes are easiest to carry in your pants. This includes, size, shape, fragility and how comfortable the unit is whilst you are moving or sitting. So, for our connoisseurs who prefer to vape as minimalists and travel only with the necessities, these Top 5 Pocket Vapes will ensure you have everything you need for a session anywhere, anytime, comfortably stored in your very own back pocket!
Top 5 Pocket Vapes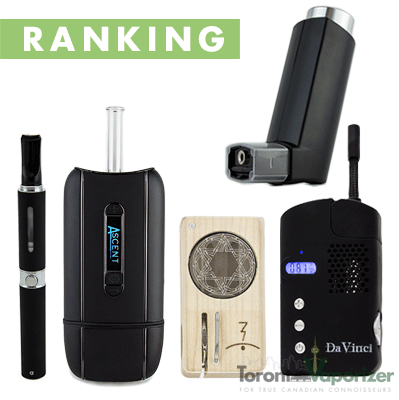 5. Puffit
The
Puffit
is designed to look identical to an inhaler, therefore can be easily slipped into a front or back pocket like the original counterpart. Its "L-shape" may need a bit of creative positioning, depending on how snug your pants are, however its robust enough to be in most tight quarters. Before going out we recommend fully charging the unit and pre-loading the chamber so the unit will require no additional effort than to have the cap removed while you discreetly vape away.

4. DaVinci
The original and classic
Davinci Vaporizer
is about the size of a deck of cards and has a silky exterior that will easily slide in and out of your pocket of choice. Its short flexi-straw conveniently stays out of sight while the unit's power button can only be activated after the safety-protected power switch is slid on, so there's no accidental pocket vaping! To the untrained eye, the Davinci in a back pocket looks like nothing more than a rectangular wallet or cell phone. It can also be pre-loaded for quick and easy vape sessions anywhere. Plus it has a little storage compartment for a second round!

3. Ascent
The new and exciting Ascent is a great pocket vape due to the fact that it's about the size of an iPhone and only twice as thick: a convenient shape and size for front jean pockets! Its super smooth exterior guarantees that once the Ascent is easily nestled in your pocket. It offers glass quality vaporization from the retractable internal draw stem, making the unit robust to withstand movement. Programable vaping cycles also make this vape a convenient vaporizer choice.

2. G Pen
The G Pen oil vaporizer is super small, super thin and is literally the size of a slim highlighter: perfect for pocket transportation! Its design makes its small enough to fit almost anywhere (shirt pocket/pant pocket). To lock the power button and avoid accidental vaporization, simply click the button 5 times. It's recommended to keep the unit in the upright position when not in use, but as long as the unit is properly assembled the G Pen will be safely and conveniently traveling with you as your always reliable and ready vape sidekick.

1. Magic Flight Launch Box
Coming in at #1 is the beautifully designed, match box sized Magic Flight vaporizer (yes, its literally the size of a match box). The
MFLB
is not only very small but super light weight. All you need is the box itself (pre-load for ease of use), draw stem (optional) and one or two batteries, all of which can fit comfortably in one pocket. For ultimate portability you can use the MFLB "native style", without the draw stem and carry even less parts! To see a full review of this unit, check out our
Magic Flight Launch Box Vaporizer Review
.
Don't forget this ranking is based on pocket compatibility for these discreet portables. There are many other factors, such as manufacturing and vapor quality that you should also take into consideration before buying a vaporizer, so be sure to check out our other rankings to get an overall view of your vape of interest!

We hope you liked this Top 5 Pocket Vaporizers post. If you learned something new or liked this post, please consider using the sharing buttons below. And if you have any questions or comments, feel free to leave them in the comment section below. Don't forget to follow us on Facebook, Twitter or Google+ for contests, sales alerts and other fun stuff!
As always, keep vapin'!