Top Bond is a new manufacturer on the vaporizer scene, we already reviewed there introductory unit, The Odin, which we enjoyed but did have some glaring issues read our full review for more. Today we will be looking at the 2nd unit on their introductory line the Top Bond Torch. This unit has a completely different shape than the Odin bearing close resemblance to the Arizer Air with its long cylindrical body. Let's take a closer look to see what this unit has to offer. Also if you are new to vaporizing be sure to check out our Buyers Guide for more useful information.
Review: Top Bond Torch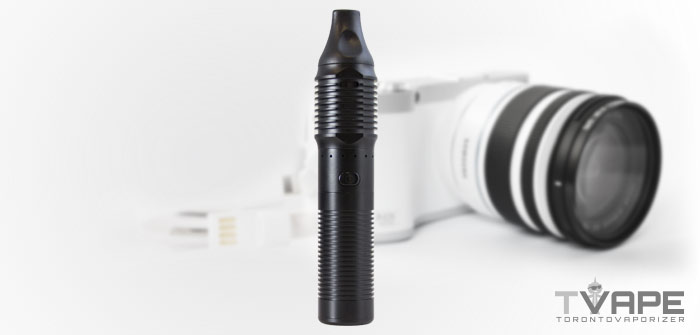 How It Works
The Torch operates with only 1 button making it very easy to use. Simply press the power button 3 times to turn the unit on and then press and hold the power button to cycle through the 6 temperature settings. Loading the unit is also very easy, just remove the mouthpiece to reveal the chamber and fill it with your freshly ground herbs.

Temperature Flexibility
The Torch features 6 pre-set temperature settings which are indicated by the blue LED above the power button. The temperatures range from 175 celcius to 225 celcius increasing by 10 degrees for each temperature setting. This gives users a very wide range to work with and should satisfy a large majority of vapers.

Vapor Quality
We were not overly impressed with the vapor quality of this unit and it very much reminded us of the first G-Pro. The heating chamber is located directly below the mouthpiece and it is a straight path from the chamber to your mouth. This means extremely hot and unpleasant vapor as there is very little space for this vapor to cool down. I found I could not use it past the 4th setting, settings 5 & 6 were just too harsh. The other issue we experienced was a lack of vapor production when using the first 2 heat settings. This basically means only settings 3 & 4 are worth using, which is a shame because the unit appears to have a lot of flexibility when it comes to the provided settings. We also noticed a plastic taste that emanated from the mouthpiece which influenced the overall flavor of our vapor which we were not fans of.
Manufacturing Quality
Manufacturing quality seems to be decent, which we found to be the case with Top Bond's Odin unit as well. We don't love that the mouthpiece is made of plastic, as we mentioned above it definitely influence the flavor of your vapor which is a big negative. It also makes the unit feels cheap overall and we can see it easily cracking if the unit is ever dropped. The LED's that indicate the temperature can only really be properly viewed straight on, if the unit is on an angle it is difficult to see what heat setting you have selected. We also found in direct sunlight the LED's were very difficult to view. On the positive side the main body feels really solid and is made from anodized aluminum which means it should be quite rugged for the long haul.

Battery Life
Battery life for the Torch was pretty average for a vaporizer lasting roughly 5 – 6 sessions in our tests. We are happy that the battery life is better than the Crafty or the Air but still did not last as long as the Utillian 651 or Smite which boast 3 hours of battery life. The Torches battery life is a happy medium but nothing stands out in this category to really blow us away.
Portability
As we previously mentioned the shape and size of the Torch reminds us a lot of the Air. The only advantage of the Torch over the Air when it comes to portability is the lack of glass, the plastic mouthpiece of the Torch will be far less fragile than that of the Air. However the compromise in flavor and vapor quality really don't make it that much of an advantage, it's just worth noting where directly comparing the 2 units. The Torch can easily fit into your pocket however because of the round shape it won't go completely unnoticed and may have some asking if you are happy to see them.
Ease of Use
As we touched upon before this unit only features 1 button making interacting with the Torch very simple. 3 clicks to turn the unit on and off and press and hold to change temperature, its just that simple. The chamber is easily accessed by removing the plastic mouthpiece and the unit charges via micro USB for convenient charging. This unit is definitely designed with simplicity in mind.
Discreetness
The shape of this unit will make most onlookers think you are using a e-liquid vape which works to your advantage if you are looking for a discreet unit. It can be easily concealed in a pocket or a bag if you are ever in a pinch. If you are using the device at night the LED's will attract some attention as they can be bright in a dark room especially with the blue glow, multiple lights and flashing. We also noticed a fair amount of odor from this unit when in use, most likely due to a short vapor pathway. This means that if you are vaping in public or trying to vape privately someone may sniff you out.
Overall Experience
The Top Bond Torch is an interesting design but falls short of expectations. Vapor quality is seriously lacking providing draws that are far too thin at the bottom end of the temperature settings and much too harsh at the top end. The plastic mouthpiece also seems to directly influence flavor providing a slightly plastic taste to your herbs. If you are looking for a unit with a similar shape we definitely recommend picking up the Arizer Air, it provides far better vapor quality because of the length of the air path and the glass mouthpieces. If you are looking for a heavy hitting unit we also recommend checking out the Utillian 720, one of the cheapest convection units on the market providing big clouds and huge flavor.
Compatible with ZEUS Iceborn
This vaporizer is compatible with the ZEUS Iceborn, a revolutionary new vapor cooling system engineered by Canadian vape manufacturer ZEUSArsenal. The Iceborn is designed to produce cooler draws and bigger clouds when connected to your vaporizer. The vapour produced is ultra smooth and crisp and because of ice cooling, instead of water filtration, there is no loss of efficiency. The ZEUS Iceborn adds an additional 2 points to the vapor quality score of this vaporizer and is a highly recommended vaporizer accessory.
We hope you enjoyed reading our Top Bond Torch review! We would love to hear from you! Feel free to leave a comment in the section below, you can do so anonymously
Don't forget to follow us on 
Facebook
, 
Twitter
 or 
Instagram
 for contests, sales alerts and other fun stuff! Thanks for reading and as always, keep vapin'!