Wooden
vaporizers
are usually small, affordable and very portable. They all have a wooden shell surrounding a metal heating chamber and usually work with an external heating source. Because there's so little that can go wrong, they're also very durable. Wooden vapes are usually a great choice for a starting vape or a portable to compliment your stationary vaporizer. But, given their manufacturing quality and durability, wooden vaporizers can also make handy main units if you are on a tight budget. That being said, if you're on the market for an affordable, portable vape, here's the best of the best:
Top 4 Wooden Vapes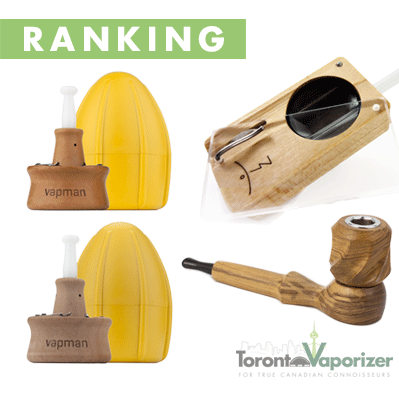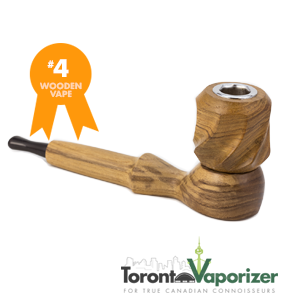 4. Vapor Genie
We usually recommend the Vapor Genie as a starter vape for vaporizing for beginners. The design is familiar, since it's shaped like a pipe and it mostly works like a pipe too. It's inexpensive and you use it with a normal
lighter
. The flame goes through a patented ceramic filter, so the heat is reduced to vaporization temperature. It's not stellar in any particular category, but this is a great starter vape if you're looking for something inexpensive and easy to use, to get you into the vaping habit. Head over to the
Vapor Genie Vaporizer Review
post to see a full review of this vaporizer.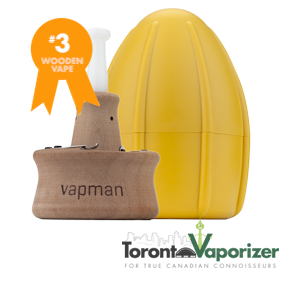 3. Vapman Basic
The Vapman is newly released in Canada and offers outstanding Swiss manufacturing quality. The Vapman Basic is less expensive than the upgraded Vapman Complete (listed below), because it does not offer a heat protection sheet around the heating chamber. The Vapman offers the best vapour quality amongst all of the wooden vapes. The Vapman (both versions) is also known to be the most efficient vaporizer in the world (as can be seen by the size of the heating chamber and the results produced). It is also incredibly easy to use (it comes with a torch lighter) and comes with an airtight case. For more details on this Swiss vape, check our full review at the VAPMAN Vaporizer Review.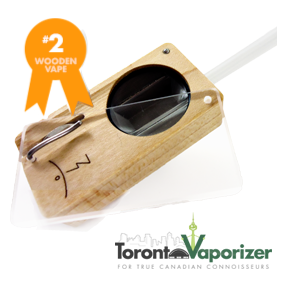 2. Magic Flight Launch Box
The
Magic Flight Launch Box
is a popular Californian vaporizer, which has built up quite a reputation and following in the last few years. It's handmade in the US, and comes with a lifetime warranty. Like all wooden vapes, it's small and convenient, but it uses batteries which need frequent charging, so it's the least portable of the wooden vapes. It's also a little harder to control the temperature with this vape, because it depends on how long you hold the battery in. But it's extremely small and light weight, making it a great portable vape. For a full review of the MFLB, check out our
Magic Flight Launch Box Review
.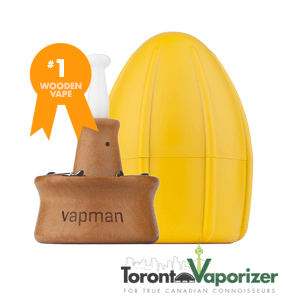 1. Vapman Complete
The
Vapman Complete
has all the advantages of the Basic (listed above), but offers a polished finish and mineral heat protection sheet around the heating chamber. Both of these additions contribute to the increased longevity of the unit. Because the wood is oiled and polished, it is also the least likely of all the wooden vaporizers to absorb odors. The heat protection sheet also offers the added element of convection heating, which improves the vapour quality of this unit even more. Want to know more about the Complete? Check out our
VAPMAN Vaporizer Review
blog post. You can also head over to the Vapman Basic vs Complete post for a full comparison of these two Swiss handmade vaporizers.
Now that you've got the facts, you can see which of these wooden vapes is best for you. The Vapman Complete gives you the best possible experience you can get from a wooden vaporizer, but if you want something less expensive you may want to consider the other wooden vaporizer brands. The variations within this wooden style of vaporizers lets you figure out which vape best fit your needs. Check out some of our other portable ranking posts if you are on the search for a portable vape: Top Discreet Vaporizers (07/2013), Cheapest Vaporizer, Top 5 Worst Portables and Best Portable Vaporizers Under $15.

Thank you for reading today's Top Wooden Vaporizers post! Leave us a comment below if you have any questions or comments. Don't forget to like our page on Facebook and/or follow us on Twitter to be updated with the latest promotions, contests and other fun stuff
!
Until Next Time, Keep Vapin':