One of the biggest complaints vapers have is that there unit is not portable enough. This is especially true for the large box mod units which are quite cumbersome and leave a large bulge in your pocket and have the potential of pulling your pants down. V2 looks to rectify the size issue with the V2 EX Starter Kit, one of the smallest vape pens on the market. If you are new to vaping be sure to to check out our Vape Buyers Guide for useful information and beginner tips.
Review: V2 EX Starter Kit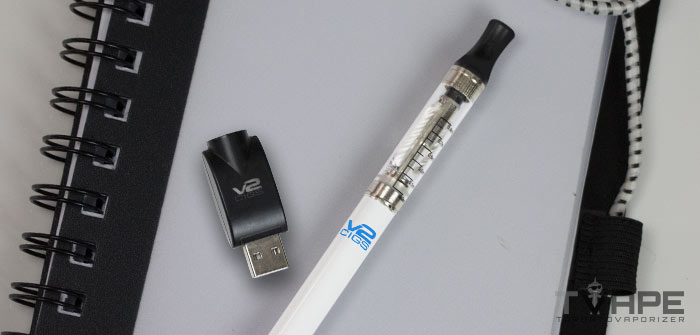 Manufacturing Quality
The V2 Ex is a slick looking device and has a nice feel in your hands. It only consists of 3 parts, the tank, the battery and the usb charger. The tank and battery are nicely constructed and we found no visible defects in any of the parts. The USB charger does come across as a bit cheap, it's just a simple usb plug with threading to screw the battery into. It does its job, we are just worried with how it will hold up over time. The really cool aspect of this unit is how the unit actually works, it does not have a power button like most units, instead the unit senses when you draw and fires the atomizer and the tip of the unit glows red as you draw.

Flavor Quality
For such a small unit we have to say we are impressed with the vapor quality. Don't expect to be blowing huge clouds, but the vapor output is adequate and should satisfy most new users. Flavor from the unit is decent, it's not going to blow you away because of the low power output but it will definitely provide you with nice smooth flavor from your e-liquid.
Power Flexibility
This unit features a fixed wattage so there is no customization of any kind but with a device so small we didn't expect there to be in the first place. This is not necessarily a bad thing especially because this unit is geared towards beginners and the lack of control keeps things simple and ensures the device is operating at the calibrated wattage setting. This ensures the atomizer should last a decent amount of time with moderate use. Obviously heavier use with exhaust the atomizer faster and if you will be using the device frequently we recommend a unit like the eGo one.
Ease of Use
This unit is designed to be user friendly, there are no buttons or settings to learn. Just charge the battery, fill the tank with liquid, screw it onto the battery and start taking draws. The unit senses when you are drawing from it and will automatically heat the atomizer and start the vaporization process. When you are finished drawing the unit will cut the power to the atomizer to preserve battery life.
Portability
This device is very small and perfectly portable. It will easily fit in a pocket and chances are you will forget you even have it on you. The box the unit comes in can be uses as a carrying case and this is something we do recommend because movement with the device in your pocket may put stress on the battery connections. This is just something to keep in mind because it is an issue we have seen with other pen units that have been awkwardly bent in a pocket. The last thing you want is your e-juice leaking into your pants.
Overall Experience
The V2 EX Starter kit is great for new users who may feel intimidated about switching to vaping. This device is extremely user friendly with not many moving parts. There are no settings or buttons you need to learn, just charge it, fill it with juice and begin taking draws. The unit is light weight and super portable making it great for the on-the-go connoisseur. If you are looking to pick one up be sure to head over to our store where we offer free shipping on orders over $100.
We hope you enjoyed reading our V2 EX review! We would love to hear from you! Feel free to leave a comment in the section below, you can do so anonymously
Don't forget to follow us on 
Facebook
, 
Twitter
 or 
Instagram
 for contests, sales alerts and other fun stuff! Thanks for reading and as always, keep vapin'!