The
Magic Flight Launch Box
is a well-known low cost portable vaporizer with a huge fan base. It's been around for several years and is known as a fast and discreet pocket vape. But in Europe, the title of King of low cost vaporizers belongs to the Vapman Vaporizer. This unit is handmade in Switzerland out of extremely high quality materials such as gold and mineral protection sheet. It works off a lighter and doesn't require any charging. Since the Vapman is now coming to North America, we will be doing a comparison review of the Vapman vs Magic Flight Launch Box Vaporizer. Keep in mind that we will compare the high-end version of the Vapman (Complete $129), since it is in the same price-class as the MFLB ($119).
If you prefer to read the
Launch Box Review
or Vapman Review seperately, you can follow the link.
Comparison Review of Magic Flight Launch Box vs Complete Vapman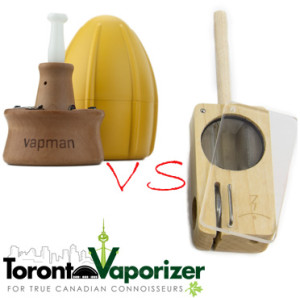 Vapor Quality
Magic Flight Launch Box
The Magic Flight has decent vapor quality for a small portable, but it's nothing spectacular. It ranks average among vaporizers that we approved, which is pretty good for such a low cost unit. The lack of temperature settings means you're limited to trying to adjust the temperature through pressure on the battery and drawing speed. Vapor quality will get better as you learn to use the unit.
Complete Vapman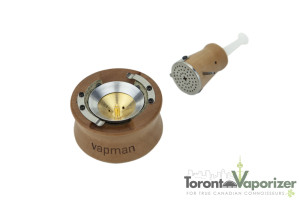 The Vapman has excellent vapor quality for its class. The high quality materials make sure the vapor is pure and flavorful. It is understandable, since it is handmade in Bien, Switzerland. That is the city that Omega, Swatch and Rolexes are produced in. There is a culture of quality there that dictates the way people think. The combination of the torch lighter and a gold plated copper heating chamber, gives you the freedom to adjust the temperature far more precisely than any other low cost portable vape out there. Also you do the heating first and draw after, which gives you much more time to enjoy what you are doing. With the magic flight in contrast you have a 6-10 second window where you have to manage the battery and how fast you draw. That makes the Launch Box fast but not as enjoyable.
Winner:
Vapman – better control, much better Vapor Quality
Manufacturing Quality
Magic Flight Launch Box
The Magic Flight is made in the USA and comes with a lifetime warranty. Generally they're simple enough to never go wrong. The only difficulty is the screens, which are rather fragile and unfortunately irreplaceable. We've seen hardly any issues with this product and the folks at Magic Flight are actually good people, which means they take care of you if you have a warranty problems.
Complete Vapman
The
Vapman
has spectacular manufacturing quality. It's handmade in Switzerland from the highest quality materials, and it's robust enough to put up with a lot. There is no other portable at this price point that uses a gold plated, copper heating chamber. The mineral protection sheet found on the underside of the Complete Vapman is relatively difficult to work with from a manufacturing standpoint, but because of the unique insulating and heat reflecting properties of this mineral; the makers of the Vapman utilize it. There are no delicate pieces to worry about. It's very easy to clean, and the conical shape helps focus the lighter onto the heating chamber. The design is very sleek and elegant.
Winner: The Vapman's Swiss manufacturing quality definitely puts it ahead

Portability
Magic Flight Launch Box
The
Launch Box
was designed to fit in a pocket or be hidden in a hand. The only delicate parts are contained, so it's pretty durable as well. It's good for short term portability – it can fit in any pocket – but the batteries do need to be charged regularly. If you plan on taking it on a long trip it's best to charge several batteries in advance and take them all with you in a case. With the draw stems as well, you can end up with a lot of little accessory pieces to worry about.
Vapman Complete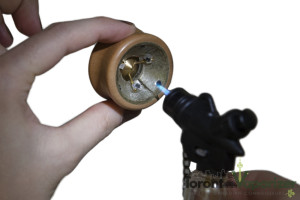 The Vapman Complete is small and durable, and comes with an air-tight case. It's clearly pocket sized and easy to carry in a purse. It's a little bit wider than the Launch Box, but the only heating source you need is the lighter. The fully filled lighter, will last you quite a while. You would need 12-17 magic flight batteries to give you the equivalent power of a torch lighter.
Winner:
Vapman – better for long trips, no extra pieces needed
Discreetness
Magic Flight Launch Box
The Magic Flight is tiny enough to fit in a closed fist, and you can fully cover it while you're vaporizing. When the drawing stem and battery are added, it's a bit bigger but still very discreet. If you want it to be even more discreet you can take draws without the draw stem, but this greatly reduces the vapor quality. Scent can build up in the wood, since it's unpolished and hard to keep completely clean and odor-free.
Vapman Complete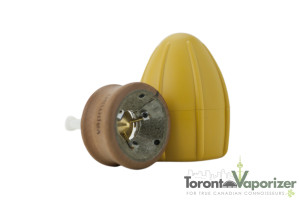 The Vapman, with its tiny size and included carrying case, is definitely discreet. It looks stylish without giving much indication of what it is. On the other hand, using it requires two hands, one for the unit and one for the lighter. It is always cool to use a torch lighter, but that is not the most discrete sight. In terms of odor, the
Vapman Complete
is definitely better than the Launch Box. The Basic Vapman, however, is just as much of an odor magnet as the MFLB. If you like to read more about the difference between the odor of Vapor vs Smoke, follow the link.
Winner:
Magic Flight – slightly smaller, more discreet in use, no torch flame

Vape SHOWDOWN
Here's a serious competitor to the Magic Flight, and we think the Vapman really wins out here. This is down to its amazing manufacturing and Vapor Quality, which gives it the lead in design and sturdiness. The innovative heating mechanism is much more developed than other vaporizers using lighters. The setup is perfectly designed to focus heat onto your botanicals and gives you great control. The Magic Flight is a pretty neat unit, but it is catered towards people that prefer discreetness and convenience. So if you are somebody that prefers to get your vapor fast and discreet, the Magic Flight might be better for you. For those of you that want quality vapor and components and are willing to give up discreetness to get it, Vapman Complete is the clear winner here.
Thank you for reading today's Vampan vs Magic Flight Launch Box Vaporizer Review. If you have any comments or questions, feel free to leave those in the comment section below.
Team TorontoVaporizer