Vapor Blunt is a relatively new vaporizer company. The first vaporizer was released in 2012 and at the time of this post, the company had released another 3 units. In a span of one year the company had released 4 different designs, which is usually not a good sign. Lets have a look at one of these Portable Vaporizers, the Vapor Blunt.
Today we will review the original Vapor Blunt. We will review this vaporizer and give all you connoisseurs a full look at the pros and cons of this unit.
Vapor Blunt Vaporizer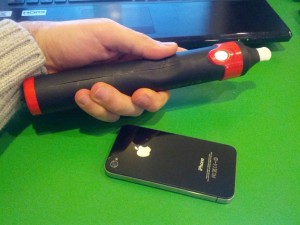 How to Use
The Vapor Blunt has just one button as its only control. Pressing it once takes it to a preset temperature of 200 °C, and pressing it again raises the temperature to 210 °C. Botanicals are placed in a chamber at the bottom of the vaporizer. They shouldn't be tightly packed, just loose. Once it's heated up, you can vaporize through the mouthpiece at the top. While you are vaporizing you can turn the knob on the bottom of the unit to stir your blend and make sure it vaporizes evenly.
Temperature Settings
The Vapor Blunt only has two temperature settings, 200 °C and 210 °C, solidly in the mid-range of vaporizing temperatures. It heats up to 200 °C in less than a minute, but the lack of flexibility doesn't make this unit stand out in this category. 
Vapor Quality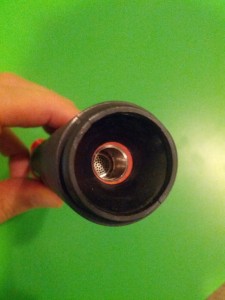 The Vapor Blunt can provide you with below average vapor quality at best. So you will probably be disappointed if you have tried a portable vaporizer like the Arizer Solo. The unit is completely made of heat resistant plastics. This material leaves a very unpleasant odor, which disqualifies the unit right away for us. The complete unit is made of it and it is just not something I would feel safe using for long periods of time. With some of the more acceptable units the outside casing is made of heat resistant plastics and the heating chamber and air pathways are made of materials like stainless steel. In the case of the Vapor Blunt however, even the mouth piece and large parts of the air pathway are made of plastic. The funny thing is that the mouthpieces have a taste to them (were the name blunt come from). The taste lasts like 2 minutes and seems to be a gimmick. In general I would give this unit a complete fail in this category. I just can't get myself to use a vaporizer that is made of plastics and emits taste into my mouth without worrying at night.
Manufacturing Quality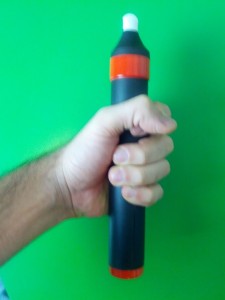 The Vapor Blunt seems like it would be pretty durable, but the entire unit is made of plastic, which we generally don't recommend. It gets warm to the touch after some time running, which is something to look out for. It's also sometimes difficult to clean. A real issue is that the vapor travels all the way from the heating chamber at the bottom to the mouthpiece through a small tube. This can collect lots of buildup which will wreck your flavour.

 

The only way to clean the grime is to use rubbing alcohol. But the problem is that you cannot use rubbing alcohol with the Vapor Blunt, since the channel is made of plastic and plastics erode when exposed to alcohol over time. This was a really poor manufacturing decision. The unit really does not have much to offer in terms of high quality materials or innovative design features.
Portability
The Vapor Blunt is a pretty durable unit, but a bit heavy and large. One charge on the battery gives about 90 minutes of continuous use, and it takes about four hours to charge fully. It can also be used while charging. Since the whole thing is made of plastic, you can through it around and not worry about parts breaking. The size of the blunt however makes it very difficult to carry around. Unless you have a backpack, this portable vaporizer will not fit into your pocket and is therefore not portable. Compared to some other portable vaporizers, this unit is just huge!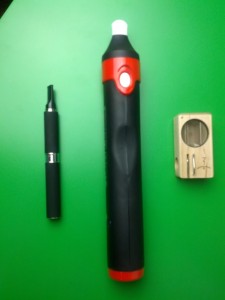 Discreetness
There's no nice way to say this, but the Vapor Blunt is one of the least discreet portables we have ever seen. It's way too long to hide, and it's strange looking enough to draw attention to itself. This vaporizer is probably better for home use or more advisably no use.
Overall Experience
The Vapor Blunt is just not well designed and there are other vaporizers in this price category that are much better. The Vapir NO2 is cheaper and better and Arizer Solo is around the same price, and just outstanding. We look forward to test the other units that Vapor Blunt has released and hope that we can carry one of their unit in the future, but for now the Vapor Blunt unfortunately doesn't meet out quality standards.
Thank you for reading todays Vapor Blunt Vaporizer Review.
Warning: Not Compatible with ZEUS Iceborn
This vaporizer is not compatible with the ZEUS Iceborn, a revolutionary new vapor cooling system designed to produce cooler draws and bigger clouds when connected to your vaporizer. The ZEUS Iceborn adds an additional 2 points to the vapor quality score of compatible units, so we highly recommend considering a whip-compatible vaporizer to take advantage of this stellar ZEUS accessory item. All compatible vaporizers will have a compatibility notice.
Team TorontoV