This is our first post under the Connoisseur Chronicle label. We will be talking about how you can take your
vaporizing
to the next level and give you tips and tricks on how to make your passion into a hobby!
Important Note:

We are no physicians. This post is a compilation of information carefully researched and put together from online resources. Some of the sources are liked in this post. Please speak to your physician before vaporizing any botanical.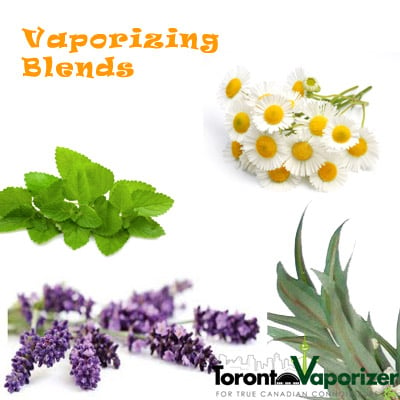 Vaporization allows you to enjoy aromatherapy plants and oils wherever you are. Some vaporizers come with a potpourri dish that lets you diffuse scents into the surrounding area (Arizer Vaporizers), while others are designed for personal use only. Aromatherapy and traditional Chinese medicine can improve your quality of life while also allowing you to enjoy unique flavours in conjunction with your favorite botanical (whatever that might be

).
Many cigarette producers tried to associate themselves with these health promoting botanicals by adding chemicals that mimic the flavor, but with a vaporizer you have the option of not only enjoying the effect of the essential oils but also the taste. Many people use candles, air freshener sprays and incense for aromatherapy, but vaporization eliminates the heavy smoke scent. You can also experience the pure natural fragrance without traditional by-products used to extract these oils (alcohol, animal fats, petrochemicals, etc…). Vaporization is the best way to experience the positive effects of some of the following botanicals, without having to resort to non-natural methods.
Vaporizing Lavender
Lavandula is an extremely popular aromatherapy scent because of its use for combating anxiety and tension. It also has a great floral scent. The flowers have been used for relaxation and to cure insomnia for millennia. It can help with mild asthma, headaches, and cold symptoms. We recommend you vaporize lavender at 130°C. (
Wikipedia link
)
Vaporizing Chamomile
Chamomile is primarily consumed orally as the soothing effects are very well known for the digestive system. The vapor of boiled Chamomile however has been used for treat common flue for thousands of years.

 

Generally this botanical can be effective as a sleep aid, relaxant or for the boosting immune system as a result of its antibacterial properties.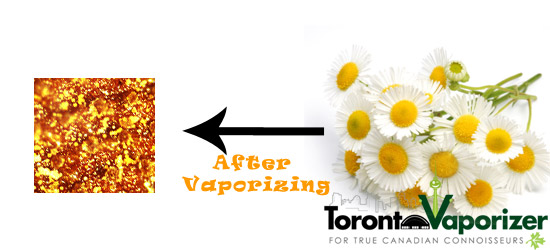 Vaporizing

Mint

Mentha work to invigorate and energize you at the end of a long day. The scent is uplifting and stress relieving, and can improve mental function. They also soothe all kinds of nausea and indigestion. Spearmint is a little bit stronger than peppermint, but both work very well. Mints should be vaporized between 154 – 166°C. (

Wikipedia link

)
Vaporizing

Eucalyptus

Eucalyptus is commonly used to clear your entire respiratory system with its fresh, stimulating scent. This can help with hay fever, allergies, and cold symptoms such as congestion and sore throats. It has also been used as an antibacterial agent. Best vaporization temperature for Eucalyptus is around 130 °C (

Livestrong link

)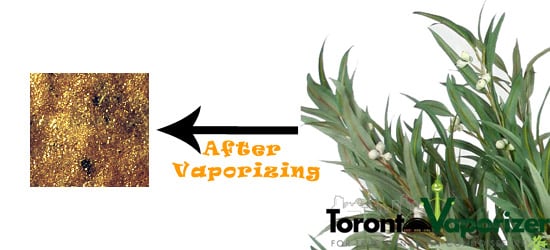 Vaporizing

Lemon Balm

Melissa Officinalis is mostly applied as a calming botanical that helps reduce stress, increase appetite, promote sleep and ease pain. This botanical can be vaporized at 145°C. It is common to add mix it with other botanicals to create a blend that not only shines in flavor but also in soothing effect. (

University of Mariland link

)
Vaporizing

Ginger

Ginger is invigorating and stimulating, and can give you the energy you need for both physical and mental effort. It also soothes nausea and works really well against motion sickness on long trips. It is used in traditional Chinese medicine to help with cold and flu symptoms. Ginger should be vaporized at 175 – 200°C. (

Wikipedia link

)
Vaporizing

Rosemary

Rosemary improves memory function and recall during work. It's invigorating and can treat both mental and physical exhaustion. It's mostly used as a spice, so it's well known and easy to find. Artisan chefs have used balloons full of rosemary vapor at restaurant meals to complement delicate flavours. [

Storz & Bickel GmbH

]

This is just a start to give you idea of what to vaporize. Think about your favourite scented candles and oils for other ideas. You can find lots of great botanicals at local health food and aromatherapy stores, or ask an aromatherapy specialist. Remember that we are not medical professionals and can't know what's best for your individual situation. All the information above has been cross checked across many online sources. Feel free to follow the links at the end of every paragraph for more detail.

Finding your favorite botanicals and creating that blend that you like best can be quite an exciting task for a connoisseur. We will publish more videos and blog posts about these subjects as it can take your vaporization experience to the next level.

Thank you for reading today's blog post on Vaporizing Blends. Feel free to leave your comments and questions in the section below.

T.Vape