Connoisseurs are always looking for ways to stretch their budget and enjoy themselves more for less. Vaporizers are becoming more and more well designed each year. While connoisseurs are often willing to share their wisdom, we want you to know some ways that you can get a better vaporizing experience over the long term.
6 Key Vaping Tips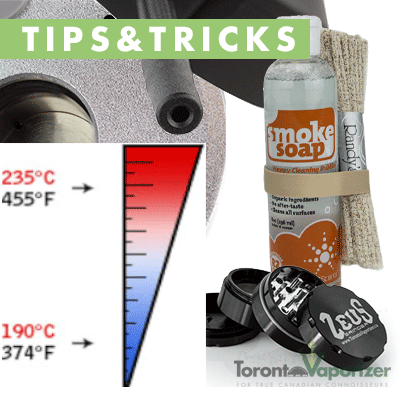 Much of the vaporizing experience is based on the botanical itself. However, the experience also rests on a number of factors that you can change in your favor. Grind quality, botanical quality, temperature settings, how you draw and how clean your vaporizer are all factors to consider when understanding the quality of your vaporizing experience.
#1: Great Grind
Grinding your botanical to the correct consistency is crucial when vaporizing. If you grind your botanical too finely, the vaporizer won't properly heat and you will get a bad draw. If your grind is too coarse, some parts of your botanical will not get vaporized properly = waste! And forget scissors for vaporizing, the end result is uneven. You have invested time and money into the right vaporizer, so we recommend
ZEUS grinders
for the ideal grind and vaporizing experience. Remember, when you purchase a vaporizer at
TorontoVaporizer
, you get a ZEUS Bolt grinder for FREE!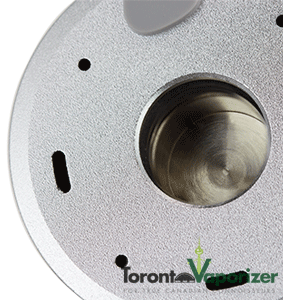 #2: Less is More
Connoisseurs are always worried about their botanical supply. Luckily, when it comes to vaporizing, you can use less botanical than smoking. Many connoisseurs make the mistake of filling up heating chambers to the brim. With vaporizers, you can use half as much to get the same effect. If you are ramming in as much as possible, the vaporizer will not be able to effectively heat your botanical evenly. We recommend that you check out the Vapman if you are looking for one of the most efficient portable vaporizers out there right now. For a full review of this unit check out our
Vapman Vaporizer Review
. Don't know when you need a refill? Take a look at the
When are you done Vaporizing post
?

#3: Temperature Control
The point of vaporizing is to release the botanicals beneficial compounds without the harshness and added chemicals of combustion from smoking. When smokers vaporize for the first time, they vaporize and expect to see thick vapor. Thick visible vapor will happen at higher temperatures (200C+). We recommend vaping at 190-195C to start, for the more flavourful, wispy vapour. Our suggestion for thicker, more visible vapour is to hover around 230-235C. When shopping around for a unit, it's great to consider units with a digital display, so you know and can set your vape to your desired heat setting. The
Extreme Q
has a digital display that allows you to have exact control over your temperature when vaporizing. For different temperature setting ideas, we recommend a few cool tricks called vapor stepping and vapor tasting.
#4: Pre-Heating
For the sake of quality vapor, we highly recommend preheating your vape. This means that you turn on the unit and let it heat up first for a little while before attempting to take any draws. If you try to draw right away, your botanical may not be properly or evenly heated, resulting in a poor experience and frustration. Just be patient and take your draws after a bit of a wait.

#5: Draw Style
Evert connoisseurs have their own way of drawing. The best method is to take a slow and steady draw. Quick and shallow draws will not offer you the best of experiences. In fact it won't give you much to work with at all. It is also important to understand that each unit has its own best practices. Spend some time with your vaporizer and learn its quirks. You'll even find that after a few vape session, you'll come up with your own method, tailored to your needs. Once you better understand your vaporizer, you can then find the best way to take draws to get the vapor that you want.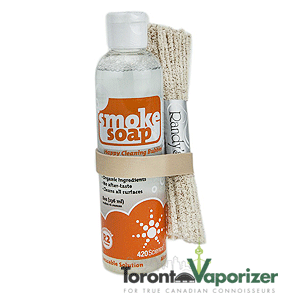 #6: Keep it Clean
Cleanliness can make all the difference in the world when it comes to vaporizers. Over time, vaporizers can begin to accumulate residue and grime from repeated use. This is bound to happen as we are heating up botanical in a small space. Vapor quality will suffer if your unit is not properly cleaned on a regular basis. Cleaning frequency all depends on how frequently you use your unit. The more you use it, the more you are going to have to clean it. Check out our
cleaning kit
for an organic, reusable, easy to use cleaning solution. If you have a ZEUS grinder we also have guide on
How to Clean ZEUS Grinders
.
As you can see, there are many different things to consider to improve your vaporizing experience. Don't forget to check out our
Top Vaping Mistakes
post to find out what to avoid during your next vaping session.

Thank you for reading today's Vaporizing Tips post, we hope these tips will improve your next vaping session(s)
Do you have any tips or suggestions for improving your vaporizing experience? If so, leave them in the comments section below for us and other connoisseurs to consider. Check out some of our product reviews to see what vaporizer is right for you.
Don't forget to follow us on Facebook, Twitter or Google+ to be updated on vape news and for a chance to win great prizes!
As always, keep vapin'!