When we received the VS3 vaporizer, we thought it looked and felt a bit like a Firefly knock off, so we were interested in seeing if it would provide similar vapor quality at a more budget-friendly price-point. With that said, the VS3's thin plastic exterior and cheap appearance made us weary of what we could expect. So, if you're curious about how we liked this submarine-esk looking vape too, read on:
Review: VS3 Vaporizer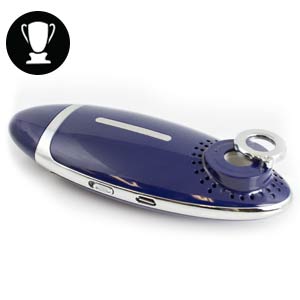 How It Works
So to turn the VS3 Vaporizer on, slide the power-toggle over to turn the unit into standby mode, indicated by the white LED light. Next, swing the glass chamber cover to reveal the heating chamber and load it up. Then swing the chamber cover back over. Press the heat button one time and you'll notice the LED indicator light will flash red and then stay solid red once the first heat setting is reached. In under a minute and without much brain-power, the VS3 will be loaded, heating, and you'll be ready to vaporize.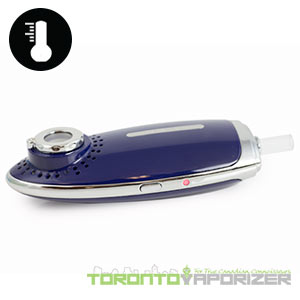 Temperature Flexibility
The VS3 Vaporizer offers 3 different temperature settings that are relatively easy to toggle between: 380° F/ 193.3° C ( indicated by the red light), 400°F/ 204°C ( green light ), and 440°F/ 226.6 C ( blue light). Not bad predefined settings, though it's quite a jump between the second and third. We like to vapour step to allow for the best efficiency and overall vaporizing experience, but hey, three temperatures on the VS3 are better than one and this unit does give you decent range.
Vapor Quality
The plastic components of the VS3 Vaporizer foreshadowed that we would experience a taste of plastic and probably only light wisps of vapour from this unit. Surprisingly, we experienced quite the opposite. The vapour was rather pure and flavourful, consistent and surprisingly satisfying. On the lowest two temperatures settings we can honestly say the vapour was decent! Toggle up to the highest temperature setting though and we were much less pleased – the vapour was too warm and rather irritating. So, all in all, the vapor quality of the VS3 was slightly above average.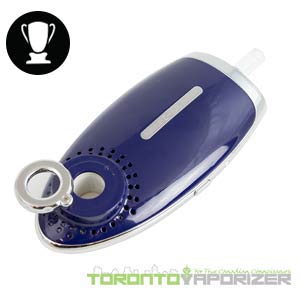 Manufacturing Quality
Simply from the look of it, it's easy to see that the VS3 was made in China. Its construction is pretty cheap, with the exterior being very thin, low-grade plastic. With that, came the fear of shattering it entirely if we accidentally dropped it, which isn't what you want to think of when you consider the manufacturing quality of a vaporizer. Ironically, the interior of the unit is really what makes the vapor quality stand out in comparison to its look and feel. The heating chamber is ceramic and the vapor pathway is made of a removable glass straw for easy cleaning and maintenance, which is pretty great! But, the plastic around the heating chamber, including the glass port-hole cover, does get very hot due to poor insulation. So, overall the VS3 Vaporizer scores average in this category.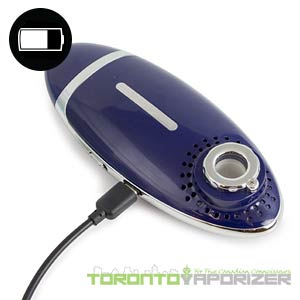 Battery Life
We were neither impressed nor disappointed by the battery life of the VS3 Vaporizer. You'll get an average of 8 sessions, 5-7 minutes per session, off one charge. There is no battery life indicator so you have to keep the unit charged up and anticipate when it's about to run out or wait until you're mid-session and the unit randomly enters stand-by mode. Either way, battery life was ok on the VS3 and charging via USB charging makes it pretty convenient.
Ease of Use
Loading the VS3 Vaporizer, turning it on and changing temperature settings are no-brainers. The glass straw is a bit tricky and stiff to remove, but the fact that it actually is removable makes cleaning the vapor pathway possible and pretty easy. The VS3 requires no additional assembly, but because the charger is strictly USB, you have to factor in the limitations of that.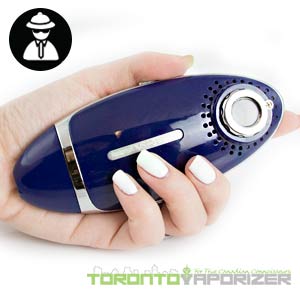 Discreetness
Vaporizing publically would make anyone hard-pressed to come up with an excuse for what the VS3 is, if anyone was asking around. With that in mind though, if it weren't a requirement to parade this bad boy around the city to test its discreetness, we can comfortably say that it would never leave our room because of its weird submarine/rocket-ship appearance. Felt like we were carrying around a kids toy – but maybe this appeals to some connoisseurs?
Overall Experience
If you're looking for an interesting looking vape with ok vapor quality that heats up in under 30 second's, you're in luck! The VS3 Vaporizer is not a bad unit, but it also wouldn't be a vaporizer we would take to a friend's house and boast about, being a connoisseur. For a vaporizer that offers better vapour quality, is discreetly designed to look like a portable hard drive and won't break the bank, we'd definitely recommend checking out the ZEUS Smite. It's the best value, low cost vaporizer we've got in our portfolio at the moment and is getting rave reviews across the board, from customers North America wide and gadget reviewers like KnowTechie!
Compatible with ZEUS Iceborn
This vaporizer is compatible with the ZEUS Iceborn, a revolutionary new vapor cooling system engineered by Canadian vape manufacturer ZEUSArsenal. The Iceborn is designed to produce cooler draws and bigger clouds when connected to your vaporizer. The vapour produced is ultra smooth and crisp and because of ice cooling, instead of water filtration, there is no loss of efficiency. The ZEUS Iceborn adds an additional 2 points to the vapor quality score of this vaporizer and is a highly recommended vaporizer accessory.
If you have questions about this vape or just want to let us know what you think, feel free to drop us a comment below! Also, don't forget to follow us on Facebook, Twitter or Instagram to keep up to date with all our contests, sales alerts and other fun stuff! Thanks for reading and as always, keep vapin'! 😉