Ever spent a ridiculous amount of money on the portable vaporizer of your dreams, get it open it and then wonder, how the hell am I going to keep this protected? Well the team at ZEUS Arsenal has been working hard to answer that very question with their brand new ZEUS Armor Hard Case. This vaporizer case is designed to fit almost any portable unit and comes with a custom foam cut-out for your ZEUS Bolt grinder and accessories. So let's take a look at just how this case is going to change how you travel with your vaporizer!
Review: ZEUS Armor Hard Case

How It Works
Unzip and open the clamshell lid to reveal the inside of the case in all its glory. The front flap and pouch is designed to fit most vaporizers on the market. To fit the Solo and the Mighty we advise not putting the vape in the elastic pouch but rather let it sit on the front flap and close the clamshell around it.
Turn the flap over to reveal the storage area of the Zeus Armor Vaporizer Case. In the storage area you will find a custom foam cut-out area for your accessories like mouthpieces, chargers, etc and a specific spot for your Zeus Bolt grinder. It should even provide enough space at the bottom to store your herbs for transport.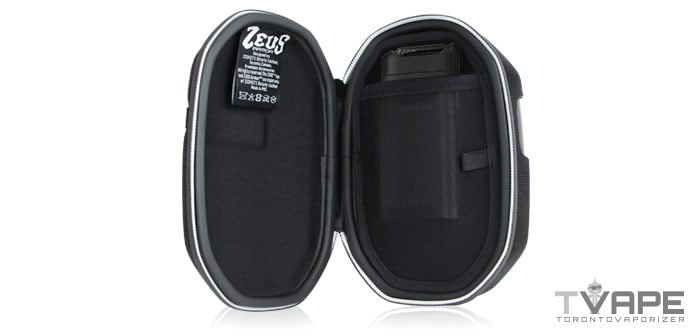 Manufacturing Quality
One thing we are most impressed with about this case is the manufacturing quality. The outer of the shell is made out of a strong fabric weave and is hard enough to withstand minor bumps and drops. The zipper closes tight enough to help keep odor inside however it is not 100% airtight, but it will definitely minimize odors as well as offer some splash protection.
Inside the case you will find the sturdy front flap which contains an elastic pouch that can hold most smaller portable vaporizers. For larger units like the Arizer Solo or Mighty the case will still fit these units however you won't be able to fit them in the elastic pouch. Instead rest it directly on the front flap and zipper close the lid around it.
Even cooler is when you flip the front flap over to reveal all that storage space. The Zeus Armor Hard Case features a customer foam cut out for your accessories and even more impressive  a customer spot for your grinder, which is by far the most annoying thing to carry with you. We were elated to see a spot for our favorite grinder! There is even a small amount of space below the grinder for herb storage. Units with glass components will really benefit from ZEUS Armor Case as it offers a decent amount of protection for your glass during transport.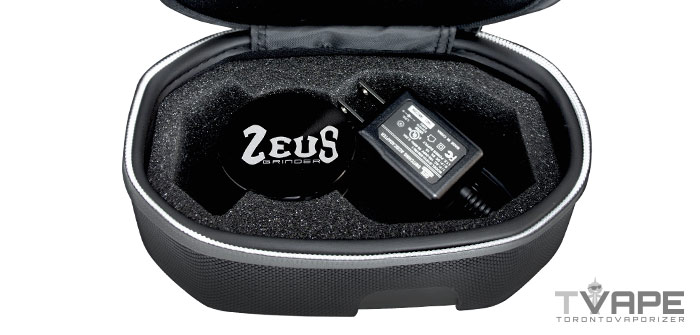 Key Advantage
The obvious key advantage of the Zeus Armor Hard Case is hassle free storage for your beloved vaporizer. This case allows you to keep everything in one place making it really easy to take your vape with you for night or over a weekend. You no longer have to worry about how you are going to pack your vape and accessories or how you will keep it all together. Just toss everything into this case and you are ready to rock! The hard exterior will protect your unit and accessories from being crushed if you pack it in a back or if you drop it by mistake. It is especially great for units that have a lot of accessories or have fragile accessories, given you a perfect spot to store and protect them.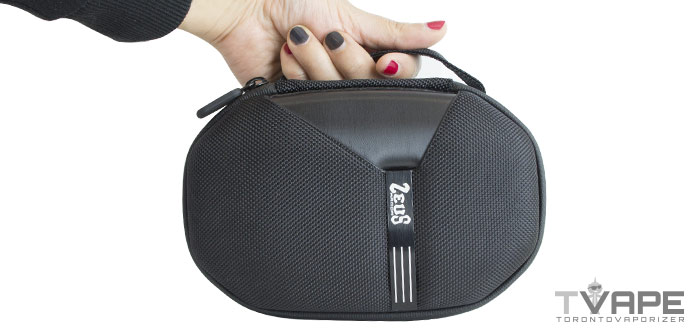 Overall Experience
If you truly love your vaporizer and want to make sure it gets the treatment it deserves we cannot recommend the Zeus Armor Hard Case enough. It has become a staple of our vape collection and we don't go anywhere without it. It has helped keep some of our favourite vaporizers in tip top shape and saved us a few times when it carelessly fell out of our bag.
If you have a unit with glass components like the Arizer Solo, Arizer Air, or DaVinci Ascent than this case should be a no brainer and will help extend the lifespan on your accessories. If you've purchased a premium unit like the Utillian 720, Crafty, Pax 3, or Firefly 2 than you are definitely going to want this case to keep these top tier units safe and sound!
If you have questions about this vape or just want to let us know what you think, feel free to drop us a comment below! Also, don't forget to follow us on Facebook, Twitter or Instagram to keep up to date with all our contests, sales alerts and other fun stuff! Thanks for reading and as always, keep vapin'!