Every vaporizer out there has special quirks and qualities. Today we are going to look at some general tips you can take to ensure that you have an optimal vaporizing experience. This includes how to set up your unit, how to prepare your botanical and even what to do when you are done with your botanical. Let's help you get a better understanding on how to improve your vaporizing experience.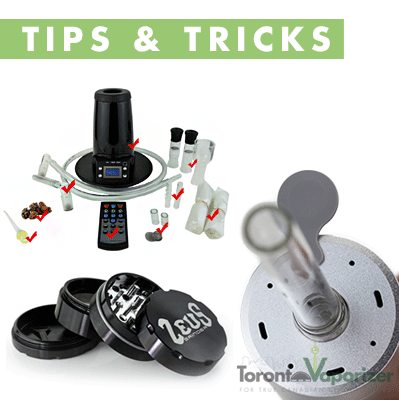 1. Unboxing and Sterilizing
When you receive your vaporizer, you want to unbox it properly. Take everything out of the box and make sure all parts and accessories are accounted for by looking at any accompanying documentation and inserts. Make sure that none of them are damaged. Before you begin vaporizing, let the unit run for about twenty minutes. This way your unit should heat off any residue or chemicals from the manufacturing process. Don't apply any sort of cleaning liquid to the working parts of the vaporizer. You can clean some glass components with rubbing alcohol but make sure to check the manual for warnings and safety precautions.
Vaporizing heats up your botanical at a temperature that produces vapor. It doesn't produce smoke or flame so
setting the right temperature
is key. Keep in mind that higher temperature isn't necessarily better. You first need to consider what type of vapor you want. If you want thinner and less harsh vapor, first set your unit temperature to 190 degrees Celsius. Let it heat up for a few minutes and take your draws. As it gets thinner, raise the temperature 10 degrees at a time. You will max out at around 235 degrees Celsius. If you want really thick vapor and don't want to mess around with your settings, you can just set your unit to 235 degrees and vaporize until you aren't getting any more vapor out of your botanical. Get a feel for how your vaporizer works when deciding on your temperature. You also want to preheat before taking any draws. This is key in good vaporizing experiences.
You want to make sure that you grind your botanical correctly before vaporizing. You will get the best vaporizing experience by having good surface area exposure. You don't want your grind to be too coarse as that will prevent heat from fully penetrating the botanical. You also don't want to grind your botanical too finely as that will prevent heat from moving around your botanical easily. In order to get the perfect grind, it is recommended that you use a
grinder
that is specifically designed for vaporizers. You can also sprinkle botanical dust on top of your blend before vaporizing for an extra kick. A great way to collect your dust over time is to use the
ZEUS Temple™ de-humidor
. It is also perfect for storing and conditioning your botanical when not in use.

4. Type of Draw
Now that your vaporizer is heated up, you can take your draws. Everybody has their own way that they draw. Another consideration to keep in mind is that every unit will have their own best practices. In general, you tend to want to take long and steady draws. Trying to take shallow and fast draws will not give you a good vaporizing experience.
5. Storage and Other Uses
When you finish up vaporizing, you can do a few things with your botanical. You can usually tell if your botanical is finished by the color. If it is a golden brown color and produces no more vapor, it's finished. You can use this finished material in
various recipes
or you can dispose of it as garbage or fertilizer. If it isn't finished, you can store it in the unit overnight, or in a proper airtight container. You also will want to clean your unit after usage with the appropriate cleaning methods.

Thankyou for reading today's 5 Things to Know Before Vaporizing blog post. There are many things to consider when vaporizing. You want to make sure that you have prepped your unit effectively and temperature settings are at the correct setting. You also want to make sure that your botanical is ground effectively and that you take proper draws. If you put time and effort into your vaporizing sessions, you will find out exactly what works best for you. Feel free to leave a comment in the comment section below. Don't forget to follow us on
Facebook
,
Twitter
or
Google+
for contests, sales alerts and other fun stuff!
Thanks for reading and, as always, keep vapin'!
Team TorontoVaporizer