The
Arizer Solo
is one of the most well-known and popular portable vaporizers out there.  The
Pinnacle
by VaporBlunt has been making waves recently as it challenges all others in the market. Today, these two portable vaporizers are going head to head to see who comes out on top in our Vape Showdown.
Arizer Solo vs Pinnacle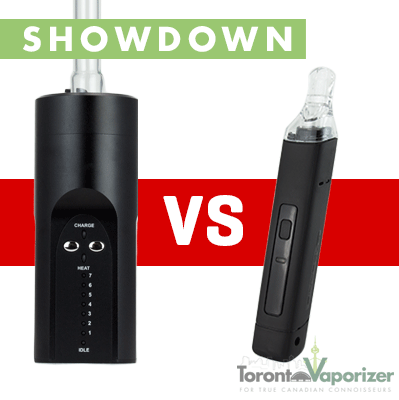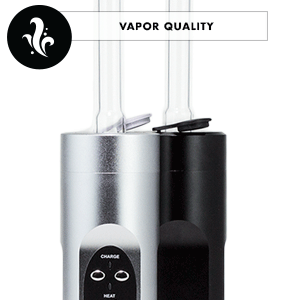 Vapor Quality
Arizer Solo
The Solo is top of the line when it comes to vapor quality right out of the box. It uses a hybrid heating style to vaporize your botanical, allowing even heating to provide high quality vapor.  The heating chamber is also quite advanced and well designed. It uses a glass tube, allowing a pure tasting vapor. It all combines to create great vapor quality.
Pinnacle
The Pinnacle does a decent job of providing good quality vapor from its unique heating chamber. It uses cartridges with hybrid style heat to produce vapor. The taste does suffer from the plastic mouthpiece.  Vapor can also become too hot after extended use.  However, if you get the hydrotube accessory, you can add water filtration to your vaping experience.  It also greatly increases the quality of the vapor.  If only the Pinnacle could achieve this without an accessory.
Winner
 –
Solo
,
Pinnacle with Hydrotube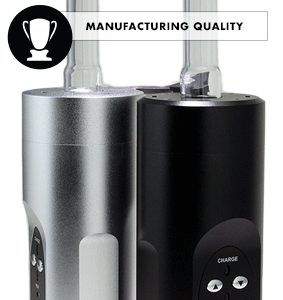 Manufacturing Quality
Arizer Solo
The Solo, similar to all Arizer products, is manufactured excellently.  It comes with a two year warranty on labour and parts, as well as a solid sandblasted aluminum casing that protects all of the important internal parts. The heating chamber itself is made of stainless steel and ceramic.  This insulates heat from the battery, ensuring a longer life of the unit.  This unit is very durable. A high quality glass tube allows you to take great tasting draws.
Pinnacle
The Pinnacle has a very good and sleek design.  Its casing is made of high quality plastic.  It is decent but can't really compare to the aluminum of the Solo. One button operation is pretty great but lacks the fine control of the Solo. Cartridges are well designed but are small and have potential to be lost easily if dropped.  The plastic mouthpiece can add a plastic taste to the vapor however.
Portability
Arizer Solo
The Solo is a small and slim unit.  The glass drawing stems are not very portable. You may need to get a
carrying case
to effectively carry these around. The Solo has a great battery life, lasting up to 90 minutes with continuous use.  You can grab yourself a power adapter to vape at home (bypasses the battery).
Pinnacle
The Pinnacle is incredibly small. It is all self-contained, with all of your base parts attached or inside. Battery life isn't as great as the Solo, and you can't use it while charging.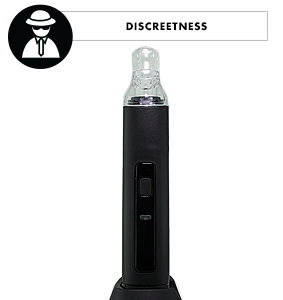 Discreetness
Arizer Solo
The Solo is small enough to fit into any sort of bag or jacket pocket. It doesn't draw too much attention until you add the glass tube.  It contains vapor well, so you don't have to worry about odor leakage.
Pinnacle
The Pinnacle is one of the most discreet vaporizers out there today. It is incredibly small in size and shape.  You can fit it into almost any pocket. It also has very little vapor leakage so you don't have to worry about smells.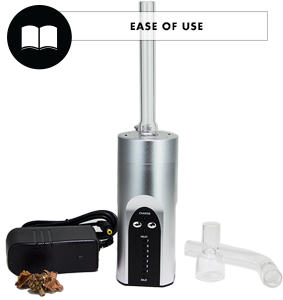 Ease of Use
Arizer Solo
The Solo is pretty easy to get up and running.  You just power on, set your temperature and wait. Once its's ready, you take your draws from the glass stem very easily.  Loading and unloading the botanical is very quick and easy. Cleaning is also very easy.
Pinnacle
The Pinnacle uses one button to operate.  This simple design may lack some features but it tells you when your battery is running low. Using the separate canisters allows you to easily switch and vaporize quickly. These however can get very hot and difficult to handle if you aren't prepared.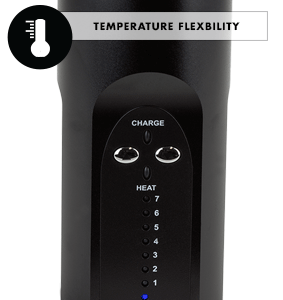 Temperature Flexibility
Arizer Solo
The Solo has seven different temperature settings, so you can find the vapor that is right for you. Temperatures provided are ideal for optimal vaporizing. You can't really get super high temperature, but only a small number of connoisseurs go for that.
Pinnacle
The Pinnacle only has two temperature settings, 190 degrees and 200 degrees Celsius. You change settings with just one button press.  It also heats up very quickly.
SHOWDOWN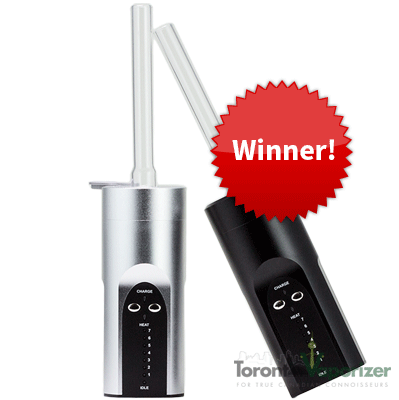 Both of our competitors have had a tough battle today. While both of these units are of great quality, the Solo is our winner today. While the Pinnacle has points for it in discreetness, as well as portability & battery, the Solo wins in all other major categories.  The Solo will give you superior vapor quality, manufacturing quality, ease of uses and temperature flexibility.  To pick up the Solo and the Pinnacle, check out the store at Torontovaporizer.ca. For a full review of these two units see:
Arizer Solo Vaporizer Review
and
Pinnacle Vaporizer Review
.

Thankyou for reading today's Arizer Solo vs Pinnacle Vaporizer, SHOWDOWN. Leave a comment to let us know which vaporizers you would like to see in our future showdowns! Don't forget to follow us on 
Facebook
, 
Twitter
 or 
Google+
 for contests, sales alerts and other fun stuff!
See you next time, and as always, keep vapin'! 😉