The
original DaVinci
is a really popular premium portable vaporizer. But time moves on, and the manufacture has released a brand new vaporizer, the
Ascent
. The unit takes the good features of the previous product and improves in several different areas to make an amazing quality vaporizer. It's better in almost every area. Here's a rundown of the differences between the two.
Ascent vs DaVinci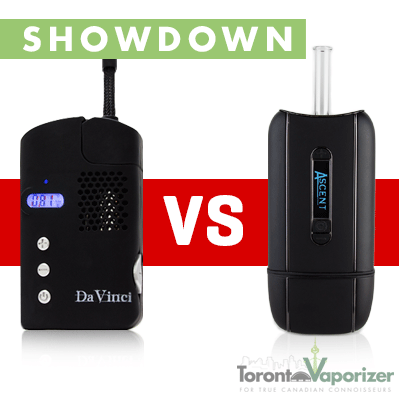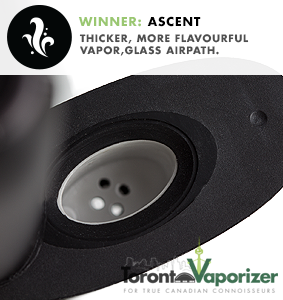 Vapor Quality
DaVinci
The metal heating chamber was designed for decent efficiency, but the materials used aren't the best for this. It uses flexible mouthpieces lined with plastic. These are very convenient, but the plastic doesn't lead to great vapour quality. It definitely gives you acceptable vapour, but most of the design focus was portability and discreetness, so there were some sacrifices made in this area.
Ascent
The glass lined airway and heating chamber leads to some of the best vapour we've seen in a portable unit. The vapor is very dense and thick, and can create large quantities at all temperatures. The heating chamber is 30% larger, producing more vapor. Vapor quality was a major focus of this unit, and it lives up to it.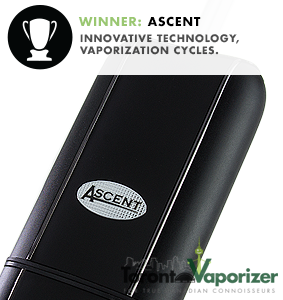 Manufacturing Quality
DaVinci
There has been a worrying number of manufacturing defects. However, the manufacturer fixed most of the internal issues in the updated release. On a more positive note, this vape is very hard to break physically, appearance of the unit is great and there are useful little details like the internal storage chamber. Unfortunately, the unit has had heating issues and the materials used are not as high quality as they could be.
Ascent
This gadget has been designed with innovative technology wherever possible. We're very impressed by all the new features that came up with for this unit. You can set the auto-shutoff time yourself, and you can also create custom vaporization cycles. Not only does it have a glass airpath, the heating chamber is also lined with glass. The fit of all the components is perfect. Also, the style is just amazing! The three different styles all look great and the quality is just as great as the materials inside.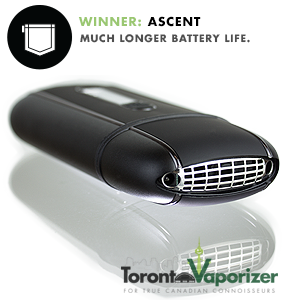 Portability
DaVinci
A pocket sized and durable gadget, so it's very portable and convenient. It's mostly made of medical grade plastic, so there's very few parts that can be damaged. The battery life is about 45 minutes, which is about average for a portable vaporizer.
Ascent
This unit is a bit heavier and the glass air path might make it a little less portable, but we were surprised by how well it stood up. The longer battery life is the main advantage it has in this category. The battery will last up to two hours of use, which is the longest of any portable vaporizer on the market!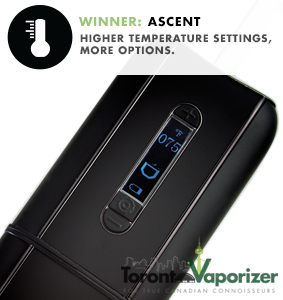 Temperature Flexibility
DaVinci
There is a precise digital temperature control, which goes up to a maximum of 207°C. This is high enough to give a range of settings for vaporizing dried botanicals, but very low for vaporizing concentrates.
Ascent
It goes all the way up to 221°C. This is a huge range, and reaches high enough to properly vaporize oils. The really cool new feature with this vape however, is that you can use the digital controls to set personal vaporization cycles. This will automatically control the heat of your vaporizer without you needing to lift a finger. We've never seen this in a portable vaporizer before!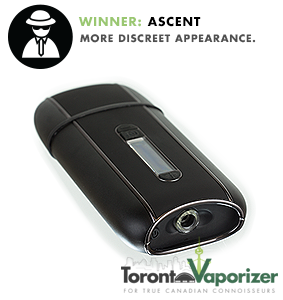 Discreetness
DaVinci
This product looks like a walkie-talkie and fits easily in your hand or pocket. There is some odour, but there's a magnetic closure on the lid so mostly they stay contained.
Ascent
In comparison this product is around the same size and it's even more discreet in appearance. It's sleek and stylish, looks very similar to a smartphone and still small enough to fit in a coat pocket easily. However, because of the ventilation system, it still releases some odours.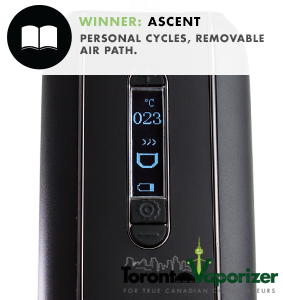 Ease of Use
DaVinci
This unit has a simple digital temperature setting, and it's very easy to use. It has two separate power buttons, one that turns on the screen and one that turns on the heat, so it won't accidentally heat up in your pocket, and the temperature is set with the plus and minus buttons. It's a little harder to clean, because of the three different screens that need cleaning and the fact that botanicals tend to stick to the metal heating chamber. Also, the medical grade plastic mouthpiece and exterior can't be cleaned with any harsh chemicals.
Ascent
This device has quick digital temperature adjustment for easy use, but it's also got an even easier solution. If you use the personal vaporization cycles you only have to set your preferred cycle once, and after that the unit itself will do everything for you. Because almost all the parts that come into contact with your vapor are removable and glass, it's very easy to clean as well.
SHOWDOWN
The Ascent is definitely an improvement on the original DaVinci. It's higher tech, and it's designed specifically for vapor quality. It's also got features like the customizable cycles which are entirely new among portable vaporizers. The manufacturer made sure that their new product had every improvement they could think of, and they've spent a lot of time perfecting it. The DaVinci is still a great unit, and it's a little less expensive. But if you can afford to wait until the release we highly recommend the winner of today's Vape SHOWDOWN. Don't forget to take a look at some great accessories that are compatible to both vapes!

Thankyou for reading today's Vape SHOWDOWN! For a more detailed review of the two products in today's post check out:
DaVinci Vaporizer Review
and Ascent Vaporizer Review. We would love to hear from you! Please feel free to leave a message below if you have any questions or comments. Don't forget to follow us on
Facebook
,
Twitter
or
Google+
for contests, sales alerts and other fun stuff!
Thanks for reading and as always, keep vapin'!