Updated: July 13th, 2015
The most anticipated vaporizer release of 2012 was definitely the Pax by Ploom. It has gained a following, but the manufacturing quality was disappointing and it has some warranty issues preventing it from being released in Canada. The most anticipated 2013 release is the
Ascent by DaVinci
, and it looks like it has a clear edge over the Pax. Here's a comparison of these new premium portables!
Pax
This vaporizer gives you pretty dense vapour at all of its three heat settings. However, it has a metal air path and heating chamber, which means that the vapour tends to be very warm even though the heating chamber is far away from the mouthpiece. Other than that, it has decent vapor quality, but nothing fancy.
Ascent
With a glass lined heating chamber and air path, this vaporizer ensures that your vapor is the purest flavour possible. The digital temperature settings lets you precisely control the flavour and density. At any temperature, it produces large amounts of dense vapor, and altogether we were just blown away.
Pax
The outside of this gadget is gorgeous! It has an anodized aluminum casing, and it's sleek and completely self-contained. However, the interior isn't so great. The mouthpiece, which is also the "on button", needs to be cleaned after every use, otherwise it will stick and the unit will stop working. Also, the seal on the oven lid at the bottom is magnetic and has been known to leak. Yet another problem is that, because the vaporizer is so small, the battery is too close to the heating element, so the battery life drops very quickly. Because of these issues, this vape has had lots of warranty claims, and since they offer a 10 year warranty you can at least be sure that you will have help. But they won't be releasing it in Canada until they've found a way around the issues.
Ascent
This gadget on the other hand, looks amazing and works really well. It's elegantly designed, with a swivelling heating chamber and a well-fitted glass air-path. The outside is just as spectacular, with three possible shell designs chosen for style and discreetness. The manufacturer came up with a lot of new ideas and improvements since the
Original DaVinci
. Some of these new features we've never seen in portable vapes, like an adjustable auto-shutoff and personal vaporization cycles. Also, the battery life is the longest in the industry at two hours. It's clear how much care has gone into the design. There's also a two year warranty, which is the industry standard. That being said at the last update it is worth mentioning that the percentage of defective Ascent vaporizer out of the box is still much too high for our liking. Ascent has a long way to go to reach defect rates as low as
Arizer
or ZEUS products.

Pax
There are three temperature settings, which all are hot enough for vaporizing. Also, the bottom of the gadget heats up in use, and it's too small to hold anywhere else. As a result it is good for a quick session on the go, but if used to often in a short period of time will heat up beyond the range that would be comfortable in a pocket.
Ascent
This vape has a digital display that allows you to set the temperature precisely up to a maximum of 221 degrees Celsius. This is a very wide range for a portable vaporizer, and is high enough to vaporize oils as well as dried botanicals. Another feature which we haven't seen before is the ability to preset personal vaporization cycles, which will allow the vape to change the temperature the way you prefer while you vaporize.
Pax
This gadget is 10.5 cm tall and 3.5 cm wide, and weighs 95g. In size and shape it's extremely portable, and it's completely self contained so there are no extra parts to worry about. It's durable, except for the seal on the heating chamber. The lids have been known to loosen and fall off in transit, which definitely isn't what you want. Although it advertised up to two hours of battery life, our tests have shown that it actually only lasts for about 30-45 min  of continous use before it needs to be recharged.
Ascent
This unit is 11 cm long, 6 cm wide, and 2.5 cm high. It's also a lot heavier, at nearly 200 grams. This is because of the two large batteries inside, which give it amazing battery life but do add to the size. However, everything is neatly contained inside the unit, and even the glass parts are surprisingly unbreakable. DaVinci advertised that this unit would have the longest battery life in the industry, but there have been new portable released to the market that last considerably longer on the same number of batteries (
Smite Vaporizer
and Utillian 650 which are both much cheaper for example). This gadget offers at around two hours of battery life.
Discreetness
The Pax is tiny and sleek, and fits in your hand or pocket. So it seems like it should be really discreet. Unfortunately, up to 10% of your vapor can escape through the loose-fitting lid at the bottom. This means that when in use the unit releases a lot of odor. When it's not in use, though, this vape is definitely very discreet, and you can slip it into your pocket easily.
Ascent
The gadget looks like a cell phone, so it's not going to attract attention. It is a little too large and heavy to hide easily, though. There is a little odor leakage through the vents at the bottom as well. Originally we thought that Pax was worse, but it seems that the more time passes the more odor gets stuck on Ascent as compared to the Pax. So thi round, and desp
Pax
For actual use, this vape is very easy. Once you turn the unit on by popping out the mouthpiece, it will automatically heat up to the temperature setting you used last. The heating chamber is easily accessed at the bottom of the vape. There are extra features like an automatic sleep mode when you put it down. But you do need to remove the mouthpiece to change the temperature, even if you're in the middle of vaporizing. It's much harder to clean than it is to use. Because it requires maintenance after every one or two uses, it's not as easy as it seems. It's annoying to have to clean the unit on the go, but that's what you'll need to do to use it more than once on a trip.
Ascent
This vape is simple to control with the digital temperature display, and it has setting that make it even easier. If you set up a personal vaporization cycle, all you have to do in the future is sit back and let it adjust the temperature for you. It's also designed to be easy to clean, since all the parts that come into contact with the vapor are removable. Since they're glass, you just need to soak them in a cleaning solution. It takes a little effort to remove the mouthpiece or open the heating chamber, but that's a deliberate design to stop anything falling out of the unit while you're carrying it.
SHOWDOWN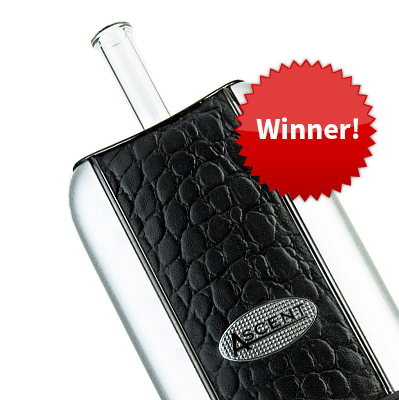 The Ascent is stylish and uses its larger size to give you the best battery life and vapour quality it can. This unit looks like it will be able to give you quality vaporization for the long term, without any maintenance issues. Although its been a long wait, DaVinci took the time to ensure the best quality for this vaporizer. We recommend this unit over the Pax for everyone, since the most important features in a vaporizer are the vapor quality and the actual functionality, and the Ascent is amazing for both.

Thankyou for reading today's Vape SHOWDOWN: Ascent vs Pax Vaporizer. For more information on the two vapes in today's SHOWDOWN check out our reviews: Ascent Vaporizer Review and Pax Vaporizer Review. We would love to hear from you! Please feel free to leave a message below if you have any questions or comments. Don't forget to follow us on 
Facebook
, 
Twitter
 or 
Google+
 for contests, sales alerts and other fun stuff!
Thanks for reading and as always, keep vapin'!