Today we are going to be looking at two different popular and portable vaporizers. The
Ascent
by DaVinci is a state of the art portable vape designed to be the future of the industry. The Pinnacle is a simple and easy to use unit that has become quite popular within the last year. We put these two units face to face to determine who will win today's Vape SHOWDOWN!
DaVinci Ascent vs Pinnacle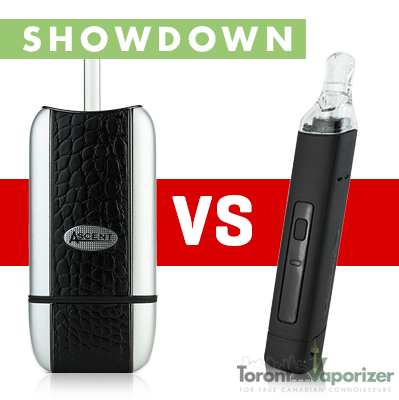 Ascent
When it comes to vapor quality, glass is the best material to draw vapor through. It adds no flavor, so you just get pure vapor when to take your draw. This vaporizer uses glass to provide some of the best quality vapor on the market. It has a glass heating chamber as well as a glass vapor pathway. Vapor quality is also enhanced by the digital display, which gives you total control over your vaporizing experience.
Pinnacle
This unit has good vapour quality. However, the vapor can get quite warm after extended use due to the proximity of the heated botanical to the mouthpiece. If you add the Hydrotube accessory, your vapor quality becomes much better and cooled.
Ascent
This vaporizer is top of the line when it comes to manufacturing quality. The OLED screen allows precise control over your vaping temperature. Everything is well designed. From the all glass vaporizing experience, to the discreet smartphone like appearance, this is a beautiful gadget!
Pinnacle
When it comes to manufacturing quality, this vape is above average. It's is small and easy to use. It also heats up pretty quickly. One issue involves the plastic mouthpiece. It can get quite warm after extended use. Aside from this issue, this vape works pretty well.
Ascent
It is small and resembles a smartphone is size and shape. You can easily open up the heating chamber and change your botanical. It heats up very quickly. One minute to be ready for action is a pretty impressive feat. It is also very sturdy and passed our drop tests easily. The battery is the best amongst portables. You can get 120 minutes out of this unit with a full charge. That is a lot of vaping!
Pinnacle
This gadget is quite portable due to its small size. It can easily fit into a pocket or purse and doesn't take too much room. It is self-contained, so you don't have to worry about breaking or losing parts. The battery lasts for about 45 minutes after a three hour charge.
Ascent
The design of this gadget is similar to a modern smartphone. All of its parts, including the glass stem can be contained within the unit. This means that this vaporizer is self contained and there no parts sticking out. All of these factors combine to make the Ascent one of the most discreet portable vaporizers on the market today.
Pinnacle
This cape is about the size of a giant sharpie marker. It is incredibly small and light for a portable vaporizer, making this unit very discreet. Accessories do add to the profile unfortunately, making them less discreet to use with the Pinnacle on the go.
Ascent
DaVinci designed this vape to be extremely easy to use. You just set your temperature on the OLED screen and wait one minute. The controls are intuitive to use. Another great feature is that you can pre-program your vaporizing cycles for future use. You can also clean the unit easily as every part that comes in contact with vapor can be removed.
Pinnacle
Simplicity is the name of the game with this gadget. The one button control gets you started with one of two different temperature settings. It is ready to go in ninety seconds and provides a decent amount of vapor quickly. The cartridges do get hot, making it difficult to change them quickly after vaporizing though.
Ascent
There is a wide temperature range, going from 0 to 221 degrees Celsius. It quickly heats up in about 60 seconds. The digital display allows you to have complete control over your vaporizing experience. You get great temperature flexibility out of this unit.


Pinnacle
There are only two temperature settings, 190 and 210 degrees Celsius. You get decent vapor out of this but some connoisseurs want more control over their vaping experience. This is a simple vaporizer that works well within its own limits.
SHOWDOWN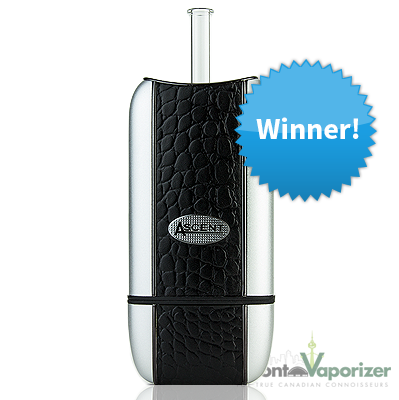 The Ascent excels in all the important aspects of a portable vaporizer. The Pinnacle is also a great unit, it is very small and discreet without its hydrotube accessory. However, if you are looking for the newest technology, amazing features and quality then definitely consider the Ascent by DaVinci.

Thankyou for reading today's Vape SHOWDOWN! For a more detailed review of the two products in today's post check out:
Pinnacle Vaporizer Review
and Ascent Vaporizer Review. You can also see our last Ascent showdowns: Ascent vs Arizer Solo Vaporizer and Ascent vs Pax Vaporizer. We would love to hear from you! Please feel free to leave a message below if you have any questions or comments. Don't forget to follow us on
Facebook
,
Twitter
or
Google+
for contests, sales alerts and other fun stuff!
Happy holidays and as always, keep vapin'!