The Aspire EVO75 starter kit is a combination of the NX75 box mod and the Atlantis EVO tank. The NX75 mod features a five button layout and an extremely small size. The EVO tank comes has airflow control and comes with two coils. Let's see how they perform. Keep reading to find out how well it works.
Also be sure to check our
vape buyer's guides
for important information to consider before making your first purchase.
Review: Aspire EVO75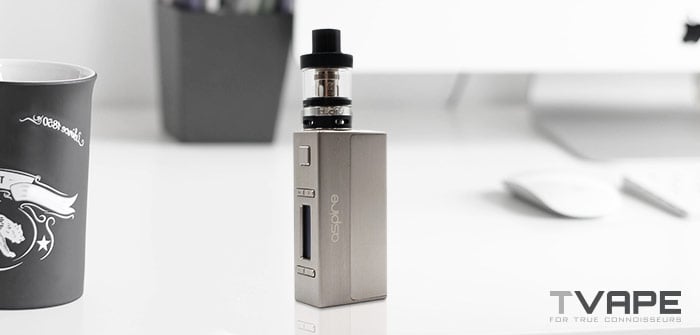 Manufacturing Quality
The manufacturing quality of the NX75 mod is good. It's a rather no-frills mod as far as the appearance goes, but it doesn't look bad. There are three color options available (black, stainless steel, and white), and each one is completely solid. The mod and the buttons are the same color and there are no accents.
It runs of a removable 18650 battery that is accessed by a sliding battery compartment on the side. The compartment is held in place with a very strong set of magnets. They hold it on very securely and there is no chance of it accidently coming off when you don't want it to.
The really unique thing about this mod is that it has five buttons. The vast majority of mods have either 1 or 3. I'm a fan of the extra buttons for the same reason I like touch screens: they make it easier to adjust the settings you want to adjust because you don't have to remember special amount of clicks and button combos to do so. You still have to do this with this mod, just to a lesser degree.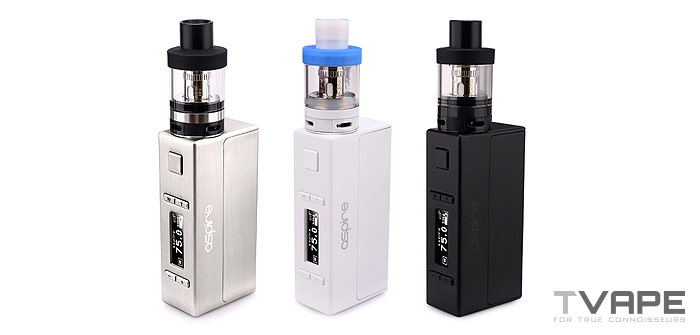 The tank is fine though nothing exceptional. It has adjustable airflow and it fills from the top, but you have to unscrew the entire top to access the tank area. It's crazy to think that bottom filling used to be the norm, now I feel inconvenienced if I can't just flip or slide something to access fill ports.

Flavor Quality
The overall vapor quality of this is good. There are two coils that come with the kit, both of which were designed specifically for the Atlantis EVO tank. It will also work with any of the standard Aspire Atlantis coils as well.
The two coils that are included are rated at 0.4ohms and 0.5ohms. The 0.4ohm coils has a very airy draw and produces large clouds. The flavor is good. The 0.5ohm option is a bit more restricted (though definitely still a direct lung draw), leading to denser vapor that has a more pronounced flavor. These differences aren't huge, but you should still play around to see which one you like the most.
Power Flexibility
The power flexibility of the NX75 is great. It can only deliver up to 75W because it runs off a single 18650, but I'm a big fan of how easy it is to switch between the different power modes.
Like I mentioned above, there are two extra buttons on this. One is labeled W and the other is labeled T. Pressing the W will cycle between variable voltage, variable wattage, and bypass modes. Pressing the T will take you to your temperature control options, cycling between stainless steel, nickel, and titanium.
There are still up and down buttons to adjust what level you want your wattage, voltage, or power at, and pressing the T and the plus button allows you to access TCR settings.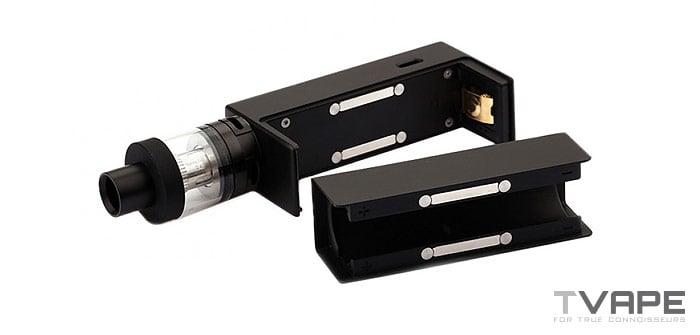 Ease of Use
This is very easy to use. I keep talking about it, but I really do like the extra buttons. Who says less buttons automatically makes something easier?
I think being more convenient to change the available settings makes something easier to use, not harder. The extra buttons are clearly marked and serve specific functions. There are less button combinations to remember, yet it has a ton of functionality.
As far as full featured mods go, I like the 5 button design. Touch screens are even better, of course.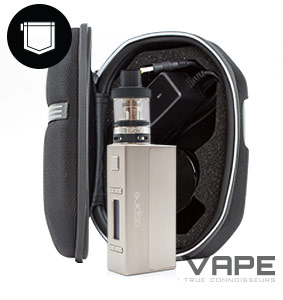 Portability
The portability of this is good. It's a very small mod, although smaller have come out since this was released. The mod itself is a little under 3" (75mm) tall and the entire setup comes in around 4-¾".
This makes it among the most portable box mods available with the tank on top setup. The AIO and side-by-side style mods can be a lot more portable than this though, so that's something you may want to look into if portability is important to you.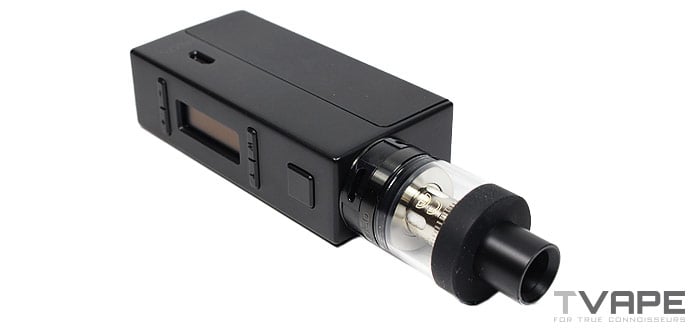 Overall Experience
The Aspire EVO75 is a good starter kit.
It offers a nice blend of all the features you want to see in a mod and tank. It's small and portable, it has a lot of power options, and it delivers good vapor.
I see this being great for people looking to get their first box mod. There's nothing groundbreaking here, it's just a well built mod with a very convenient five-button design. I know quite a few people who would have appreciated how easy this is to use when they were first getting into full-featured mods.
If you want something extremely simple, check out the Kandypens Rubi and if you are looking for a mod style kit to start with we recommend the Vaporesso Revenger.
We hope you enjoyed reading our Aspire EVO75 review! We would love to hear from you! Feel free to leave a comment in the section below, you can do so anonymously 😉 Don't forget to follow us on
Facebook
,
Twitter
or
Instagram
for contests, sales alerts and other fun stuff! Thanks for reading and as always, keep vapin'! 😉