Holiday season is upon us again! A vaporizer is a great Christmas gift for friends and family. Whether they are big fans of vaporizing already or they're thinking about making the switch for health benefits, they'll love you for buying them a brand new vape! If you have any questions about what vaporizer your special someone would love most, feel free to give us a shout any time between 10:00 to 6:00PM EST. Our knowledgeable staff will be able to guide you towards the right vape for your special someone!
Holiday Gift Ideas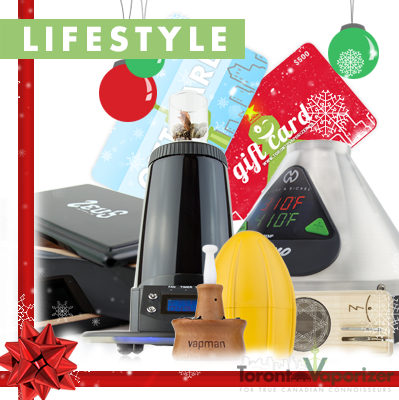 Please note that especially for gifts, it's best to place your order as soon as possible. Vaporizers are more popular than ever and demand is very high during holiday season. So, we advise you to place your order by December 9th at midnight if you want it shipped to you by December 25th (pending stock restrictions). This of course means, the earlier you place your order, the better! Keep in mind that if you'd like the package shipped to the gift recipient, you will need to pay via email money transfer. Other payment methods such as credit card and PayPal will require the package to be shipped to your address (the one associated with your account).
Vapes & Accessories
For that special someone, you will want to get them something special. Something that offers great value, visual appeal and is unique, in a way that will appeal to their connoisseur side. Now, we carry only the finest vapes in world, so all of the units on our website would impress them! But we've picked out a few items that offer excellent value and just have that little extra WOW factor, that will have them smiling ear to ear when opened by your special someone on Christmas morning! The following gift ideas are organized by price, so depending on your budget, there's a little something to fit everyone's needs:
The
Vapman
is a perfectly handcrafted portable vaporizer made in the heart of Switzerland. It sports a heat resistant pear tree wood exterior and a gold plated copper heating chamber. It's one of the most efficient vaporizers on the market, is incredibly portable and super reliable. This vape is a true connoisseur's side-kick as it is torch lighter operated, which means your special someone will never again have to worry about this vape running out of battery! Choose between the Vapman Basic or the Vapman Complete (for improved vapor quality and durability). Both styles will be a gift that they are sure to love!

2. ZEUS Temple™ De-Humidor
The
ZEUS Temple™
is unlike any other storage box on the market. Made entirely of high quality, Beech Tree wood, the outside of this box is coated with eight layers of high quality black gloss finish for a divinely sophisticated look. What makes the Temple different is, that unlike all other humidors that are designed to trap moisture inside, the Temple actually works to
extract
humidity from your botanical. This function is particularly important for vaporizing, unlike with other methods, as dry botanicals offer the best vapour quality results. Find out why bone dry botanical is best by reading the
full review of the ZEUS Temple™ de-humidor
. This box also serves as a fantastic storage box that comes with a moving divider in the top compartment offering your special someone the separation of his/her botanical types. Talk about connoisseur-like! And, the lower compartment is glass-lined to collect botanical dust, an ideal way to prevent any waste, encouraging 100% efficiency. Dust can be managed easily with the Zeus scraper card that comes with the Temple. This is one gift that they will treasure for life!

3. Magic Flight Launch Box
The Magic Flight Launch Box is about the size of a matchbox, making it incredibly portable! It's built up quite a reputation as an efficient, beautifully crafted, reliable vape. The MFLB is very easy to pick up and start using with right away. You simply insert a rechargeable lithium-ion battery into the unit to activate the heating element and vapour is produced in a matter of seconds. Another reason people love the MFLB is the manufacturer's philosphy. They are one of the few founding vaporizing brands, so their knowledge and understanding of the market has been harnessed to continuously improve their product. Not only is there a bounty of information on their website, but their warranty service is unmatched. The Launch Box has a lifetime warranty through the manufacturer. It's a rare offer for a vaporizer company to make and it is a true testament to the quality of the unit.
The Extreme Q is a high quality, convenient stationary vaporizer that really offers tremendous value for the price. It's one of the most versatile units around, giving you an array of options. You can enjoy the ExtremeQ with the classic whip for quick and easy sessions or use balloons for more fun and mobile sessions. Little unknown fact is that the "Q" in ExtremeQ stands for quiet and it was cleverly named "ExtremelyQuite" as it offers the quietest fan system on the market. Your loved one will enjoy playing with all of the accessories the EQ comes with, especially the remote control. It's a great idea to pick up the ExtremeQ as a gift for your special someone if they like to vape in the privacy of their own home and would enjoy the versatility and outstanding vapour quality this unit has to offer!
"Volcano" is the name everyone knows. It is the ultimate stationary. It has had its time in the Hollywood spotlight. It is a legend. If you really want to impress that special someone in your life, this is the unit to get! Whether you select the Classic or Digital Volcano, you're picking up a household name and they will forever be thankful for the greatness they unwrap on that crisp Christmas morning. This is the vaporizer that people most commonly associate with vaporizing in general and for good reason. Since its release over a decade ago, the Volcano has captured and held the number one spot on the vaporizer market. The manufacturing quality is of course outstanding, as is the vapour quality and overall experience. Volcanos are assembled in Germany by a team of licensed electricians, rather than put together en-masse in a factory. Get the Solid Valve Set if your special someone likes the idea of custom cutting their balloons. If they don't want the hassle and prefer something quick and easy, get them the Easy Valve Set. Overall, you can bet that anyone who finds one of these under the tree with their name on it will have a very, very happy Holiday!
Don't forget to place your order with us by December 9th at midnight if you want the package shipped by December 25th!

Thanks for choosing to do your Holiday shopping with us! We wish you a very happy and safe holiday break this year, and we look forward to seeing you all in the New Year! It will be an exciting year of new vaporizers, new friends, and new resolutions. Don't forget to follow us on
Facebook
,
Twitter
or
Google+
to be updated and win great prizes!
Thanks again for being with us, and as always – keep vapin'!