When you think of portable wooden vapes, a couple units automatically come to mind, like the pocket friendly Magic Flight Launch Box and Vapman Vaporizer. Last year however, a new wooden vape entered the market by the USA manufacturer Triihouse. These guys do everything in house, from the woodworking to glass-work and steel fabricating and have a total of 3 wooden vapes currently on the market. We were sent their largest and most interesting looking unit, the Daisy, so read on to see if this unique, torch – operated vaporizer can compete against other wooden vapes in its price range.
Review: Daisy Vaporizer

How it Works
To load your Daisy, pull off the magnetically attached bottom cube; this is your heating chamber. Place a screen inside the chamber in the cube and load freshly ground botanical on top of the screen. Re-attach the bottom cube and it will magnetically align itself into place. Face the wooden block, attached to the larger glass tube, towards you; this is your mouthpiece. The small glass tube should be farthest away from you; this is the heating tube. A small hole on the outside of the heating chamber' block should be covered when drawing from the unit. To get started, position the torch lighter, flame output pointing down, about an inch from the top of the heating tube. Press the button on the torch lighter and engage the flame for about 4- 5 seconds. While covering the air hole, take a slow deep draw of the vapor!
Temperature Flexibility
The Daisy vaporizer's torch lighter heating style means the Daisy's vaporization temperatureis determined by several factors including how long you heat for, how close you hold the torch lighter from the heating tube, and your draw speed. This means you actually have a fair bit of control over your temperature and thus, the vapor quality you can produce. A nice added feature you can play around with to customize the temperature as well, is the airflow hole. It is recommended to cover it completely when vaporizing and drawing, however you can experiment with partially covering it like we did, to let some colder air into your chamber and produce more wispy draws. So although you do not get precise temperature like the Ascent, the Daisy does offer more temperature control than a strictly butane operated unit that is pre-set at one temperature, like the Wispr2.
Vapor Quality
Flame operated units are always a bit hit or miss in terms of vapor quality. It can be excellent, like the Vapman, or fall a bit short in comparison like the Vapor Genie, depending on the unit's design. As such, we were quite curious to see what we could expect from the biggest and most interestingly designed wooden vape we've tested. Now, like any flame operated vape, there is always a bit of a learning curve to find it's sweet spot and produce quality vapor. However, once we did, we were pleasantly surprised by the Daisy's vapor. Produced 100% via convection , it is clean & smooth with a slight wooden taste generated from the wooden and glass vapor pathway. We liked experimenting with different draw speeds, heating times and torch distances and were able to produce both light wispy draws to dense effective clouds. One short-coming we did experience however was the Daisy's ability to combust. If you hold the flame too far into the glass heat stem or for too long, the center contents of your heating chamber will turn black and produce smoke, which is precisely what we are trying to avoid through vaporization. In addition, we noticed there was uneven vaporization due to the fact the vapor pathway is much more narrow than the hating chamber, so your botanicals do need stirring mid-session to ensure consistent vaporization.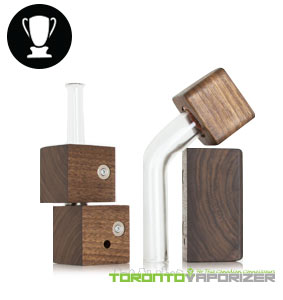 Manufacturing quality
The Daisy is made with very high quality components including walnut wood, stainless steel & boro glass, and this unit is entirely hand crafted by Triihouse in the USA. The use of glass aids in the Daisy's pure vapor quality and the wood is smooth and well treated. The magnets used to hold the wooden blocks together are very strong, and even when we vigorously shook the unit, we had no worries it was going to fall apart. However, we did notice that the magnets are not 100% properly aligned and thus the blocks do not fit completely flush together. This does not impact functionality at all; it's just a bit aesthetically annoying to vape-perfectionists like us. Some of our review team have expressed that they think the Daisy is ugly, whereas others prefer to argue that the Daisy could be a piece of functional art, similar to a hand blown water pipe. But no matter what our team thought of its looks, we certainly support the manufacture's motto that the Daisy is hand crafted with love, and backed by their 5 year limited warranty.
Battery Life
No battery? No problem! Because the Daisy is flame operated, it eliminates the need for charging or even worrying about battery life. The only thing you'll need to make sure of is that your torch lighter has enough butane in it and you're ready for sessions on end!
Portability
The Daisy is technically considered a portable vaporizer, as it doesn't need to be plugged in or used in one place. However, it rides a fine line because of its massive size and dual-hand operation. Unlike smaller wooden units, the Daisy is certainly not pocket-friendly, but if you wanted to bring it to a friend's house, you could definitely pack it up in your backpack, provided you wrap the glass separately, just in case. Because the Daisy is flame operated, you will also probably want to be in one place while operating it. However, it's torch lighter heating style does add an extra element of portability because you never
Ease of Use
At first glance, the Daisy is just a wooden block with two glass stems and is in no way intuitive to use as a vaporizer. So, first thing we did when we got this unit was hop online and watch Triihouse's tutorial video which you can view below:
Once you realize the Daisy operates similarly to a pipe, all you need to do is make sure you assemble the blocks together in the right spot (just use the magnets as guidance!) and master it's learning curve to get the type of vapor you prefer. It's a fairly easy unit to use once you get started, but because the unit is so big and heavy, it's not very ergonomically designed and is a bit awkward to hold. Cleaning of the glass tubes are simple, however over time the wooden vapor path will get lined with residue and be difficult to clean because of the woods sensitive nature. The only other minor thing we found to be a bit of a hassle was emptying the heating chamber after use, which requires a pokey tool or the tweezers provided.
Discreetness
If you saw the Daisy just sitting on someone's coffee table, you may be a bit perplexed but we doubt you would peg it as a vaporizer. However, as soon as it's in use, this unit loses all ability to go under-cover. The Daisy is big, uses an open flame and you can clearly see the vapor in the glass draw stem, so you would definitely draw attention to yourself when using this unit in public. Also, because the unit can produce pretty large and dense clouds, it is best to crack a window when used inside to dissipate the odor quickly. So, if discretion is a concern to you in a portable vape, at ALL, the Daisy is just too attention grabbing in both in-use-appearance and size for you.
Overall Experience
In a market where vaporizers are getting smaller and techier, the Daisy breaks down all conventional barriers with its unique design and less traditional heating style. We enjoyed the vapor quality produced in this unit and even found its unique design quirky and fun to play with. We also really appreciate the obvious craftsmanship and care that went into the Daisy. As a functional piece of art, we would keep this unit around to whip out around our creative friends, but as a go-to portable vaporizer, we just can't endorse this unit as an 'everyday' vape. However, if the idea of a torch-operated, hand-crafted, wooden vape strikes your chord, we recommend checking out the Vapman as it's much smaller, more portable and discreet than the Daisy.
Warning: Not Compatible with ZEUS Iceborn
This vaporizer is not compatible with the ZEUS Iceborn, a revolutionary new vapor cooling system designed to produce cooler draws and bigger clouds when connected to your vaporizer. The ZEUS Iceborn adds an additional 2 points to the vapor quality score of compatible units, so we highly recommend considering a whip-compatible vaporizer to take advantage of this stellar ZEUS accessory item. All compatible vaporizers will have a compatibility notice.


If you have questions about our Daisy Vaporizer review or just want to let us know what you think, feel free to drop us a comment below! Also, don't forget to follow us on Facebook, Twitter or Instagram to keep up to date with all our contests, sales alerts and other fun stuff! Thanks for reading and as always, keep vapin'! 😉