The
Arizer Solo
is a longstanding champion among portable vaporizers. It's got unbelievable vapour quality, stellar manufacturing quality, and a straightforward system. We always recommend it for medical purposes and anyone who wants a vape with excellent quality. But DaVinci has just come out with a new premium portable vaporizer, the
Ascent
, which has serious hype. We've tested it, and it looks like it might well be a worthy rival!
DaVinci Ascent vs Arizer Solo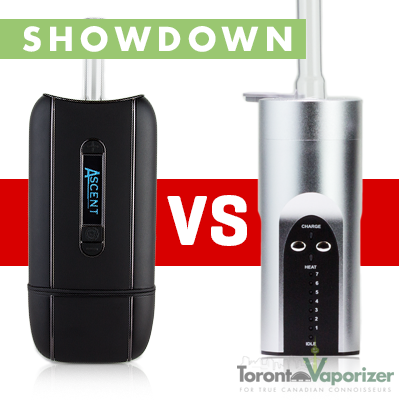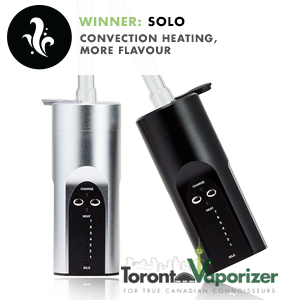 Vapor Quality
Arizer Solo
This vaporizer produces dense and very flavourful vapour, through its managed airflow and glass drawing stems. Because of the controlled airflow there is some convection as well as conduction happening in the heating chamber, which makes for great vapour. For more information on vapor quality check out our Conduction vs Convection post. This unit heats your botanicals thoroughly and slowly, providing great quality over a long period of time – kind of like a rotisserie oven.
Ascent
This vape uses conduction only, but the entirely glass air path provides high quality vapor. The heating chamber is even lined with glass, to ensure that the vapor is totally pure. The heating chamber is large and does give dense and very thick vapor. The quality of the vapor generally is just a little lower than the Solo because the conduction heating heats the botanicals fast but not always evenly.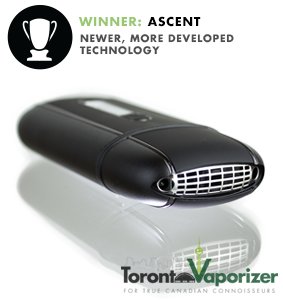 Manufacturing Quality

Arizer Solo
There is a two year warranty on parts and labour for this unit. In addition, there is a lifetime warranty on the heating element. The heating chamber contains some "secret compound" that insulates heat remarkably well to prolong battery life and keep the vape from overheating. It has a durable anodized aluminum exterior, and it's in it for the long haul. It's more robust, but with more basic vaporization options.
Ascent
This gadget is the very latest technology in vaporizing, and designed with close attention to detail. The fit and make of all the internal components is spectacular, and the different styles show a great design sensibility. The OLED screen allows for a variety of possible settings. It does heat up a bit in use, but only at the bottom where you won't usually be holding it. In general, this is the highest tech vaporizer on the market, with a lot of options for something so small. It's got a two year warranty.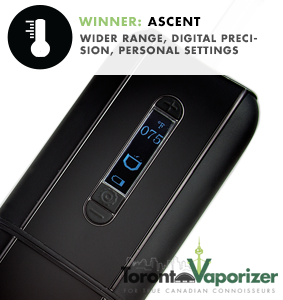 Temperature Flexibility
Arizer Solo
There are seven preset temperatures indicated by LEDs. The lowest temperature setting we recommend vaporizing at is 3, which is equal to 190°C. The highest setting is 210°C. These settings are useful for vaporization but not very customizable.
Ascent
The temperature is controlled with a digital screen that goes up to 221°C. This is hot enough to properly vaporize oils, and this range will be able to vaporize absolutely anything you want to try. You can also set up personal vaporization cycles through the "Settings" menu, which will control your vaporization temperature exactly how you want with no effort on your part.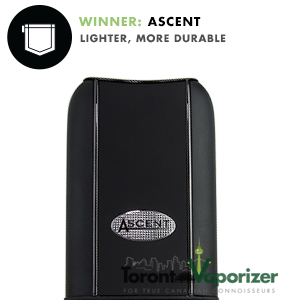 Portability
Arizer Solo
The two vapes in comparison are about the same size but this vaporizer is heavier. It looks like a normal electronic device, and it's robust enough to stand up to however you want to treat it. The unit itself will fit easily into a pocket or your bag, but to use it you also need to take along the glass aroma tubes, and those can be breakable and awkward to carry if you don't have a
case
. The battery lasts about 90 minutes on the third heat setting, so you can definitely take it with you on a short trip. It has a 12 minute automatic shutoff.
Ascent
While a little heavier than the original DaVinci, the Ascent has all its portability and more. Since the glass stem is kept completely inside the unit except when in use, it's more portable and less risky to break than the Solo's aroma tubes. It is entirely self contained, and even comes with a little twist cap to stop it from falling out when you're carrying it. Always keep this gadget safe during travel and storage with a portable case. Judging by our testing so far, this portable has at least the same 120 minute battery life in continuous use. At 120 minutes, it is now the portable with the longest battery life on the market. You can also customize the shutoff from as little as 30 seconds to 20 minutes.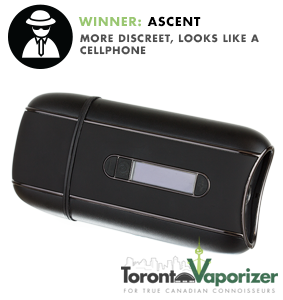 Discreetness
Arizer Solo
Although very discreet, the glass aroma tubes of this unit tend to look odd when they're sticking out. It is very good at keeping odours contained within the unit, however. When it's not in use it's quite small and discreet.
Ascent
All of the parts are closed inside the casing, which looks like a cell phone. It doesn't look obvious when you're holding it or even when you're using it. There is a little more odor leakage through the ventilation system at the bottom, but the style of the exterior is so stealthy that we have to give it the prize.

Ease of Use
Arizer Solo
There are just two buttons: up and down, so everything's very simple. Out of the box you'll have the unit figured out in minutes, which means you can start vaporizing right away. All you have to do is pick one of the seven preset temperatures and the unit will do everything else for you. With its simple operation, straight forward loading and the automatic 12 minute shutoff, this vape is as easy as sipping a milkshake.
Ascent
The basic settings are very simple to use, but there's room for a lot of elaboration because of the advanced settings. You can set personal vape cycles and customize the auto shut off, and while this is of course very cool and high-tech, you will find yourself reaching for the manual to make sure you know how everything works. That being said, one thing that we found was easy as pie, was the loading of the heating chamber. The swivel chamber and easy access makes getting started with the Ascent simple enough.
SHOWDOWN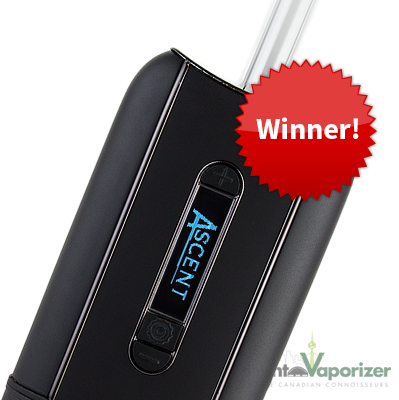 The Ascent is an amazing new vaporizer, and we're really impressed with it. For portability and discreetness it's definitely one of the top premium units. However, if you want the best vapor quality on the market, you'll still want to go with the Arizer Solo.

Thankyou for reading today's Vape SHOWDOWN post! We would love to hear from you, simply leave a comment below to let us know what you think. If you want to learn more about the two vaporizers from this post, check out our
Arizer Solo Vaporizer Review
and Ascent Vaporizer Review.