The
DaVinci
portable vaporizer is a versatile unit released in 2012.  The
Pinnacle
is a simple to use portable vaporizer that is becoming more popular all the time.  Today we are going to put both of these units head to head to determine which one deserves your time, money and vapor.  Let's get started.
DaVinci vs Pinnacle Vaporizer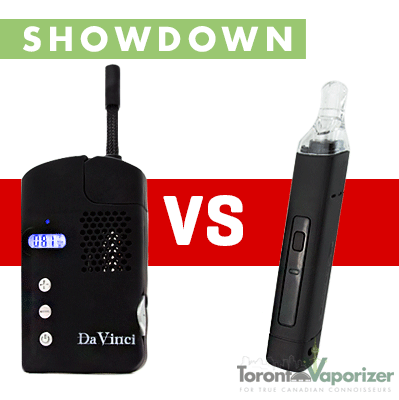 DaVinci
While the DaVinci is on the small side, it still produces good vapor. Using the mouthpiece, the vapor is only slightly warm and vapour quality is substantially improved with the extended flexi-straw. The unit itself allows easy airflow due to its good design and you can even vaporize essential oils.
Pinnacle
The Pinnacle produces decent vapor, but due to the proximity of the mouthpiece to the heating chamber, the vapor can get quite warm.
DaVinci
The DaVinci has a great look and feel when in use. This unit feels strong and sturdy when you hold it in your hand. Buttons and drawing stems are all well-built and very functional. Another great design element is the vented area in front of the battery, allowing for the unit to cool when in use.
Pinnacle
The Pinnacle has a great design.  It is small and sleek with a black sharpie marker design. Unfortunately, the mouthpiece is plastic and can get quite warm after extended use.  The Hydrotube design is great but is best to use at home given its size.
The Davinci is easy to load and refill on the go.  It is about the size of smartphone and you can also store extra botanical in the storage compartment within the unit. The battery life is about 45 minutes at 190 degrees Celsius and you can use the unit while it charges.
Pinnacle
The Pinnacle is incredibly small in size. You can easily fit it into a pocket or handbag. Changing the cartridges can be difficult after usage as they do tend to get quite hot, making it difficult to reload on the go. This unit takes about 3 hours to charge and has a battery life of approximately 45 minutes. Unfortunately, you can't use the unit while it is charging.
DaVinci
The DaVinci looks like a standard walkie-talkie.  The heating chamber is self-contained and doesn't leak vapour or odour due to a magnet seal. You can also take off the drawing stem to make it even more discreet. People will always be guessing what your Davinci actually is at first glance.
Pinnacle
The Pinnacle is incredibly small in size and weight.  You can heat botanical up quickly and easily. There is also no vapor leakage, so people around you won't notice when you are vaporizing on the go.
DaVinci
The Davinci is pretty simple to use. The chamber is small and narrow, so filling it isn't the simplest thing in the world, but once you get use to it, loading and starting your vape session is straight forward. The power button must be turned on to charge the unit as well, which isn't entirely intuitive.
Pinnacle
The Pinnacle is incredibly easy to use. It has a one-button system, so you just load the cartridge, place it inside the heating chamber and hit one button to get started.  To change temperature, you just hit the button again.  It takes about 90 seconds to heat up and gives you an indication when you are ready to go.
DaVinci
The DaVinci has a digital display and a large temperature range, from 0 to 217 degrees Celsius. You get great control over your vapor, ensuring that each session is perfect.Pinnacle
The Pinnacle has only two temperature choices: 190 and 210 degrees Celsius. The Pinnacle has more of a "set it and forget it" mentality, working quickly and easily at these two temperature points.
SHOWDOWN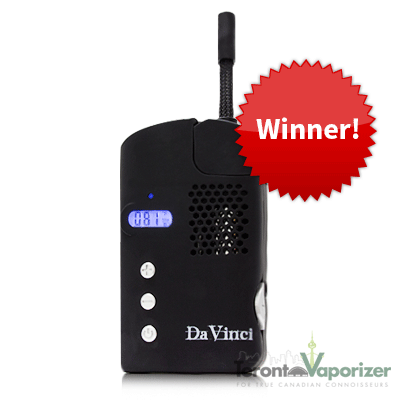 While it has been a tough battle between these two units, the winner of today's showdown is the DaVinci. Both units have great things going for them and are worth your time but the DaVinci comes out on top in terms of manufacturing quality, portability and temperature flexibility. Check out the store at Torontovaporizer.ca to pick up either of today's units. For a full review of the two vaporizers in today's Vape SHOWDOWN check out: DaVinci Vaporizer Review and Pinnacle Vaporizer Review.
Thank you for reading today's DaVinci vs Pinnacle Vaporizer, Vape SHOWDOWN! Let us know what you think about these two units by commenting below. Don't forget to follow us on 
Facebook
, 
Twitter
 or 
Google+
 for contests, sales alerts and other fun stuff!
Thanks for reading and as always, keep vapin'!