The Dr. Dabber Boost is an interesting new device that offers an electronic alternative to traditional concentrate rigs. If you aren't familiar with concentrate rigs, the process essentially boils down to using a "nail" to efficiently heat concentrated waxes. Using a traditional rig involves a torch, so an "e-Rig" like the Boost may immediately be appealing to people who find the flame a bit too dangerous for their interests.
Review: Dr. Dabber Boost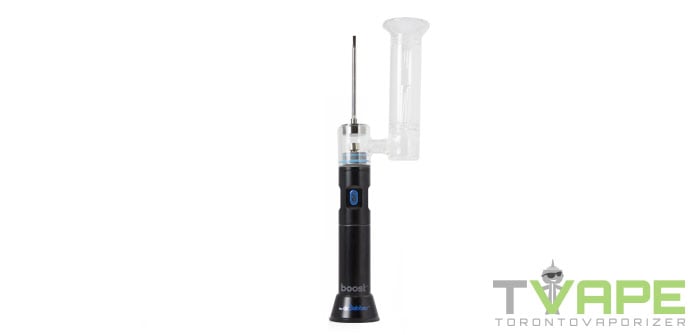 How it Works
The Boost is designed to be used exclusively with concentrates, just like traditional concentrate rigs. The unit comes with multiple nails, including one that's titanium, one that's ceramic, and one that's quartz. These nails screw on to the top of the base and are connected to the heating element by a ceramic pin. The nail heats up in about 30 seconds, and all it takes to engage the power is 3 clicks of the only button if you are using the titanium nail and 5 clicks for the ceramic nail.
A light will glow blue when the nail is fully heated if you are using the titanium nail/quartz nail and white if you are using the ceramic nail, and at that point your waxes can be placed inside the dome around the nail using a tool included with the Boost. It even comes with a water filter / percolator that sits on top of the base and cools down the vapor temperature considerably.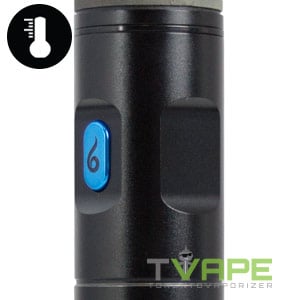 Temperature Flexibility
Temperature flexibility is definitely an area that we would like to see improved on this unit. While many people like taking high-temperature draws, the key to great flavor is actually lower temperatures. For more information on how temperatures affect vapor check out our blog. The base level temperature for the Boost is over 515°F, which with concentrates is on the lower end of the spectrum. At this temperature you get a ton of flavor out of your concentrates but vapor clouds are fairly thin.
We wished the Boost was calibrated at a slightly higher temperature. Each successive use of the Boost leads to higher and higher temperatures, but there's no way to tell exactly what temperature you're at, and Dr. Dabber actually warns that engaging the heating element over 5 times in a row could lead to excessively high temperatures that may cause damage to the unit or bodily harm.
We would much rather see some sort of temperature control like what is found in a unit like the Focusvape Tourist. Not only does t he Tourist have precise temperature control for waxes, it also handles herbs extremely well, making it a nearly perfect 2 in 1.

Vapor Quality
Compared to traditional rigs the vapor quality is good, but not great. As we discussed the Boost is calibrated on the lower end of the temperature spectrum for concentrates.
The result is extremely flavorful vapor, so much so that you will be able to taste subtle flavor notes you would not get off higher temperatures. However, the exhales from the Boost are a bit faint.
For those who really enjoy exhaling big clouds, especially people looking for something to replicate a rig, this product just isn't going to cut it. If you are new to waxes or looking specifically for something that is calibrated for low-temperature heating this unit will offer very smooth and tasty vapor.

Manufacturing Quality
This is a well-made device. The pieces all fit together snugly, and everything is well machined. The base feels very solid in the hand, and there are no defects in the glass water filter and mouthpiece that sits on top.
The newest model of the boost comes with 3 nails, ceramic, titanium, and quartz. All fit well on the unit and have been nicely molded. There's even a magnetic base that helps keep the unit standing, which is a really cool idea that helps to ensure you don't accidently break something. 

Battery Life
The Boost's battery life is great. This is another category where it's hard to compare this to other vaporizers, because each session with concentrates is considerably shorter than a session with dried material. While most portable vapes can last between 10 and 15 sessions before
While most portable vapes can last between 10 and 15 sessions before needing to be recharged, Dr. Dabber claims that this can go 50-60. Needless to say, we weren't able to actually test this claim as 50-60 draws would be a bit… much.

Portability
Portability is decent. While it comes with a case and is powered by a battery, this isn't exactly a device you would take on a hike with you.
The amount of pieces means you can't really transport it safely without the case, so carrying this in a pocket or bag aren't great options.
The glass on top could also break easily if dropped. You could definitely take this to a friend's house or on vacation, but it just isn't designed to carry around with you all day.
Overall Experience
Like we've indicated multiple times, it's really hard to compare this to other wax vaporizers. If you enjoy dabbing or would like to try it but don't like the torch, then this could definitely be a device that you would enjoy. The Dr. Dabber Boost is very well made, and it manages to deliver flavorful vapor in a very beginner-friendly package. If you're looking ditch the torch and pick one of these up you can buy the Boost here.
If you're just interested in a device that can handle concentrates, there are many alternatives that you may want to check out. A lot of vapes can handle both concentrates and dried material, which is desirable for people just getting into the world of vaporizers. The ZEUS Thunder that we mentioned is a slick pen vape, and another one that handles multiple types of material that many people love is the Focusvape Tourist. If you decide to try the Boost out, be sure to let us know what you think.
Warning: Not Compatible with ZEUS Iceborn
This vaporizer is not compatible with the ZEUS Iceborn, a revolutionary new vapor cooling system designed to produce cooler draws and bigger clouds when connected to your vaporizer. The ZEUS Iceborn adds an additional 2 points to the vapor quality score of compatible units, so we highly recommend considering a whip-compatible vaporizer to take advantage of this stellar ZEUS accessory item. All compatible vaporizers will have a compatibility notice.
If you have questions about our Dr Dabber Boost review or just want to let us know what you think, feel free to drop us a comment below! Also, don't forget to follow us on Facebook, Twitter or Instagram to keep up to date with all our contests, sales alerts and other fun stuff! Thanks for reading and as always, keep vapin'!