Today we are going to take a look at the iStick60W vape by E-Leaf. This unit has been well received by users and critics alike. Let's take a closer look at this unit and break down what makes this unit so popular. Also while you are here be sure to check our Vape Buyers Guide for an in-depth look into all the aspects to consider when buying your first vape.
Review: E-Leaf iStick 60W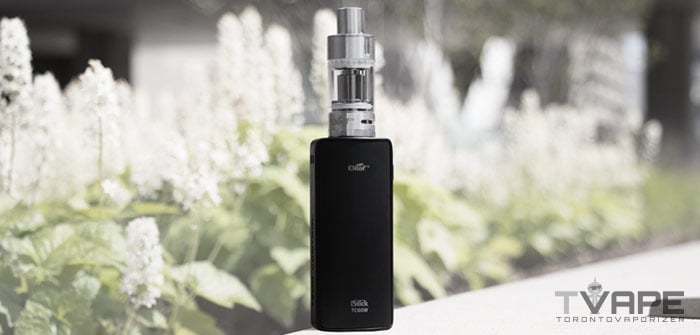 Manufacturing Quality
The first thing that impressed me with this vape is how well the unit seems to be constructed. When you pick it up, it feels solid in your hands. All parts are well machined, the tank and mod are free from defects, buttons feel solid and responsive and the LCD display is bright, clear, and easy to read.  What we really liked is the top fill Melo 2 Tank. Most tanks offered are bottom fill, which means you have to remove the tank from the mod in order to fill the tank from the bottom. With the Melo 2, there is a fill hole at the top of the tank which is accessed by rotating the stainless steel ring. This makes filling your iStick on the fly very easy. The other feature we really liked was the inclusion of temperature control. A mod that has temperature control is designed to not allow the coil to reach an excesss of the set temperature. This means that it is far less likely you will get a dry hit, as the device will sense the coil is overheating and burning the cotton and either adjust voltage or shut the heating down all together. It definitely saved a few of my coils when I had let my juice run too low, which saves me money, which makes me happy.

Flavor Quality
The flavor quality out of the Melo 2 tank is top notch. Each draw is very consistent, vapor is smooth and bountiful. We could not detect any flavor influence from the tank and atomizer and vapor overall tasted fresh and pure. The addition of temperature control gives you a little more flexibility with how you prefer your vapor and ensures that the chances of receiving a dry hit are low. We really couldn't be much happy with how the tank preforms and tastes, for a starter unit it really is top notch.
Power Flexibility
This unit gives you up to 60 watts of available power and comes with a .5 ohm titanium coil and a .15 ohm nickel coil giving you a few options and ranges you can vape in right out of the box. For the .5 ohm coil I found between 20  – 30 Watts comfortable, with the .15 ohm coil I could go much higher around 40 watts while still producing large smooth clouds of vapor. For those who really want large clouds you could go as high as 60 watts on the .15ohm nickel coil but you are going to be using a lot of battery life and will put a lot of wear and tear on the coil and have to replace it faster.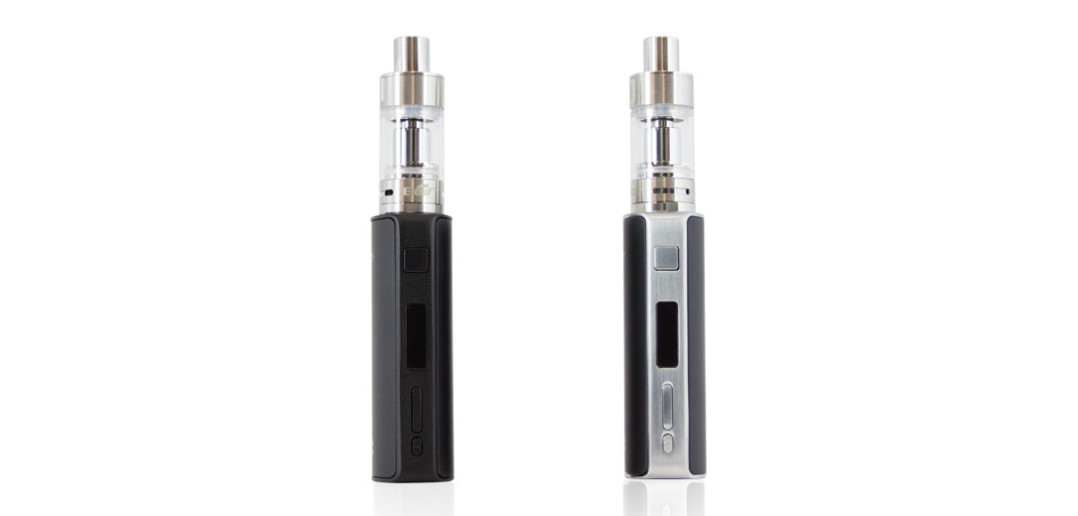 Ease of Use
The iStick 60W is very easy to use, 5 clicks on the power button will turn the unit on and off. Long pressing the menu button located under the up and down adjustment arrows allows you toggle between temperature mode and wattage mode.  In wattage mode you simply set the wattage you want to vape at, while in temperature mode you set the temperature range you want your coil to stay at. Both modes are fairly straight forward and easy to understand. As we discussed earlier, filling this tank is a breeze, simply turn the stainless steel slip ring at the top of the device to expose the filling hole and fill your desired e-liquid into the melo 2 tank. This feature alone is a huge selling feature as I don't know how many countless times I've had to get my hands oily or spill e-juice while fumbling to get the bottom load tank open while out and about. It seems like a small change but the convenience you get from the top fill tank makes it hard to ever consider a bottom fill tank again.
Discreetness
The iStick 60W is not the smallest box mod vape on the market but it's certainly not the largest we have seen either. It fit easily in my pocket but the top of the tank and drip tip did hang out a bit. Not really a huge deal but if you really want to ensure it's out of sight you may want to toss it in a bag. Once again we have to praise the top fill tank for boosting its points in portability, as it really does make this vape easy to reload on the go.
Overall Experience
The iStick is an impressive starting kit, it is simple, yet has a few features that new comers and veterans will find useful like temperature control and a top fill tank. It gives you multiple atomizers to start so you can customize your vapor sessions to how you like it. We really liked the quality of the tank and the flavor achieved with each draw. If you are new to vaping or perhaps looking to switching from a pen vape to a box mod this is an excellent starting point. This unit will give you more control over your sessions without overwhelming you with options. Be sure to pick yours up from TVape today, they have free shipping over $100.
We hope you enjoyed reading our E-Leaf 60W review! We would love to hear from you! Feel free to leave a comment in the section below, you can do so anonymously 😉 Don't forget to follow us on 
Facebook
, 
Twitter
 or 
Instagram
 for contests, sales alerts and other fun stuff! Thanks for reading and as always, keep vapin'! 😉