Vaporizing connoisseurs always want to make sure that they are getting the best experience possible for their needs. You don't want to invest your money in a unit that is not right for you. We are going to look at the
Extreme Q
and the
AroMed
in our Vape Showdown. Today's SHOWDOWN is a contest between Canadian versatility and German precision and efficiency. Let's see who wins!
Extreme Q vs AroMed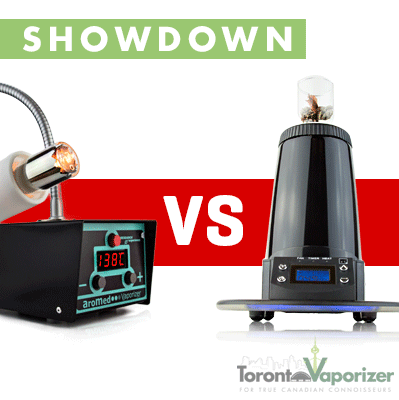 Vapor Quality
Extreme Q
This is a great vaporizer that produces quality vapor. The Extreme Q uses a ceramic heating element and glass components that work together to generate vapour. You can use a whip, bags or potpourri dish to vaporize your way.
AroMed
The AroMed generates outstanding vapour. This unit uses a light based heating system and water filtration system to produce really smooth vapour. It is difficult to find smoother vapor on the market today due to this unique design.

Manufacturing Quality
Extreme Q
The Arizer Extreme Q is made very well. It has a stainless steel casing, a vertical glass heating chamber and a ceramic heating chamber. It also has a digital display that gives you pretty precise control over your vaporizing experience. Arizer has been making improvements over the years to lower defects and make the unit much quieter.
AroMed
The AroMed is an efficient and high quality stationary vaporizer. The heating system works well on a regular basis. Glass components, including the filtration system and mouth piece, are of high quality and help produce smooth and tasty vapour. The AroMed is very quick to heat up due to its unique, light based heating system. The temperature is also very consistent as the unit reacts to your draws to make sure that you get consistent temperature.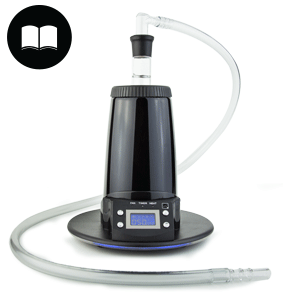 Ease of Use
Extreme Q
The Extreme Q is very easy to use. It has a digital display that allows you to precisely control and set your temperature. The glass components and attachments work well and fit together easily. This unit has many attachments that give you different options for vaporizing. This includes a whip, bags and potpourri bowl options. You can also load the cyclone bowl pretty easily. You can easily control your session with the included remote control. The Extreme Q takes less than two minutes to heat up.
AroMed
You do have to do some set up before you can start vaporizing with the AroMed. Just fill the glass water filter bottle with water, attach the hose and glass mouthpiece and then connect everything together. You set your temperature with the digital display and wait for it to heat up. Once you are heated up, you take your draws through the whip and glass mouthpiece. It is simple and easy to use once you get going. You just have to be very careful in setting up. Setting the temperature is easy with the simple interface.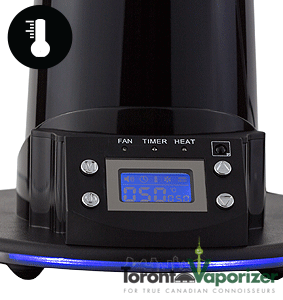 Temperature Flexibility
Extreme Q
You get the largest temperature range available today with the Extreme Q. It ranges from 50 °C
to 260 °C (122 °F – 500 °F). You set the temperature with the digital display. You can change it with on board controls or the remote control.
AroMed
With the AroMed, you get a maximum temperature of 235 °C. A built in sensor allows consistent temperature throughout your draws.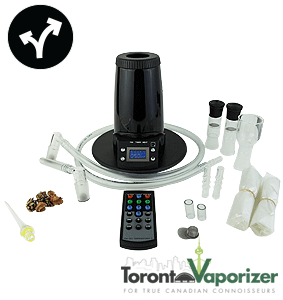 Options
Extreme Q
The Extreme Q comes with several different options for your vaporizing experience. You can vaporize using a whip, bags and potpourri attachments.
AroMed
With the AroMed, you only are able to vaporize with a whip attached to the filtration system. However, you can try some creative ideas shown in our
AroMed Tips & Tricks
during your next vape session!
SHOWDOWN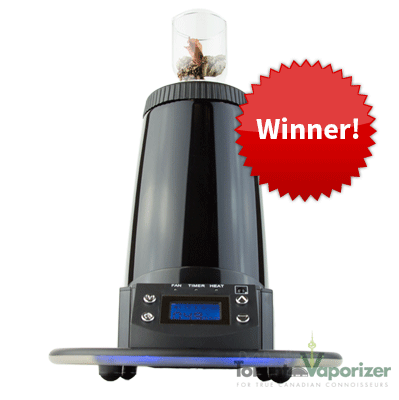 After a long consideration, our winner today is the Extreme Q! It has better ease of use, temperature flexibility and options. You should definitely check out the AroMed if you are looking for a unit that produces incredibly smooth vapor and is manufactured very well.

Thank you for reading today's Extreme Q vs AroMed Vaporizer, Vape SHOWDOWN! Let us know which units you would like to see in our next SHOWDOWN. For full reviews of these two units please check out:
Extreme Q Vaporizer Review
and
AroMed Vaporizer Review
. If you have any questions or comments, leave them down below in the comment section. Don't forget to follow us on
Facebook
,
Twitter
or
Google+
to be updated and win great prizes!
See you next time and as always, keep vapin'! 😉