Grenco Science has made quite a name for themselves in the vaporizer industry. Originally staring off by offering pen style vapes for oils and concentrates, this vape-brand behemoth has more recently diversified their product portfolio to offer vlow-cost dry herb vaporizers. So today, we look at one of their most popular dry-herb vapes, the G Pro Herbal vaporizer. This basic unit has been re-branded umpteen times by both Grenco themselves, and by similar manufacturers, due to the unit's appeal as a budget-friendly, starter vape. There's a lot of chatter online about some of the fancier looking versions of this unit, like the Snoop Dogg BUSH herbal vaporizer, so we wanted to share our objective thoughts of this base model and give you the scoop on if it's worth your dough, before you buy this, or one of their 'collaboration' units, just for the brand.
Grenco has followed up their G-Pro Vaporizer with the all-new G-Pen Elite and we are happy to say its a BIG improvement over their past offerings and we highly recommend checking it out.
Editors Note: Let's face it, the G-Pro has not aged well, but many people still see it as a viable option as a starter vaporizer because of the price. If you are one of these people, we would encourage you to take a look at the Utillian 420 first. This unit almost defies what a budget vaporizer should be, offering users a digital display, glass mouthpiece and ceramic heating chamber, features normally reserved for intermediate units. For under $100, the 420 is a steal and will serve you much better than the G-Pro ever will. To see how these 2 units stack up, check out our 420 vs G-Pro Showdown.
Review: G Pro Herbal Vaporizer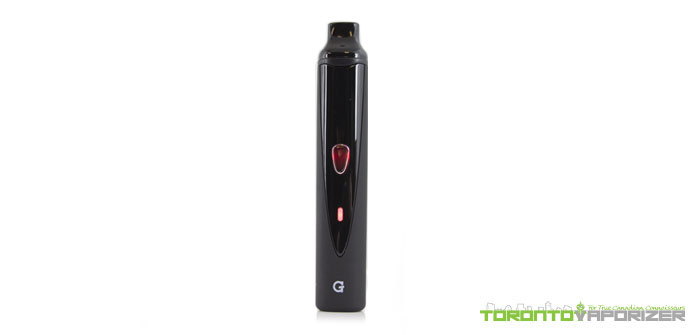 How it Works
Like most one-button vaporizers, a quick 5-click of the button will unlock the G Pro Herbal and turn it on. However, before you turn it on, we recommend you pop off the mouthpiece and load your chamber, as the unit will automatically begin heating up to the last temperature setting once on, as indicated by the LED light under the button. Now in a unit like this, make sure your herbs are bone dry, well ground and not too tightly packed. Then, pop the mouthpiece back on. Once turned on, the button itself will glow red as the unit is heating up and then turn green once your chamber has reached temperature. Easy Peasy. Now to change temperature setting just press and hold the button down for about 4 seconds and the light will change colors to indicate its new-found setting. That's it!
Temperature Flexibility
The G Pro Herbal has 3 built-in temperature settings and the color of the light located under the button (the temperature indicator light) will signify the temperature setting you've chosen to vaporize at. As mentioned, the unit will turn on to the last pre-set temp, however for your first session we always recommend starting on the lowest setting and working your way up to determine which temperature suits your needs best. The lowest heat setting is indicated by a red light and is very, very low, set at 160° C, or 320° F. The middle temperature setting, indicated by a green light, is set at 193° C, or 380° F, and the highest heat setting, indicated by the blue light is set at 215° C, or 420° F. These pre-set ranges are very spread out, and although we recommend you start off on the lowest setting, the most efficient temperature setting is definitely the middle. Three temperature settings for a unit in this price range is average, but to have the lowest temperature setting at 160° C doesn't make much sense to us as that is far too low to produce quality vapor.
Vapor Quality
Like most cheaply made units with lots of plastic, the first thing we noticed about the G Pro's vapor quality was its distinct plastic flavour and odor. While we expected this unpleasantry to go away after a few sessions, it did not. Not only is a plastic taste and smell off-putting, especially if this unit is your first, it is kind of concerning from a health-perspective. Now, starting off our session on the lowest setting, we were fairly certain that 160° C just wasn't going to cut it, and we were right. The vapor produced on the lowest setting was strong in plastic flavour but light in visible vapor and we simply were not satisfied with the results. So, we moved our session on up to the middle temperature setting. The plastic taste was still abundant, but at least we could see some average clouds and got a few good hauls. Unfortunately, after a few draws, the vapor became really harsh and dry tasting which caused throat irritation and coughing. Now if any unit could benefit from being hooked up to the ZEUS Iceborn, it would be this guy, because it's vapor could certainly benefit from being cooled down and smoothed right out; alas the G Pro's mouthpiece isn't Iceborn compatible. Now as expected, moving on up to the highest heat setting made the vapor super-hot and killed the experience with dry, over-cooked tasting vapor mixed with plastic over-tones. So overall, the vapor quality isn't awful, and a first timer may not mind it on the middle setting, but we just can't endorse this unit as having vapor quality that is anything close to or above average.
Manufacturing Quality
So although the G Pro Herbal is manufactured by USA-based Grenco Science, it's no secret this unit is really just a branded base unit made in China. In fact, reviewers like Vape Critic have been quick to point out that the G Pro, and K-Vape from KandyPens are essentially the same thing. This re-branding of basic units seems to be pretty standard in the industry now-a days though, so we'll give Grenco a break. With that said, we can't excuse its obvious cheap craftsmanship. I mean at first glance and feel, the unit is sleek and its exterior actually feels silky and nice to the touch but the poorly insulated heating chamber makes it hot to hold, even on the lowest setting. Furthermore, the entire unit, save for the heating chamber itself, is plastic. This plastic construction, and especially the mouthpiece, does make for a nice, light unit, however it really affects the vapor quality and reflects its low price point. With that said, the mouthpiece snaps on pretty sturdily and because there are no loose parts, there is a low chance this little guy will physically fall apart on you. Furthermore, the button and lights look pretty good and bump up the look and feel of the unit. So although we can't say this unit has good manufacturing quality, its average for its price point, making for a true 'get what you pay for' vaporizer.
Battery Life
Grenco Science Provides little information regarding the type of battery used in the G Pro, or its life expectancy, however we can assume it's specs are similar to the Titan-1's internal, USB rechargeable 2200 mAh. And similar to our experience with the Titan 1, we experienced around an hour of vaping with the G pro, based off testing the unit on each setting and then settling into the middle option. An hour-long battery life is pretty standard for a cheaply-made portable under $100, but considering you can pay just a little bit more for a higher quality unit with triple the battery life, like the ZEUS Smite, spending 1-3 hours charging your unit for just around 60 minutes of use is pretty disappointing. It is nice to note that the G Pro does have a built in auto-shut off of 3 minutes which prevents you from further wasting its precious battery life if you forget to end the session manually.
Portability
This unit is pretty light and because the mouthpiece snaps on and off with vigour, you can even pre-load the heating chamber, slip the unit in your bag and be on your way without worry its contents will spill. Furthermore, it's sleek and slim shape makes it almost as pocket friendly as a standard pen vape. So from a transportability point of view, this unit is very portable. However, its poor battery life means you will only sneak in a few sessions before you're searching for a place to wait a couple hours and juice up. So for a session here and there on the go, the G Pro will have you covered, but don't expect to take this unit on a full-blown day trip.
Ease of Use
The G Pro is attractive as a low-cost starter vape because it is so easy to use. It doesn't have any fancy features or displays to worry about and it's 5-click power button coupled with its press-and-hold temperature toggle makes its two basic features a true breeze to operate. The most notable difficulty one would have with the G pro is it's very sturdy mouth-piece. Its hard plastic is slippery to the touch and it's very difficult to snap off, so those with dexterity issues most definitely would find accessing the heating chamber frustrating. In terms of cleaning and maintenance you just have to brush out the heating chamber with the provided brush after each session, change the mouthpiece's screen and soak the whole mouthpiece in some gentle cleanser, like ZEUS Purify, once a week or so. To really keep on top of cleaning, we also recommend taking a Q-tip with some rubbing alcohol and getting into the heating chamber every once and a while. All pretty easy and standard to do.
Discreetness
The G Pro herbal vaporizer is pretty discreet because of it's size, shape and color. It's roughly the same size and shape as a thick sharpie or whiteboard marker and Grenco stuck to its standard black-branding with this one, to make it even more discreet. Furthermore, the only flashy bit on this guy is the button and LED light which both can be covered easily with your hand during use. Considering the popularity of e-cigs these days, you can also rest assured that this unit will pass as an e-juice vape when in public because of its relatively similar shape and size to standard pen vapes.
Overall Experience
Most people who are first time vapers are just looking for a 'git'erdone' kind of vape with a price tag under $100, and we can definitely understand that with those specifications, the G Pro Herbal Vaporizer will catch your eye. Grenco Science has done an excellent job at marketing their products and the G Pro herbal's sleek design and branding certainly instills confidence that the G Pro is a great first time vape. However, if you consider our professional opinion, we strongly recommend looking into other portables that offer much better manufacturing quality, un-tainted vapor quality and a battery life that is just as impressive as it is useful, like the ZEUS Smite. So, without a quality-check and some major manufacturing revisions, we caution you to consider other options that are more satisfying than the G Pro Herbal, at least for now.
Don't forget to follow us on Facebook, Twitter or Instagram to keep up to date with all our contests, sales alerts and other fun stuff! Thanks for reading and as always, keep vapin'! 😉