Last year we updated our original Haze blog to incorporate changes made in the new Haze V2 vaporizer. Since then Haze tech has released another update to their flagship unit which is now dubbed the Haze Dual V3. This vape is a very interesting one thanks to the fact that it holds the title of the world's first dual-chamber vaporizer. While some people may be put off by how frequently Haze has been updating the vaporizer, another way to look at this is that they are actually listening to feedback and constantly improving upon earlier iterations that they offered.
The new versions aren't just marketing ploys either, legitimate upgrades have been made. If you are familiar with older versions, some things you may be interested in are upgraded temperature regulators, better materials, and a lip on the mouthpiece that makes pulling it out much easier than before.
Keep reading to get a full review of the unit and to see if this is one that can address your vaporizer needs.
Review: Haze V3 Vaporizer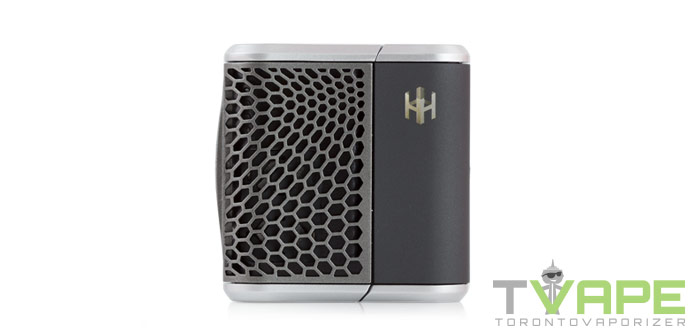 How It Works
Just like earlier versions, the Haze Dual V3 has a side cover that flips open to expose the dual heating chambers. You can use both dried herbs and concentrates in the unit, and special screens and canisters are included depending on how and what you want to vaporizer (convection, conduction, concentrates, etc…)
The fact that you can preload both chambers is very cool. You indicate which chamber to heat based on how you slide the mouthpiece cover open. The mouthpiece now easily pulls out thanks to the new lip they've included in the design, and setting the temperature is as easy as cycling through presets with a button on top of the unit. Once the temperature lights go from blinking to solid, the vaporizer is ready to use.

Temperature Flexibility
The temperature flexibility for the Haze is good enough, but not great. There are four pre-sets to choose between: 365°F, 380°F, 390°F and 415°F. All four levels can be used with dry herbs, but concentrates will only work well at the top two temps. These will get the job done, but precise temperature controls that allow full control over the temperature would be much better!
Something worth noting is that the V3 includes an updated temperature regulator that makes the Haze better at actually maintaining the temperature at the indicated level.

Vapor Quality
This unit puts out some very good vapor. Regardless of what you are vaping, the Haze is able to deliver consistent and flavorful clouds. The variety in screens and canisters helps give a little bit more control over the final outcome, and you also have the option of using a stainless steel or glass mouthpiece. One of the reasons the vapor is so good is that it never seems to be uncomfortably hot. Haze has a patented heat exchange system to keep it cool, and from our experience it appears to work well.
Manufacturing Quality
With each new version, the Haze gets a little bit better. There are only a few moving parts involved in the operation of the unit, and they all feel solid. The covers for the battery and heating chamber area snap securely into place, and the sliding mouthpiece cover doesn't feel loose or easily breakable. Plastic can be a sign of a cheap unit, but that isn't the case with this vaporizer. Overall, this is a very well-made vape.

Battery Life
The Haze comes with 2 2600 mAh Li-Ion batteries that are easily removed and recharged. While each battery may only last 3-4 sessions, you always have the option of purchasing extras if you don't want to spend time recharging frequently. A full charge will take about 2 hours.
Portability
This is probably more portable than most options out there, but there are also some drawbacks that make other units more attractive if portability is a major concern to you. On one hand, this is a very well-built unit that is self-contained (only one thing to carry), meaning it can safely be carried around in your pocket. On top of this, the unit can be prepacked for TWO sessions, a major plus that cuts down on any setup work that you would otherwise need to do while out and about.
The drawback is the fact that this vape is a bit big. Not unreasonably so, but there are much smaller options on the market. If size is a big concern for you, try something like the G Pen Elite which is one of the best combinations of size and functionality available.
Ease of Use
The Haze takes a little getting used to at the beginning. It isn't hard to get the hang of, but you will need to experiment to see which mouthpiece you prefer, what temperature you like, and what screen or cannister suits your purposes better. Once you get that out of the way, this is pretty straightforward vaporizer. Cleaning is definitely very easy, as they specifically designed the vape with components that can be cleaned with normal Isopropyl alcohol.
Discreetness
The unit might have a shape that makes it easier to sit in your pocket, but it is a bit big and can call a bit of attention to itself while in use. The unit doesn't leak vapor, but the size and shape is reminiscent of a flask with a straw which might make those around you curious as to what you're doing, something Vapesterdam echos in their
Haze vaporizer review
. Though it isn't very discreet when in use, it is quite discreet to carry around. Because it fits so nicely in your pocket, it doesn't make for a noticeable bulge that would be cause for suspicion.
Overall Experience
This unit has some interesting features that we appreciated but the overall execution left us feeling like it couldn't fairly compete with other portable units in its price range. The ability to switch out the stem was one great feature, the ability to swap out a battery on the go was another, but most of all, we found the dual heating chamber concept to be the biggest advantage of the
Haze
. The unit is innovative for sure, but there are still a few improvements when it comes to temperature control and efficiency we'd like to see that would help it rank better in the future.
Compatible with ZEUS Iceborn
This vaporizer is compatible with the ZEUS Iceborn, a revolutionary new vapor cooling system engineered by Canadian vape manufacturer ZEUSArsenal. The Iceborn is designed to produce cooler draws and bigger clouds when connected to your vaporizer. The vapour produced is ultra smooth and crisp and because of ice cooling, instead of water filtration, there is no loss of efficiency. The ZEUS Iceborn adds an additional 2 points to the vapor quality score of this vaporizer and is a highly recommended vaporizer accessory.
We hope you enjoyed reading our Haze Vaporizer review! We would love to hear from you! Feel free to leave a comment in the section below, you can do so anonymously 😉 Don't forget to follow us on 
Facebook
, 
Twitter
 or 
Instagram
 for contests, sales alerts and other fun stuff!Thanks for reading and as always, keep vapin'! 😉