The Innokin Coolfire IV starter kit is geared towards those who want to start blowing big clouds right out of the box. The mod offers an impressive 100W of power which will impress those who are truly into chasing clouds. The unit also comes with the latest iSub V tank which offers great vapor quality and a hassle free experience.
Review: Innokin Coolfire IV 100w Review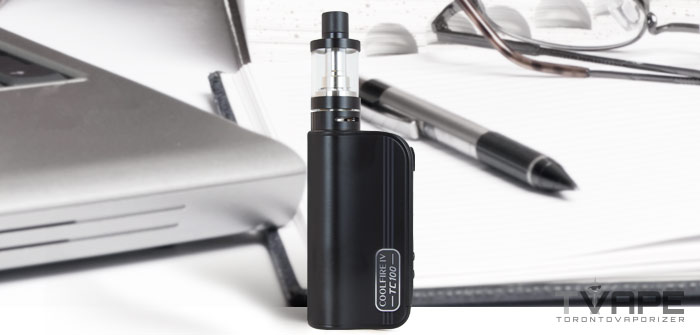 Manufacturing Quality
We really enjoyed our time the Coolfire IV 100W, it has a nice curved shape that feels great in your hands and responds easily to the press of a button.  The mod features a brushed aluminum finished and features heat transfer holes to keep the battery cool while in use. The display is bright, vibrant, and easy to read in most lighting situations.
We really likes the iSub V tank you get with this kit. You get 2 included coils, 1 kanthal which can be used in variable wattage mode and the other isi stainless steel which can be used in either wattage mode or temperature control. The tank itself is top filling making it more convenient when topping up your juice and switching atomizers is easily done by twisting off the bottom of the device to reveal the installed atomizer. Overall we really enjoy the construction of the Coolfire IV, it is built for convenience and built to last.

Flavor Quality
We have tried Innokin products before and have found in the past that flavors tended to be muted. Innokin seems to have addressed this with the new coil and tank system they have implemented.
The flavor we experienced from testing the Coolfire IV blew us away, we could not believe the subtle flavors we could now taste from our juice. We have to applaud Innokin for such an improvement and it really has changed our tune about their products. There was no influence of flavor from either the cotton wick or the tanks, just the pure flavor of our juice.
Power Flexibility
As we mentioned, the Coolfire IV goes up to an outstanding 100W. This means if you enjoy using low ohm coils and getting huge clouds, this is the unit you are looking for. However if you aren't a cloud chaser, do not worry, you can simply adjust to a lower wattage and use a higher ohm coil to achieve the type of vapor you enjoy, when you have this much power the possibilities are endless. If you still think this unit is too much vape for you check out the Kanger Top Box, it is a great introductory box mod unit.
This device also includes a temperature control mode, the way temperature control works is that the mod automatically adjusts your wattage to match your set temperature. If the device senses the coil is exceeding that temperature it simply cuts power to the coil. This is great for avoiding dry hits when your e-liquid starts to get low and will save your coil from getting burned. In order to use temperature control you have to using a coil that can handle that type of setup like stainless steel, nickel or titanium.
Ease of Use
This device has a bit of a learning curve but once you get a feel for how the device works it is really easy to operate. 3 clicks of the power button turns the device on and off and pressing and holding the power button and plus button will allow you to switch between wattage and temperature modes.
The device also includes a feature where it will ask you each time you attach a tank if you are using the same coil. This is great for those who can be a bit forgetful when they change there coils and don't adjust the temperature or wattage. This can easily destroy a new coil if it is not setup correctly, so this feature gives you a nice reminder to set your coil type each time you place the tank on the system.
The device also features a 15 second auto-shutoff feature which won't allow the atomizer to heat longer than 15 seconds and it also has overheat protection which is one of the first in the vape industry. If the device senses it is getting to hot the device will simply shut itself down until it reaches proper temperature.
All these nifty little features add a ton of convenience and ensure that your time with the Coolfire IV is hasslefree.
Portability
The Innokin Coolfire IV is a fairly portable device. It is not as small as a unit like the iStick Pico, but it is slim enough to fit inside your pocket. The mod also comes with a 3500mah battery pre-installed which gives users a ton of battery life to vape with.
It should not be a problem to get a full day of vaping from this unit from a single charge making it perfect for a day out. The device also comes with fast charge capabilities and if plugged into a 5V, 2amp USB charger can have the battery fully charged in under 2 hours. So even if you find yourself out and about without a charge, it won't be long until you are up and running again.
Overall Experience
Overall the Innokin Coolfire 4 starter kit is a great unit for those looking for an easy to use cloud factory! With 100 watts of power it will impress most cloud chasers with its smooth and bountiful vapor production.
It is fully customizable which gives users control over the type of vapor they enjoy and even offers temperature control for a hassle-free vape experience.
If you are new to mod vapes and may be worried this is too much vape for you be sure to check out the Kanger Kone, a perfect introductory unit. But if you are ready to take the plunge and live with your head in the clouds be sure to check out the Innokin Coolfire IV 100W.
We hope you enjoyed reading our Innokin Coolfire IV 100W review! We would love to hear from you! Feel free to leave a comment in the section below, you can do so anonymously 😉 Don't forget to follow us on 
Facebook
, 
Twitter
 or 
Instagram
 for contests, sales alerts and other fun stuff! Thanks for reading and as always, keep vapin'! 😉