Today we'll be taking a look at the Joyetech CUBOID Tap. The Tap features a bunch of interesting features, including touch-activated buttons and a pressure activated menu, meaning you can squeeze the entire device to do certain things. If that sounds a bit confusing, don't worry because I'll make sure to explain it fully below. If you were looking for the touch screen CUBOID, check out our review of the CUBOID Pro. Let's find that out now… Also be sure to check our vape buyer's guides for important information to consider before making your first purchase.
Review: Joyetech Cuboid Tap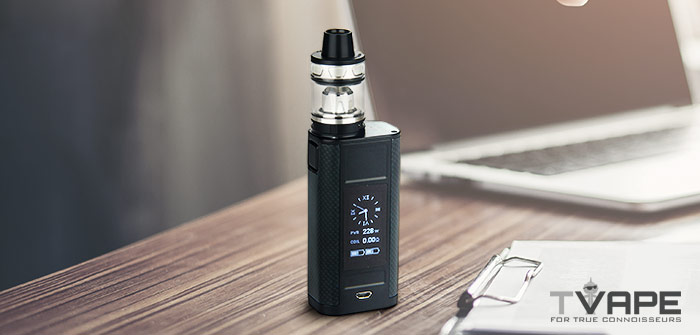 Manufacturing Quality
The manufacturing quality of the CUBOID Tap is good, but it definitely seems like they packed a bunch of features into this just to see what people like and don't like. Let's go over the unique features now.
For starters, you have what they call 'TAPTEC' technology, which simply means that several of the buttons aren't activated by clicking them. You just have to apply pressure, and then haptic feedback (vibration) lets you know when you've pressed hard enough. There is still a normal fire button that you have to click, but there is also a big taap area on the front that will also cause the device to fire. The up and down buttons also have this taptec functionality.
Like I mentioned in the intro to this review, the entire mod is also 'pressure sensitive'. This means that you can squeeze the mod without ever pressing a button and it will register the number of times you squeeze it and do certain actions. For example, you can squeeze it three times when the device is on and that will lock and unlock the tap buttons.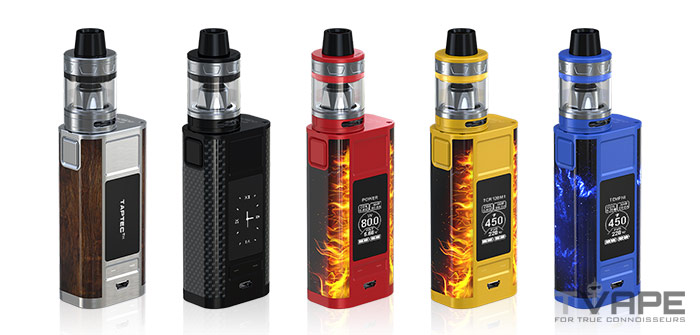 I can kind of see the value in some situations, but then there are others like squeezing it three times in power off condition. That allows you to set the TCR value. How is this a valuable feature? It certainly doesn't make it more intuitive to use, at least in my mind.
Other things worth knowing are that this is powered by dual 18650s and that it has two amp micro USB charging.

Flavor Quality
The mod itself works exactly like it should, so the flavor and vapor are really just dependant on the tank. We've talked about the ProCore Aries tank before, but we'll do it again since it's included in this kit.
The short version is that I really like the ProCore Aries. The coils for it work very well, and there are 5 different options that accommodate very different vaping styles. Two are included with this kit, the ProC1 and the ProC4. The ProC1 is a good all-around coil, but the ProC4 delivers better flavor without sacrificing vapor production.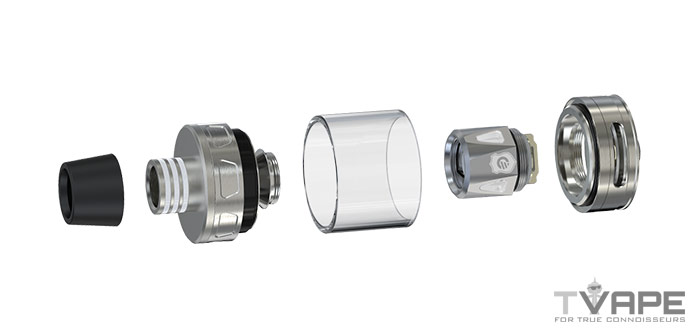 Of the three additional styles you can buy, the two that jump out are the ProC1-S and the ProC3. The ProC1-S will allow you to do MTL vaping, while the ProC3 will deliver bigger clouds than any of the others.

Power Flexibility
The power flexibility on the CUBOID Tap is good. It will deliver up to 228 watts, and it also has temperature control modes for nickel, titanium, and stainless steel.
The temperature range is the standard 200-600F. There is also a TCR mode. The resistance range for the temp modes is 0.05-1.5ohm. For wattage mode, it's 0.1-3.5ohm.
Maybe it's because I'm reviewing this after reviewing the CUBOID Pro, but I think this is a little complicated. The menu isn't nearly as intuitive, and the combination of taps and squeezes just leaves me confused at times.
I'm not sure if you can tell, but I really don't like the squeezing, at least not how it's set up. The screen is at least fairly big and easy to read, but I'd still take the Pro over the Tap any day. 

Portability
The portability of this is what you would expect for a dual 18650 vape. It's no bigger than others like it, but it's still not going to be a great choice for carrying around in your pocket. Obviously people still will, but you'll know it's there if you do.
One downside that I see with this is the potential for all the pressure and touch activated stuff to be accidently engaged when it's not in use. If you get this, just be careful and keep the touch stuff locked if you have it in your pocket.

Overall Experience
I'm not a big fan of the Joyetech CUBOID Tap.
There are a lot of new features, but I'm not sure how useful any of them really are. They're certainly interesting, but I never felt like doing things was easier because of them.
I'll be honest, I think my opinion is also being influenced by the fact that I just tried the CUBOID Pro. Where this has touch buttons and pressure sensitivity, the PRO has a full touch screen. Unlike the Tap, the Pro's innovations actually made using the vape significantly easier. As I said in the review, it may be the easiest vape I've ever used that has as many settings as it does.
Those who want a more traditional vape to start with should consider the Coolfire IV 100W. And for those who want a more portable mod style vape we highly recommend the Vaporesso Target Mini.
We hope you enjoyed reading our Joyetech CUBOID Tap review! We would love to hear from you! Feel free to leave a comment in the section below, you can do so anonymously 😉 Don't forget to follow us on
Facebook
,
Twitter
or
Instagram
for contests, sales alerts and other fun stuff! Thanks for reading and as always, keep vapin'! 😉