The Joyetech EKEE is an 80W mod that features a bright screen and a 2000mAh internal battery. The starter kit comes with the ProCore Motor tank, which uses Joyetech's ProC coil heads. The combo looks great together, but it's time to see how well they perform.
Also be sure to check our
vape buyer's guides
for important information to consider before making your first purchase.
Review: Joyetech EKEE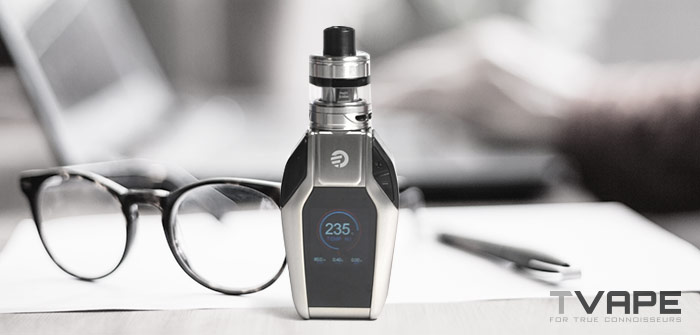 Manufacturing Quality
The most noteworthy thing about this vape is that it looks different than most mods. If the aesthetic seems familiar to you, that's because Joyetech designed this specifically to look like a key fob for a car. If you aren't familiar with the term fob, it's just the electronic part of a key that you use to do things like lock and unlock the doors. I'm assuming this is where the 'key' sound in EKEE comes from.
Speaking of, the EKEE comes in five different colors and they all remind me of classic muscle car colors. They're silver, red, blue, yellow, and a fifth option they call cyan. It looks more like a seafoam green, if you ask me.
That's not all there is to say about the EKEE though. When I first heard about the key fob design, I assumed it was a gimmick to sell yet another basic starter vape. After trying it, I now think there are several ways that this distinguishes itself beyond just the design.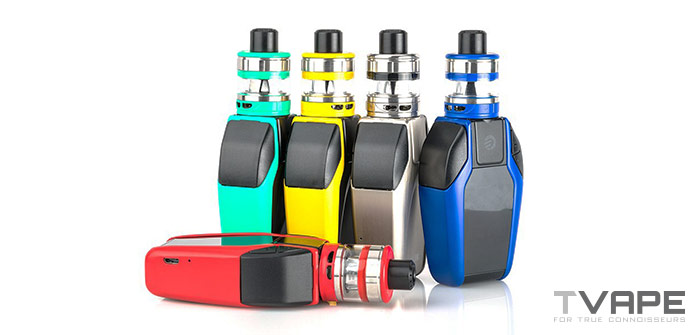 The first is the screen. They did an absolutely awesome job with it. It's bright, colorful, and crisp. Most vape screens are the exact opposite of these features, making them not very fun to look at. This also has a real-time analog clock as a screensaver, which I'm growing to like and actually use.
Another area that they nailed is the ergonomics of the buttons. They're perfectly placed, allowing you to easily fire the trigger button with your top two fingers while the vape is in your palm. The up and down buttons can then be accessed with your thumb without having to adjust your grip. I'm really enjoying how fluid this setup is.
Some other nice features include plenty of battery venting, 2A charging, and a tank that can be extended to fit 4.5ml of liquid.

Flavor Quality
Continuing with the car theme, the tank that comes in the starter kit is called the ProCore Motor. It works with all the ProC coil heads made by Joyetech and includes adjustable airflow. This means it does a pretty good job of accommodating both direct-lung and mouth-to-lung draws.
There are two coils included with the kit. The first is the 0.4ohm ProC1. It has a nice wide coil cylinder that allows plenty of airflow for direct-lung draws and big clouds. The vapor also has great flavor.
The second coil option is the 0.25ohm ProC1-S. This has a narrower opening and is designed for mouth-to-lung vaping. The flavor is extremely good with this one, but the cloud size isn't quite as big. You can completely close off the airflow ports in the tank if you like a really restricted draw.
Power Flexibility
The power flexibility is pretty good for a small mod with a 2000mAh internal battery. You get wattage, bypass, and temperature control options with it, and there are even TCR settings.
The max wattage is 80W, and the temperature range is 200-600°F. The minimum resistance for the wattage and bypass modes is 0.1ohm. In the temperature control modes, it's 0.05ohm.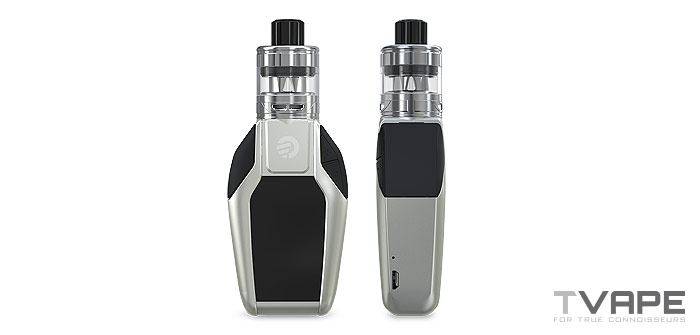 Ease of Use
This is as easy to use as any other 3-button mod out there. If you've never used a mod before, you may have to read the instructions and make sure you memorize the button combos, but it shouldn't take you more than a few minutes to pick up once you actually have the device in your hands.
This may actually be easier to use than most considering how conveniently the buttons are located. The tank also has a nice flip-top design for quick filling without needing to remove anything.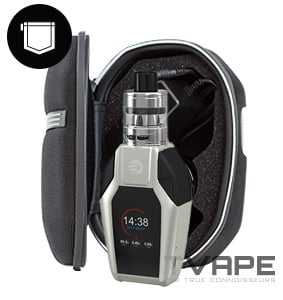 Portability
The portability of this is good. By the time you extend the tank to the full capacity, the height is almost 5 inches though.
So it isn't the most portable option out there, but it has the advantage of being extremely comfortable in your hand. I know I'm being influenced by the design, but I can't help feeling that this is a very good in the car vape.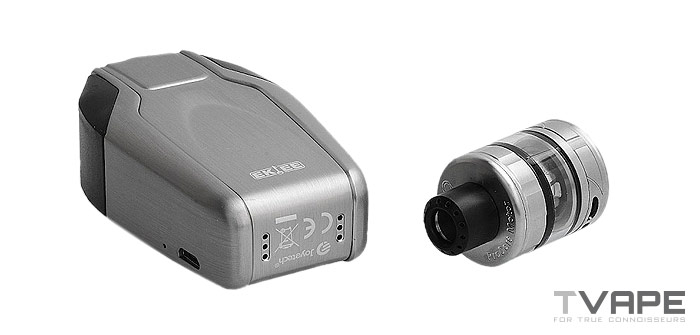 Overall Experience
I like the Joyetech EKEE.
It has a fresh design with a big, colorful screen and conveniently placed buttons. The color options all look nice, and more importantly, the tank performs very well and gives you the option of either direct lung or mouth to lung vaping depending on what coil you use.
The only downside to the entire setup is the relatively small 2000mAh battery, but at least you get the 2A charging with it. If you aren't maxxing out the power, it could easily last you through most of a day anyway.
This is a versatile vape that would be a great starter option for someone looking for their first vape. It gives you access to plenty of power settings, plus whatever vapor style you prefer.
If you want something extremely simple, check out the Kandypens Rubi and if you are looking for a mod style kit to start with we recommend the SMOK Procolor.
We hope you enjoyed reading our Joyetech Ekee review! We would love to hear from you! Feel free to leave a comment in the section below, you can do so anonymously 😉 Don't forget to follow us on
Facebook
,
Twitter
or
Instagram
for contests, sales alerts and other fun stuff! Thanks for reading and as always, keep vapin'! 😉