If you're looking for an easy to use mod that's big on battery life, it's time to check out the Kanger K-KISS kit. This kit includes the K-KISS mod and the K-KISS tank, along with a pre-installed 0.2ohm SSOCC coil. The mod isn't big in the way of features, but beginner's may appreciate the simplicity. Let's take a look at how it performs… Also be sure to check our vape buyer's guides for important information to consider before making your first purchase.
Review: Kanger K-KISS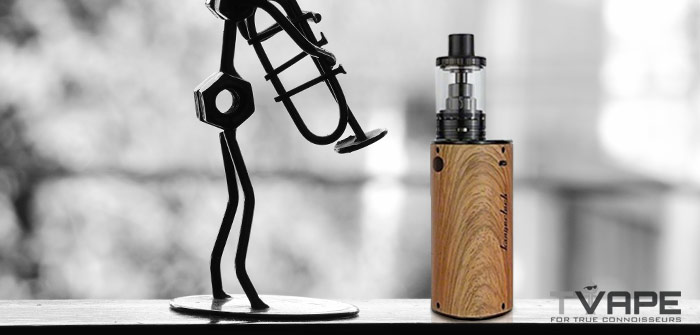 Manufacturing Quality
There's not a lot to the K-KISS mod, but what is here is built well. In a way, the K-KISS bucks the two biggest trends for mods right now. While most mods are either extremely tiny or packed with all kinds of advanced features, this is neither of those things.
For example, there is no real screen and you can't adjust the power. It's set at a fixed 4.2 volts, and the screen that it does have only displays dots to indicate battery life. There's one button on the entire mod, and it's only functions are to turn it on and to engage the coils.
Meanwhile, it's bigger and heavier than almost every other mod with comparably limited functionality.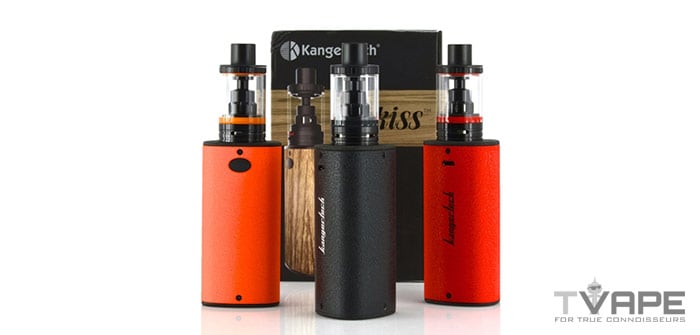 But before you go and assume that this is just another cheap mod, you should also know that the built-in battery in this has a 6300mAh capacity. That's absolutely huge, in case you weren't aware.
The tank that is included in the kit isn't anything special, but it does work well. There is no way to adjust the airflow, unfortunately.

Flavor Quality
The flavor and overall vapor quality from this kit is good. Remember, there isn't very much you can do to adjust your experience. Both the power output of the mod and the airflow of the tank are fixed.
That means the only thing you can do is change out the coils or get a new tank. The included 0.2ohm coil works very well, although the airflow is going to be more restricted than what you are used to if you already vape.

Power Flexibility
There is no power flexibility at all. This is honestly pretty surprising, because they could have at least made it variable voltage without having to add a screen, which is something I'm pretty sure Kanger has done with other mods.
I don't know many people who have owned other vapes who would switch back to not having any power options, so this kit is pretty firmly positioned for beginners in my mind.
You can't get much easier to use than this. Like I mentioned above, there is only one button and all it does is turn the unit on and engage the coil.
To break it down even further, you click the button five times to turn the unit on or off.
When it is on, pressing and holding the button will cause it to fire. That's all there is to it. 

Portability
There are two ways to look at the portability of this vape. On one hand, the relatively large size and awkward shape make this terrible for carrying in your pocket. It would be very uncomfortable. It's also fairly heavy.
With that being said, the 6300mAh battery is incredible. On a full charge, this could easily last for days. For a lot of people, that's exactly what they have in mind when they're thinking about portability. They want something they can put in their car or backpack and have it last over the duration of a trip so they don't have to look for a power source.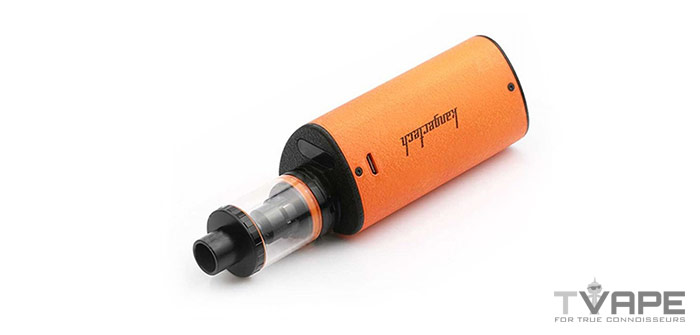 Where does that leave us? If you walk a lot during the day without any sort of bag, this probably wouldn't be a great choice because of the size. If you'll have a purse, backpack, or car to keep this in, then you'll be very happy with how long the battery lasts.

Overall Experience
To be honest, I'm not entirely sure how I feel about the Kanger K-KISS kit. I know that I really wish it would have at least had variable voltage. To not have any power flexibility at all is rough. On that note, I also think that a little bit of airflow adjustment on the tank isn't too much to ask for.
However, the performance and vapor production is better than I expected, especially for not being able to change anything. If you are looking for something that you can just put together and use with no fuss at all, this fits that bill for sure. The huge battery is obviously a plus as well, as is the low cost.
All things considered, I could see this being a good beginners kit for people who don't know anything about vaping. It could also be a decent backup for situations when you want to be absolutely sure your batteries won't run out on you, like overnight backpacking trips.
Those looking for a bit more from their starter vape, including a screen, wattage and temp control may want to consider the Coolfire IV 100W. And for those who want a vape that is more portable we highly recommend the Vaporesso Target Mini.
We hope you enjoyed reading our Kanger K-Kiss review! We would love to hear from you! Feel free to leave a comment in the section below, you can do so anonymously 😉 Don't forget to follow us on
Facebook
,
Twitter
or
Instagram
for contests, sales alerts and other fun stuff! Thanks for reading and as always, keep vapin'! 😉