We all love our
Magic Flight Launch Box
. Whether you use yours at home or on the go, you've probably had it for a long time and have experimented with using it in different ways. The Magic Flight's simple design means it's easy to pick up and start using right away. But no matter how basic the Launch Box seems, it remains one of the most versatile little units we carry. Let's see what tips and tricks we have up our sleeves today!
Magic Flight Vaporizer Tips and Tricks
The Tips
You can do a lot to get new experiences from your Magic Flight Launch Box. From obvious changes such as adding a water pipe attachment to more subtle factors like draw speed, with a bit of know-how your Magic Flight can be the little box that could! If you haven't used a Magic Flight Launch Box (the MFLB for short) before, it's simple enough to explain. You fill your MFLB's trench with your finely ground botanical of choice, heat it, and draw on the unit, extracting delicious vapor. Indeed, it's a simple procedure with only a few steps. However, there are a few great tips to make sure you get the most out of your MFLB!

1. Fine Grind
First off, it is suggested that you grind your botanical to a very fine consistency when using the Magic Flight Launch Box. It's a common mistake for newcomers to the MFLB to grind their botanical to what they consider a "fine grind", while being frustrated with the results when they go to vaporize. So, to know just how fine the grind should be, we mean each "grain" of botanical should be the size of a grain of salt. If you are looking for a durable, high quality grinder, we recommend the
Zeus Grinder
series.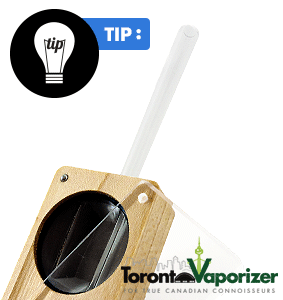 2. Draw Speed
The best way to understand how your draw speed affects the temperature of the Launch Box is to experiment using the unit without a drawing stem, as the manufacturer calls "native style". Try inhaling as usual from your MFLB and pay attention to the temperature of the vapor crossing your tongue.
If you draw faster, the temperature of the vapor drops and the vapor becomes harder to notice. If you draw slowly, you can feel the heat of the vapor increase and it tastes thicker. This is the best practical demonstration of how draw speed affects temperature. Mastering the perfect draw speed and technique will be up to you, depending on how hot & thick you prefer your vapour to be.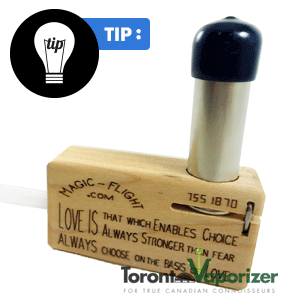 3. Temperature Gage
The MFLB's heating unit is activated when you push one of the rechargeable batteries into the socket and squeeze. The heating unit stays on until you release the battery. MFLB recently added a rubber "pushback ring" into the battery chamber as a design feature to prevent users from holding the battery in too long. This is a great feature, as leaving your battery connected with the socket means the battery continually heats, leading to a few potential problems:
Combustion: We vaporize because we want to avoid the side effects of smoke! If you hold the battery in your MFLB for too long, you may raise the temperature of the trench past the safe vaporizing point into combustion territory. This will release carbon monooxide and toxic chemicals along with the essential oils of your botanical, defeating the purpose of vaporizing!
Battery life: The Magic Flight Launch Box's rechargeable batteries can support 500 recharge cycles if treated properly. However, if you overheat your battery by leaving it in the socket for an elapsed period of time, it will drastically reduce the life of your battery.
When you push the battery into your MFLB, you will notice a small LED in the trench glow. This light is an indicator that the battery is depressed and the trench is heating. The idea of the MFLB is to push the battery in for a few seconds, then begin drawing on it while holding the battery in, then finally release the battery and finish drawing for a few seconds. The battery is obviously one way to control the temperature of your MFLB, but interestingly the majority of temperature control comes from your draw speed.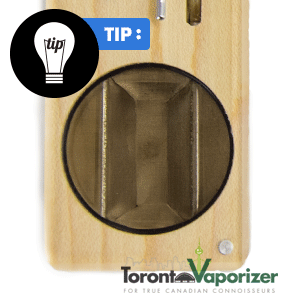 4. Shake Shake
After a few draws, it's a good idea to mix up the botanical in your MFLB. As the heating trench heats from the bottom, if unmixed your botanical blend would be unevenly vaporized, mostly at the bottom. Mixing your botanical can be as simple as flicking the MFLB left and right quickly between draws. If your botanical is more compacted or sticky you can flip open the window and poke your mixture gently with a glass stirring stick. If you're using a stick, be very careful not to puncture the screen that protects your trench.
The Tricks
Now that you are using your MFLB properly, here is one cool trick to turn your Magic Flight sessions into a more unique experience. There are a number of cool things you can do with your unit in terms of the type of draws and speed of drawing. It is good to play around with what's comfortable for you.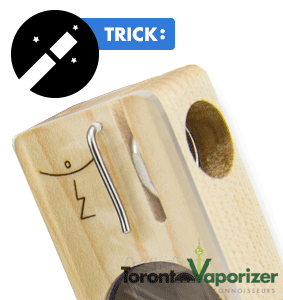 1. Native Style
Place your mouth on the box without the drawing stem, being careful to avoid having your tongue or teeth directly in the vapor path. Breathe in through your nose slowly, as if you were taking a normal breath. Breathing in through your nose creates a slight vacuum, resulting in enough airflow extract vapor, while still inhaling very slowly. This technique should result in large thick clouds of vapor, a product of the high temperatures achieved with a very slow drawing speed. Be careful with this method, as thick hot vapor could irritate your throat or lead to coughing.
Overall, time and experience will be your best teacher as to what methods work the best with your Magic Flight Launch Box. Some people like it hot, and some people like it cold, but there is a draw speed and battery technique that will be perfect for you. Try using the tips and tricks mentioned in this article and let us know what method works best for you in the comments section below! Don't forget to check out the
Magic Flight Launch Box Vaporizer review
for a full in-depth review of this vaporizer. For more vaporizing tips, take a look at the
Vaporizing Tips
blog post.
We hope you enjoyed reading this Magic Flight Launch Box Vaporizer – Tips and Tricks post! For a full review of the MFLB see: Magic Flight Launch Box Vaporizer Review. Let us know which vape you want to see in our next Tips and Tricks blog by commenting below. Remember to follow us on 
Facebook
, 
Twitter
 or 
Google+
 for contests, sales alerts and other fun stuff!
Thankyou for reading, and as always, keep vapin'! 😉