The G-Pen Micro G is arguably one of the more popular and well known of a rather wide-range of pen style vaporizers on the market, even within the manufacture's own vast product portfolio. There are quite a few vapes put out by Grenco, so you'll be forgiven if you can't keep them straight. The MicroG however is a small pen-style vape that is designed specifically for concentrates, not to be confused with the herbal or 'ground material' versions which are designed for dry herbs. Unfortunately, the Micro G Herbal left a lot to be desired in our minds, specifically because it failed to produce actual vapor and combusted the herbs, but this standard version did an OK job at vaping concentrates and therefore ranks significantly higher in our book. We'll break the performance down now, while comparing it to other vapes to see if this is worth your dough and if size matters in a pen style vape.
Review: G-Pen Micro G 
Vaporizer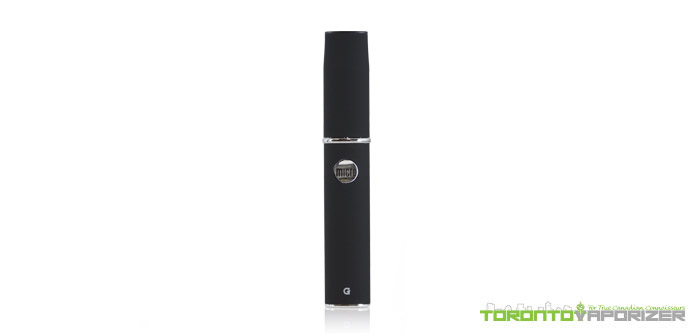 How it Works
The functionality of the Micro G is incredibly simple, which could be good or bad depending on what you are looking for. The vape features a 1-button design, and that button is used to control both the power and the heating element. Pressing the button three times in succession unlocks the unit, and then pressing it again will engage the heating coil inside the wax 'tank'. Loading the 'tank' is also easy. The mouthpiece simply slides off, exposing the coil-based heating element where you place your wax directly on, using the included G-tool, and being careful to not actually poke the coil. Just pop the lid back on and press and hold the button while taking a draw!

Temperature Flexibility
As with most 1-button vapes, the temperature flexibility is poor in the sense that it is non-existent. The Micro G vaporizer only has one setting, and there is nothing you can do to change that. Nor do we actually know what this temperature setting is. With that said, you can try playing around with the length and speed of the draws you take to get slightly different results. A lot of other wax vapes now-a-days offer different temperature settings or voltages, such as the V2 Pro Series 7, which allow you to control vapor production and consistency, but for a 1 button mini-vape, 1 temperature setting is acceptable.
Vapor Quality
The vapor quality of the Micro G is average and it's much better than the herbal version, as this does create actual vapor. The coil creates enough heat to vaporize your concentrate, but not so much that it will combust, which is just what we're looking for in a decent pen vape. There's still a wide range of temperatures between those two extremes, and we find that the vapor is still on the hot side. Most of this is due to the relatively short distance between the heating coil and the mouthpiece, meaning the hot vapor is getting to your throat without much time to cool causing irritation and a weird 'hot' feeling on your tongue. Because the Micro G operates on a pretty simple, inexpensive, replaceable coil system, the vapor quality is average but our major quam is that not all the concentrate will be vaporized and an oily residue will be left behind and unable to be fully vaporized. Overtime this residue builds up also starts to affect the vapor quality because you are heating it over and over, tainting the pure vapor flavour. We've gotten much thicker, flavourful, more satisfying clouds from units like the ZEUS Thunder, especially when using the upgraded Z-Wax Pro Tank.
Manufacturing Quality
As far as materials go, Grenco does a pretty good job with the Micro G. Nearly the entire unit is made of metal, covered in a nice-feeling silicone coating. In fact, save for the actual heating element/ 'tank', the Micro G vaporizer is identical to the Micro G Herbal. The tank use in the Micro G vaproizer uses a coil and ceramic wick, which is pretty standard design in inexpensive concentrate vapes. Grenco also made sure to include 3 extra coils for the unit and some other nice accessories like the G-tool which is necessary for use. The 3 extra coils are a nice touch because you will need to replace these tanks every 6-8 weeks depending on use. So you're basically set for a good few months of concentrate vaping right out of the box. Everything seems well machined, and the unit feels durable. We don't recommend trying, but this seems like it could handle a fall or two. If you lack a delicate touch, this may be a point you want to consider.
Battery Life
Pen-style vapes exceed when it comes to battery life, but due to the size of the MicroG battery, you'll probably have to recharge it every couple days as we averaged between 8-15 sessions off a full battery. The battery itself is charged with a micro USB (or an included wall adaptor) and takes about 2-3 hours for a full charge. However if you're a frequent user, we'd just recommend grabbing an extra battery for your unit so you can switch between 2 fully loaded pens and double the convenience. Compare that to a battery like the Thunder's, where you can easily get 300- 500 draws off a full battery, the Micro G seems decidedly less attractive for 'all day, everyday' use.

Portability
The MicroG is extremely portable for a couple of reasons. First off it's extremely small, averaging about 10.5 cm in length. It's also very slim and can easily slide into even tight jeans or a breast-pocket on a dress shirt with ease. When a unit is this small it really is the definition of a portable vaporizer because it can be taken virtually anywhere, any way. However because the battery is not great, you will need to also carry the USB charger around if you plan on being out for longer than a day. Furthermore, you will also need to carry your wax in the provided jar and connect the G Tool to your keychain to have your whole needed 'kit' on you. So for one pre-loaded session, the unit is actually remarkably portable. But as soon as you need to reload, the portability level decreases due to the need for two other items.
Ease of Use
There isn't anything easier than a 1-button pen vape. Apply wax to the coil, turn it on, and engage the heater with the press of a button and take a draw. That's all you have to do to start enjoying vapor with the MicroG. Keep in mind, however, that this ease does come at the expense of increased flexibility and customization. We'll note that the actual loading of the chamber isn't as easy as other dry herb vapes because you need to be precise with applying the right amount of wax to the coil, without over filling or poking the coil, but this is only a minor inconvenience and a short learning curve.

Discreetness
This unit allows for maximum discretion. It's nice and small, fitting neatly in the palm of a hand. The vapor is fairly odorless, and shouldn't draw very much (if any) attention, allowing for relatively public sessions. As I've mentioned before, it's also durable enough that you can just slip it into a pocket and go about your business, meaning you won't have to fumble with a case or other storage mechanism. Fast, odorless and small are just about all you can ask for when it comes to discretion. So the Micro G does gain some brownie points here.
Overall Experience
Overall the MicroG is an average wax vaporizer. We wouldn't go as far as saying that we love it, but we don't hate it for a few reasons, most notably its simplicity and size. If you're just getting into waxes and concentrates and are looking for a low-budget vape to get you started, this might be an attractive option as it 'gets the job done' without a ton of fuss. It's certainly better than not having a vaporizer at all and it means you can sneak in quick discreet sessions virtually anywhere.
Keep in mind that these points only apply to the Herbal versions of the MicroG, as we will be reviewing the Micro G for concentrates soon, so stay tuned for that!
Warning: Not Compatible with ZEUS Iceborn
This vaporizer is not compatible with the ZEUS Iceborn, a revolutionary new vapor cooling system designed to produce cooler draws and bigger clouds when connected to your vaporizer. The ZEUS Iceborn adds an additional 2 points to the vapor quality score of compatible units, so we highly recommend considering a whip-compatible vaporizer to take advantage of this stellar ZEUS accessory item. All compatible vaporizers will have a compatibility notice.
Our biggest problem with this vape is actually the competition. There's just better options out there in our opinion. If you are looking for similar features to this vape, I'd say go check out the ZEUS Thunder or the V2 Pro Series 3 with wax tanks. Both are pen vapes with sleek designs like this one, and both also put out better vapor quality with higher quality tanks and longer battery lives. Everything you can find in the MicroG you can also get in these two, but they have a distinct advantage: they are 3-in-1 style vapes. Even if you aren't looking for the added functionality at this time, you never know when you may want it.
If you have questions about this vape or just want to let us know what you think, feel free to drop us a comment below! Also, don't forget to follow us on Facebook, Twitter or Instagram to keep up to date with all our contests, sales alerts and other fun stuff! Thanks for reading and as always, keep vapin'! 😉