So, you're in a munchie kind of mood and you don't know what to eat. It's hard to decide on what your tummy wants! So many snack possibilities. What to pick, what to pick?! And more importantly: is there even anything at home? Well, maybe this list will help make your job easier, prepping for your next vaping session! We asked 100 of our customers what their favourite munchie snacks are to help put this list together. So, get these Top 5 Munchie Snacks down, so that the next time you're vaping, you're ready for a munching feast!
Top 5 Munchie Snacks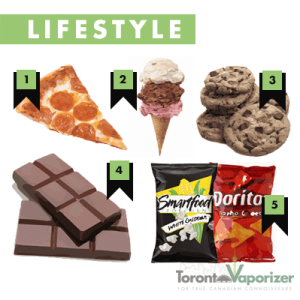 #5 Chips & Popcorn
#4 Chocolatey Goodness
#3 All Things Baked
#2 Ice Cream & Frozen Delights
#1 Pizza
Alright, so we hope you liked this Midnight Munchies post! Be sure to take a note of these awesome treats for your next vape session, so that you're never caught with empty cupboards! Before you go, if you liked or learned something, please share this post by using one of the sharing buttons below! If you have any questions or comments, feel free to leave them in the comment section below :). We will get back to you as soon as possible.
Take care for now and as always, keep on vapin'!