Vapor Blunt released a series of units in 2012 one after another. This kind of tactic isn't the greatest of signs, as it tends to mean they aren't giving enough attention to the specifics of each unit. One of their units that got some attention as a competitor to the
Magic Flight
was the Palm 2.0. However, we've found that it just doesn't reach anywhere near the Magic Flight in quality. Here's a rundown of why:
Palm 2.0 Review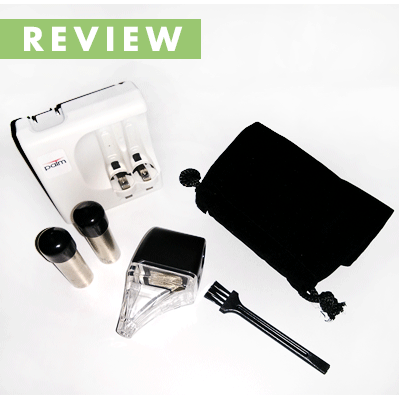 How it Works

The Palm is a little plastic vaporizer with a heating chamber on one end and a curved mouthpiece on the other. On the top is a space for the battery to be pushed in. You load your botanicals in the screened off heating chamber and then close the lid. When you push the battery into the unit, it sends a charge through the heating element. In five to ten seconds there will be enough vapor for you to inhale through the mouthpiece.
This is a very familiar setup as the heating system for the Magic Flight Launch Box. There have been lots of competing small vaporizers that work this way, but none of them have the same quality as the Magic Flight. Want to know more about he MFLB? Check out the
Magic Flight Launch Box Vaporizer Review
.
Temperature Settings

Because of the simple mechanism, this vape only has the one temperature setting. If you hold the battery in for longer and take slower draws, it will raise the temperature. With this kind of system you need a bit of experience to figure out what works best for you. It still won't be nearly as flexible as what you'd get from a more premium vaporizer.
Vapor Quality

The vapor quality of plastic units can never be as good as other units made of wood or metal. The Palm 2.0 claims to have an all glass air path and the ceramic heater chamber makes it better than most plastic units. However, it's still obviously not the best vapor quality. And because the battery doesn't give much control over the temperature, and the layout of the heating chamber doesn't optimize use of your botanicals, you won't get consistent, even vaporization.
Manufacturing Quality

We were not totally impressed with the manufacturing quality of this unit. The plastic parts don't always fit properly. It's not a medical grade or heat resistant plastic either, just standard acrylic. The vertical heating chamber is an especially bad idea, given how it's going to keep all your botanicals near the bottom for the screens so they won't be evenly vaporized. The screens are removable for easier cleaning, but they don't fit into the chamber as well as they could.
Portability

Portability is definitely a strength for the Palm 2.0, with its small size. I'd worry about it knocking around in a purse or backpack though and if you're keeping botanicals in the chamber you want to check to be sure the lid stays shut. But apart from that it's definitely a very portable unit.
Discreetness

This is also a very discreet unit, with a small size and a design that doesn't look much like a vaporizer. It isn't sealed against odors, but vaporization doesn't generally produce a lot of odour, so on that front the Palm isn't bad. The clear mouthpiece will be a problem for discreetness up close though. In general, discreetness and portability are the strongest categories for this vape.
Overall Experience

This unit, like most lower quality plastic vapes, isn't worth the price. The manufacturing quality and vapor quality are worse than you can get even from similarly priced units. These are the most important factors, since they basically determine whether you actually want to use the vaporizer rather than just putting up with it. If you want a Magic Flight style unit we recommend either the original Launch Box or the
Vapman vaporizer
, handmade in Switzerland of the highest quality materials and components. which works similarly but has way better durability and design. We also compared the Vapman with the Magic Flight, check out their SHOWDOWN blog post. If you are looking for a low cost, but decent quality vaporizer check this post: Cheapest Vaporizer.

Thank you for reading today's Palm 2.0 Vaporizer Review! Remember to let us know if you have any questions or suggestions for future posts by leaving a comment below. If you enjoyed today's post how about sharing them using the share buttons below? 😉
Come follow us on twitter and like our facebook page to also get updates and win great prizes!
Take care and until next time, keep vapin'