Today we'll be taking a look at an awesome 2-in-1 vaporizer for dry herbs and waxes, the Prohibited in the 5th Degree. It is specifically catered to the herb and wax crowd offering specifically calibrated tanks for both consumables. If you like vaping both herbs and waxes, you need to check this thing out…
Review: Prohibited in the 5th Degree Review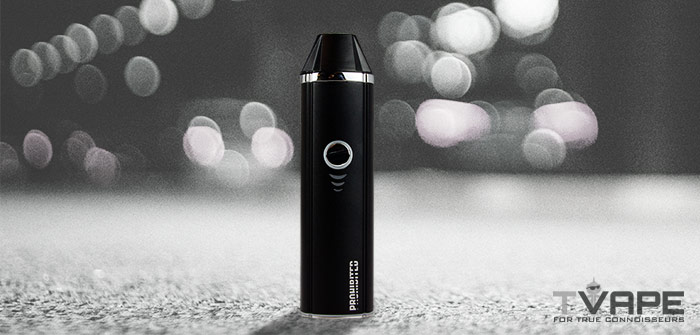 How it Works
The Prohibited 5th Degree utilizes a cartridge system to be able to vape both herbs and waxes well. The cartridges are held in place with a magnetic connection, and they easily slide on or off when you want to swap them. The herb cartridge features a stainless steel heating chamber, while the wax cartridge has a dual quartz coil.
Once you select the cartridge you want to use, you simply fill it and put it on top of the base. There is just one button on the entire unit, and you click it three times to turn the power on or off.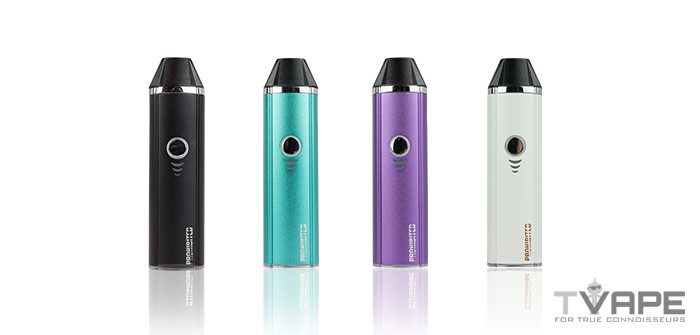 The button also allows you to cycle through different power and temperature settings by clicking it twice in rapid succession.
Temperature Flexibility
The temperature flexibility is good for a small device that can handle multiple materials. When using it with the wax top, you can choose between 3 different voltage options: 3.7v, 4.2v, or 4.7v.
If you are using the herb cartridge, your options are 200°C, 210°C, or 225°C (390°, 415°F, or 440°F). This gives you plenty of room to find a level that you like, and the heat up time is also very good.
When using it with herbs, it will reach your selected temperature in 30 seconds or less.

Vapor Quality
The vapor quality is also good, especially when you consider that it performs well with two different materials. While there are other vaporizers out there that can be used with both herbs and waxes, they mostly just have inserts that allow you to heat wax using the same basic heating style as your herbs.
This has entirely separate cartridges, allowing it to deliver much better performance. If you want a vaporizer that can deliver flavorful vapor from both dry herbs and waxes, this is a great choice.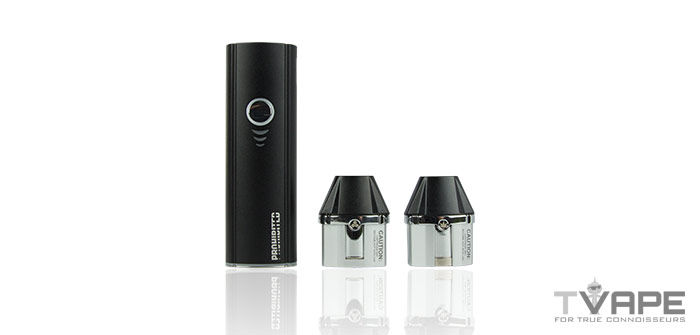 The dual quartz coil performs very well for concentrates. It maintains an excellent flavor profile, and the vapor it delivers is dense. When using it with dry herbs, I recommend choosing one of the bottom two temperature settings if you want to maintain good flavor. The lowest one is actually my personal favorite with this vape. The highest setting will get you bigger clouds, but the flavor isn't as good.

Manufacturing Quality
The manufacturing quality of this is great, especially for the money. While you don't get a huge range of temperature options or a digital screen, you do get a dependable vaporizer that performs well with both dry herbs and waxes. It also feels sturdy when you hold it, and all the materials used in its construction are high quality.
The herb chamber for this is pretty big, which I like. It makes it a good choice for using with groups, but it also performs better when packed tight. This means you can end up using a decent bit of herb even during solo sessions.
Battery Life
The battery life on this is good, especially when you are using it with waxes. Since a session with herbs will last considerably longer, the performance isn't quite as good as it is with wax, but there's nothing they could have done about that.
In either mode, this should last for about a full day of vaping. 

Portability
Portability is excellent. The size and battery life are obviously a big plus in this category, but there is something else I noticed about this that makes it a really great option for trips.
The cartridge system makes it possible to travel with this without ever having any 'used' components that may have build up or odors attached to them.
Take a new one when you leave, use it while you are at the destination, and throw it away before heading back. This would be especially useful for trips that involve planes.

Ease of Use
You can't get any easier than this. Seriously. There is one button that controls everything, and just two different patterns to remember. I've already mentioned them, but I'll go over it again now.
Three clicks turns it off or on. Two clicks changes the voltage or temperature setting. That's all there is to it. Even swapping cartridges is as simple as pulling them off thanks to the magnetic connections.
Discreetness
The size makes it easy to stay discreet with this, but so does the possibility of throwing away cartridges. You can enjoy this as much as you want at a destination, then simply throw the disposable part away so that no one knows what you were up to.
It was already as discreet as most other vaporizers, but this gives it a huge additional advantage.
Overall Experience
This isn't a top of the line vaporizer, but I do think that it's a tremendous value.
You're not going to find anything that makes it more convenient to enjoy good vapor from both herbs and waxes while on the go. This is one of the more portable and discreet vaporizers on the market thanks to the ability to throw used cartridges away, and it's also very easy to use.
I see this being a great option for two different types of people. On one hand, this would be fantastic for people new to vaping who want to be able to enjoy both herbs and waxes without having to buy multiple units. The ease of use, portability, and versatility make it an excellent choice for beginners.
On the other hand, this could be a great addition to the collection of someone who is more experienced, especially for travel. It unlocks the ability to take just one unit and not commit yourself to just one material.
Long story short, I have no problem recommending the Prohibited in the 5th Degree!
However if you are looking for a unit for soley just herbs, than I would highly suggest checking out the Utillian 720 as well.
If you have questions about our review or just want to let us know what you think, feel free to drop us a comment below! Also, don't forget to follow us on Facebook, Twitter or Instagram to keep up to date with all our contests, sales alerts and other fun stuff! Thanks for reading and as always, keep vapin'!