Earlier this summer we reviewed the Puffly F1 Vaporizer from the manufacturer Vaptio. It was an average pen style vaporizer, but it just didn't live up to what we expect from a claimed premium portable. The next product offering on the table from Vaptio is the Puffly F2. It's much, much bigger than the Puffly F1 and, after reading VapoReview's fairly positive impression of it, we were interested to see if the F2 was a step up from the F1 in terms of quality. Although the unit looked a bit cheap right off the bat, we were still curious to see if its monster 3600 MaH battery and wide heating chamber would be an indication of the clouds it could produce. So, without further ado, read on to see if Vatio's second attempt to infiltrate the dry botanical market, from their forte as an e-cig manufacturer, worked out:
Review: Puffly F2 Vaporizer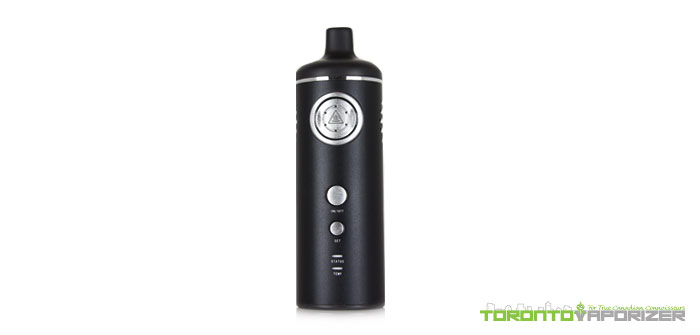 How it Works
The first thing you'll want to do with the Puffly is load the chamber. To do this, "use your fingernails to remove the lid by pulling the groove on both sides" as indicated by the user manual. Load your botanicals into the chamber, without overflowing outside of the stainless steel. Push the lid back on top of the chamber until it sits flush. To turn the unit on, press the 'On/Off' button for 3 seconds, and the Puffly F2 will begin to heat automatically to the medium heat setting. The 'status' light will turn on, orange in color. When the Puffly F2 is fully heated (which takes less than 30 seconds) the status light will turn white. The Puffly has 3 temperature settings to choose from and you can change them by pressing down on the 'set' button for 3 seconds, per setting. Once you've settled on the temperature setting you like and the status button is white, just take draws from the mouthpiece.
Temperature Flexibility
As mentioned, the Puffly F2 has 3 temperature settings. In the user manual, they are referred to as 'Low Heat Mode' ( indicated by a blue temp light ), 'Medium Heat mode' , which is also the 'default' temperature setting ( indicated by a green temp light ) and the 'High Heat Mode' ( indicated by the red temp light). Vaptio's website indicates that the low setting is 200 ° C ( 392 ° F ) , the medium setting is 230 ° C ( 446 ° F ) and the high setting is 260 ° C ( 500 ° F ). Unfortunately, only the lowest heat setting is really suitable for quality conduction vaporization. As such, we definitely experienced combustion starting to occur on both the medium and high temperature settings and for the remainder of our testing, we stuck to vaporizing on low.
Manufacturing Quality
The vapor produced on the medium and high temperature settings is not pure vapor and had more of a smoke like quality which caused us to cough from its harsh quality. Not only did it taste like smoke, it had a faintly plastic aftertaste too. On the lowest heat setting, you do get real vapor, but it's below average in quality and unsatisfying. The Puffly F2 heats up and seems to vaporize via conduction just fine (judging by the medium brown color of our botanicals post-session) but the draws we experienced were a little bit plastic tasting. It's certainly not the worst vapor we've tasted but a huge draw back for us was the inconsistency. You can really only get a few decent draws off this unit before you check your chamber and notice your botanicals are brown and it's time to end the session or change your load. It's pretty disappointing, considering the heating chamber is a decent size and we feel like we wasted our botanicals.
Battery Life
The Puffly 2 features an internal, rechargeable 3600 mAh battery that takes 2.5 hours to fully charge. Through our testing, we were able to get 37 heating cycles of 2 minutes each, or a grand total of 74 minutes. When you say 37 sessions off one battery, it sounds pretty impressive, but just over an hour of battery life is pretty average these days for a portable. Compared to a 3 hour battery life like the Utillian 650's or even a unit like the Prima which has the convenient 'charge & swap' battery system, the battery life on the Puffly F2 isn't anything to sneeze at but it doesn't turn our crank either.
Portability
The Puffly 2 weighs 450 grams and is a bit bigger in size than the Solo vaporizer, just a bit slimmer. As we've expressed about the Solo, it's not very portable because of its size and glass stems, but the Puffly's more durable plastic mouthpiece increased its portability just a bit. It's certainly not pocket friendly due to its bulkiness but the only real concern you would have with tossing the Puffly 2 into a backpack would be the mouthpiece coming off as that heating chamber lid isn't going anywhere without your assistance. In this regard, the Puffly F2 is more portable than bigger units like the N02 but compared to a smaller and truly pocket friendly unit, like the Utillian 650, the F2 may be better for use at home.
Ease of Use
We like to consider ourselves vaporizer experts and as such, we're pretty competent at figuring out how a vaporizer works right off the bat, but to be honest, we had to crack open the user manual to get this guy up and running. The Puffly F2 decided to be a bit more complicated than the 1 button F1 by featuring 2 buttons, one for 'on/off' and one for temperatures, called 'set' and two different LED lights, one to indicate what the unit is doing, called 'status' and another 'temp' to indicate temperature. After you read the manual though, the unit is pretty easy to operate. A major design flaw that was pretty frustrating for us though was the heating chamber's lid. It is very difficult to pull out as you have to get under the lid's sides with your nails and wiggle it out. In terms of cleaning and maintenance, the heating chamber is big and easy to swab out, but the vapor pathway is so narrow, only a thin needle would suffice to unclog it, and over time, a buildup of vapor reside would certainly make this increasingly difficult. Furthermore, the Puffly 2 has a very inconvenient auto-shut off, only 2 minutes! So every 120 seconds, you need to completely turn the unit back on. We can assume this feature was to save on battery life, but 2 minutes with a unit like this just isn't enough time to get what you need.
Discreetness
The Puffly 2 kind of looks like one of those ear-temperature monitors you would find at a doctor's office. So in that regard it doesn't scream 'vaporizer' but it's not exactly designed discreetly either. It's fairly big and cannot be concealed in a single hand, so vaping in public isn't ideal with this unit. Furthermore, the Puffly 2 leaks some vapor from the seal of the mouthpiece and the unit is more odorous than most units, so if you're vaping inside with the Puffly F2, it's best done by an open window. At least the unit is black in color and doesn't have many flashy features that draw attention.
Overall Experience
The Puffly F2 had good potential with its large heating chamber size, and OK battery life. Unfortunately, we think Vaptio could make a few improvements. The first would be reconsidering the temperature settings they chose, or just settling for 1 at a temperature that is appropriate for quality vapor. Secondly, we would recommend they take a tip from Vapir's Prima and design a good size vapor pathway that is removable or at least accessible for easy cleaning and maintenance. With higher quality materials and construction, and some improvements, the F2 could potentially be a contender against other budget-friendly dry botanical vapes in this price range, but for now, it's just not something we can stand behind. So, if you are looking for a portable unit, that is much easier to maintain and pumps out consistently satisfying vapor, we recommend you check out the ZEUS Smite which AskMen touts as an affordable, rugged unit.
Warning: Not Compatible with ZEUS Iceborn
This vaporizer is not compatible with the ZEUS Iceborn, a revolutionary new vapor cooling system designed to produce cooler draws and bigger clouds when connected to your vaporizer. The ZEUS Iceborn adds an additional 2 points to the vapor quality score of compatible units, so we highly recommend considering a whip-compatible vaporizer to take advantage of this stellar ZEUS accessory item. All compatible vaporizers will have a compatibility notice.
If you have questions about this vape or just want to let us know what you think, feel free to drop us a comment below! Also, don't forget to follow us on Facebook, Twitter or Instagram to keep up to date with all our contests, sales alerts and other fun stuff! Thanks for reading and as always, keep vapin'! 😉