The SMOK G80 TC starter kit comes with a Spirals sub ohm tank, two coils, and the other normal accesories that come with a vape kit. Today we're going to review the whole thing and let you know how it performs and who, if anyone, should be buying it. If you're interested in slightly restricted direct lung draws, keep reading because that's exactly what the SMOK G80 does best. But before we do that be sure to check our vape buyer's guides for important information to consider before making your first purchase.
Review: SMOK G80 Starter Kit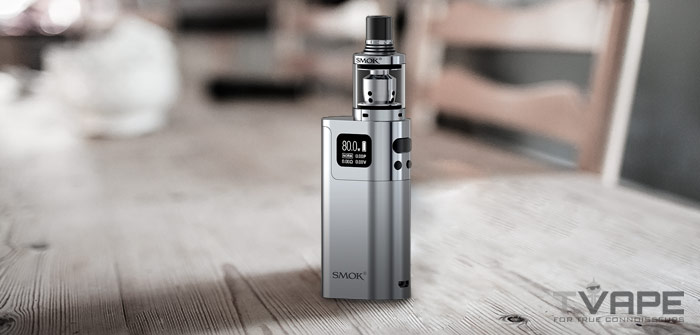 Manufacturing Quality
This entire kit is well made. When you hold it in your hand it feels sturdy and the finish feels nice. It passes the rattle test too, meaning you won't here pieces bumping up against each other if you give it a little shake.
As far as specific features go, the mod contains a single 18650 battery capable of delivering up to 80w of power, and it also offers temperature control. The battery is accessed by sliding part of the base down and off the unit. This removable bay fits snugly on the unit using what appears to be a ball bearing contraption rather than a magnet.
Another really nice feature is the micro-USB connection because gives you the ability to upgrade the G80 if SMOK releases any updates. This may not seem that important when you are buying a vape, but you'll be thankful for it if they find out there was something they could have programmed better.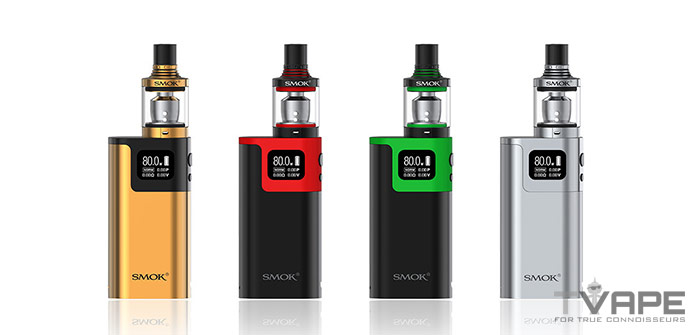 The Spirals tank is also built well, featuring a stainless steel and glass construction. This is a sub ohm tank with 2 coils included, one rated at 0.6ohms and one at 0.3ohms. You fill the tank from the top and it has an airflow adjustment on the bottom. My only complaint is that the capacity is just 2mL. 

Flavor Quality
The Spirals sub ohm tank delivers excellent flavor. It is designed for slightly restricted direct lung hits, but you could also do some mouth to lung vaping if you turned the airflow down more. Both of the coils work well and the flavor is great with both.
You won't be able to turn the unit all the way up to 80w with either one, meaning you'd need to use a different tank/coil if you want to do that. Being able to swap out the Spirals tank obviously means you can achieve a much more diverse range of vapor than the base kit is capable of if you wanted.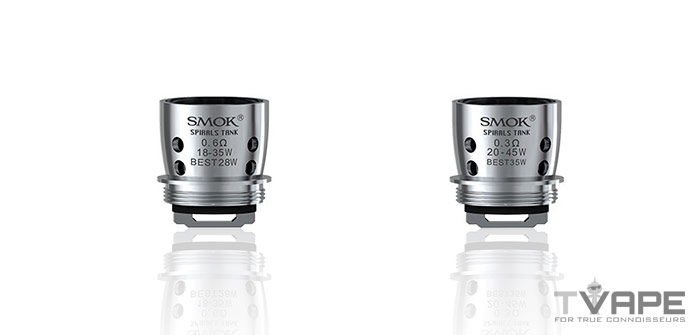 Power Flexibility
For a mini kit that is partly designed for beginners, the flexibility is surprisingly good. The upper end of its 6-80w range is getting up there in wattage, and this also delivers temperature control for nickel, titanium, and stainless steel.
The temperature range is the standard 200-600F, and the voltage output ranges from 0.8-9v. It's capable of handling coils with a resistance down to 0.06ohms.
The G80 is very easy to use.To be honest, it's exactly like using the majority of box mods. The button setup and menu options are becoming remarkable similar across most units. The only real difference is where the buttons are located and which ones you press to toggle certain things in the menu.
 For this kit, the fire button and up and down buttons are located along the side, right around the corner from the screen. The screen is easy to read and it will prompt you when you turn it on so you can adjust settings for a new coil. Navigating the menu is straightforward as well.
Filling tanks and changing coils isn't always easy, but it definitely is with this kit. Everything is done from the top, and it only takes a few moments.

Portability
The portability of this kit is good thanks to the small size. Smok calls it "pocket friendly" and claims it was designed to allow you to enjoy vaping "anytime and anywhere". I'd say they did a good job with that, as this kit is just as portable as all the other mini mods out there.
You should have no problem carrying it around with you. The only things that are more portable are the self contained units that house their tanks on the inside, like the Kanger Nebox.

Overall Experience
I like the SMOK G80 kit. I think it could be a good buy for both beginners and experienced vapers.
 My favorite things about this kit are the flavor that the Spirals sub ohm tank produces and the overall performance compared to the size. This is very powerful for how small it is. I also really like the way they designed the sliding bottom to access the battery.
It's extremely easy to get to the battery with this setup, but it feels more secure than connections do when they are held by magnets. You really have to pull at this to get it off, but it's still easy enough that no one is going to find it challenging or frustrating.
 Again, my only real complaint with this kit is the capacity of the tank. I'll give it credit for being efficient with the juice it can hold, but it's still a little on the small size. If you are new to vaping, you probably won't even notice.
 I'd recommend this for anyone who wants to get into sub ohm vaping and direct lung hits. The slightly restricted draws help make sure you don't overwhelm your lungs with a too big of a hit all at once, and you can even turn down the airflow for mouth to lung hits as well. If this is the type of vaping you enjoy, you'll also enjoy this kit!
If you are looking for a larger unit that offers a bit more power be sure to check out the Coolfire IV 100W.
We hope you enjoyed reading our SMOK G80 review! We would love to hear from you! Feel free to leave a comment in the section below, you can do so anonymously 😉 Don't forget to follow us on
Facebook
,
Twitter
or
Instagram
for contests, sales alerts and other fun stuff! Thanks for reading and as always, keep vapin'! 😉